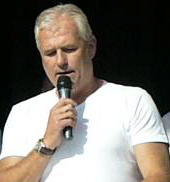 GLENN HYSEN was an integral part of the Liverpool team the last time they won the English league title, 20 years ago, in 1990. The manager back then was a certain Kenny Dalglish, and with 'King Kenny' wanting the Liverpool job again, the former Swedish international talks to Alex Miller about why the Scot should get the job, and about some of the problems facing whoever takes over
.
By Glenn Hysen
10 June 2010
.
I remain in touch regularly with the staff and a number of players at Liverpool and I can tell there is no doubt that Kenny Dalglish would love to make an emotional return as manager of Liverpool – and frankly, my view is that would be the best thing for the club right now.
Whether he gets the job or not remains to be seen, but in my eyes Kenny is the man for the role, on a temporary basis or for longer.
Forget that he has been out of management for a while. The fact is that Liverpool is in a mess. It needs it heart and soul back – and Kenny is the man to rediscover it.
I have been in the players' lounge after matches in recent times and witnessed Spanish players in one corner, French players in another, and so on. It is not cosy. It used to be that when you played for Liverpool, you were all part of one big family, not any more it seems.
There are too many nationalities in the dressing room now. I say this as a former overseas player of course. But foreign players tend not to know the story of the club or how a fan feels if we lose to Everton.
When I played for Liverpool, we had many more British players in the team than today. The likes of Ian Rush and Steve McMahon knew the pain and the glory and what it all meant to the club. They felt it much more than I ever could.
I have heard that Kenny definitely wants the job. Maybe he would appoint other former players alongside him, the likes of Ian Rush perhaps.
But Kenny is not a magician, he would still need to sign three very good players for the first team – and for that he would need money; that may be a problem.
He has a special aura around him and carries huge respect from the players. I'm sure he would be able to keep the likes of Gerrard and Torres at the club.
Rafa Benitez brought Kenny back to the club several years ago and since then he has become increasingly involved.
That is another plus for appointing him manager. He is already on the inside; he already knows what needs to be done.
The academy has stopped producing first team players. Stephen Warnock was the last player to make the grade from the academy – but not at Liverpool. He is in the England World Cup squad, but for me he's not a world-class player like a Gerrard, Jamie Carragher or Michael Owen. These are the type of players the academy used to produce.
It has stopped working. When Steve Heighway was at the academy it was cruising, but it is not happening now. That is a big crisis. It needs to be better and Kenny knows that and has already been working in that area.
Meanwhile, I suspect we are no longer the first choice for the top players. When I was playing, Liverpool was the top choice, but not any more. Now players are more likely to choose Chelsea, Barcelona or Real Madrid. Liverpool is likely to be second or third choice for a top player. That issue needs to be addressed – we need a return to that level.
We have just had a nightmare season of course, but even so, I didn't necessarily want Rafa to leave. I thought issues needed to be sorted out at the club, but he did a great job overall. He won all of the big trophies except the league title.
It was strange though that having signed so many players in his six years, we were not able to win the title. Rafa can't say he didn't spend money in the transfer market.
But what we need now is to get back up the league table and back into the Champions League. Just as importantly, the club needs to rediscover its Scouse spirit, its British spirit even.
Even if Kenny doesn't land the job, I think a British manager could be a good thing to raise the club's mentality again.
If not Kenny, my choice would be Aston Villa's Martin O'Neil.
I have never met him but I hear he is friendly and good to the players. He is a manager that players love. There are of course different expectations at Liverpool compared to Aston Villa, but I think he could handle it. He would be a good signing.
Roy Hodgson would also be great. I know him quite well. He has done a great job with the likes of Malmo in Sweden, Inter Milan and the Swiss and Finnish national teams. He is a fantastic guy but he can also be quite tough. Again the pressures of Liverpool are more intense than Fulham, but he knows that.
My only reservation with Roy would be style of play. Liverpool fans want to see good football. I would say that Roy's teams produce effective football, but not necessarily fun football. That said, Roy has never failed.
Overall, any of these three managers would be a good choice, but I would choose Kenny first, Martin second, then Roy.
.