By Brian Sears
22 August 2013
The Premier League is not even two fixtures old and already the top three in the table – Chelsea, Manchester City and Manchester United – are probably most people's idea of the final three in some order, while the three promoted clubs, among the favourites to go down, are all within the bottom nine teams on zero points each.
It will be some weeks, months even, before we get a truer picture of how the season is shaping up, but bear in mind that even by the October international break – seven games into the season – the picture will still have been distorted by the different difficulties of each club's opening fixtures.
Because Swansea have the toughest start of the 20 clubs, by a margin. Or maybe that's Crystal Palace.
And West Ham have the easiest opening to the season. Or maybe that's Southampton. Or even, contrary to what David Moyes has claimed, it's Manchester United.
How so?
Sportingintelligence has attempted an objective assessment of the difficulty of each club's opening seven fixtures using three separate methods.
The first assigns each club a simple number, 1 to 20, based on last season's finishing positions, where winners United and runners-up City are 1 and 2 and so on, and promoted Cardiff, Hull and Crystal Palace are 18,19 and 20 respectively.
Then we have added up the opponents for each club in their first seven games to produce a 'toughness rank'. The lower the total number of the opponents, the tougher the start. The higher, the easier.
The first graphic, which also breaks up the starts up into home and away, details how Swansea have the hardest start, and West Ham the easiest.
Aston Villa and West Brom also have tough starts using this method, while Liverpool and City join the Hammers in having it easy.
Some of the contrasting fortunes of clubs home and away are remarkable and none more so than Chelsea who on paper have the easiest start of all of the clubs coming to Stamford Bridge on this basis; Hull, Aston Villa and Fulham. But their first four away opponents all finished last season in the top 11; United, Everton, Tottenham and Norwich.
Of the promoted clubs Hull, too, have cotrasting fortunes with all have early visitors to their KC stadium having finished last season in double-figure league placings but their first two away games? Chelsea and then Man City.
Overall using this method, Swansea and Aston Villa face the toughest starts and they are the only clubs that will face as many as three clubs that finished last season in the top five places in their first seven games. In contrast Southampton are the only club not to have to face a member of that top five in their first seven games.
Using our second method, Southampton have the easiest start of all; more of that in a moment
Article continues below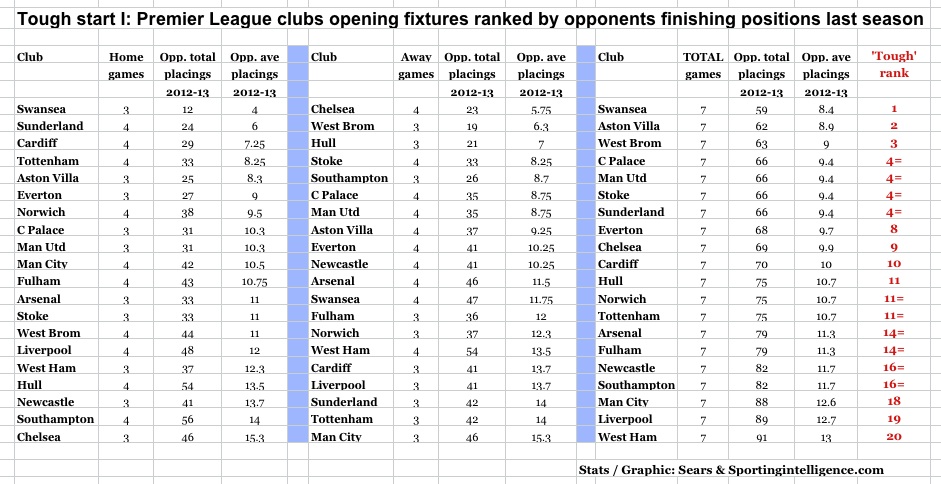 .
Our second method adds 'weight' to the ranking of opponents by considering not the placings that each of them achieved last season but the total number of points.
This is significant because Manchester United were not merely one place better than City but 11 points. Lower down there was a big gap between Tottenham in fifth on 72 points and Everton in sixth (63), and lower again a big gap between Liverpool in seventh (61 points) and West Brom on eighth (49).
So this second method adds up the points totals from last season of each club. NB: for the promoted clubs, Cardiff are given 38 points for this exercise, placing them just above last season's PL relegation zone, then Hull are given 37 and 36.
The graphic details a slightly different pattern of tough starts, although Swansea still have it hardest, with Villa and West Brom next.
At the other end, Southampton's easy start, relatively, is emphasised. Their toughest opponent in their first seven games, Liverpool, only amassed 61 points while their other opponents were all 30-somethings and 40-somethings.
Using this second method, weighted, we can also see how Arsenal have an easy start to the campaign (on paper) and how West Ham and Liverpool should be optimistic of a bright start too.
Article continues below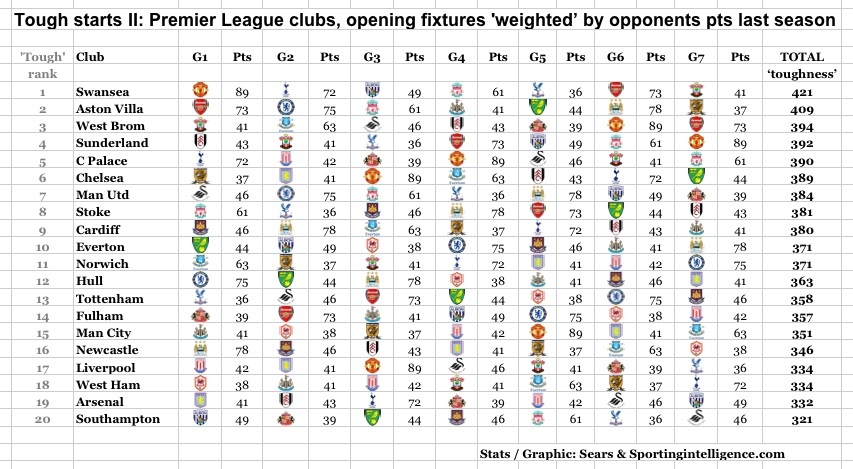 .
Our third method considers each team's advantage (or disadvantage) relative to each opponent in each of the seven opening fixtures, and produces a cumulative score to assess over tough starts.
To give an example. United finished on 89 points last season and Swansea finished on 46 points. When they met at the weekend, they did so with Swansea having a -43 points disadvantage. Or in other words, Swansea's opponent's dominance (OD), United's dominance over them in this case, was 43 points.
So in method three we have calculated each opponent's dominance (or minus dominance) per fixture and added up the cumulative scores.
Palace have the toughest start by this measure, and United have the easiest. After all, United had a dominance over every team in last season's final table. Why should that not be reflected?
While Moyes might moan that United having to face Chelsea, Liverpool and Manchester City in United's opening five games, United did finish well clear of all those three last season. Not only that, they finished 43 points clear of another early opponent, Swansea, and as far as 40 points ahead of West Brom, and 50 points ahead of Sunderland, also both early opponents.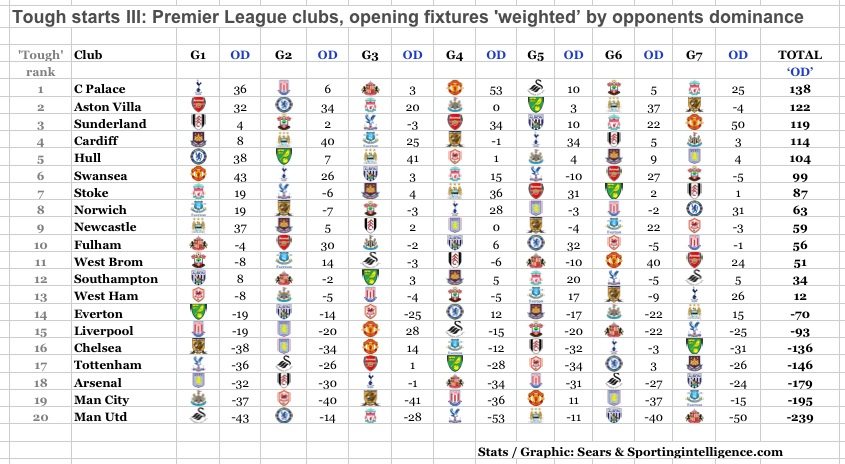 .
More on Chelsea / Man Utd / Arsenal (or search for anything else in box at top right)
Follow SPORTINGINTELLIGENCE on Twitter