By Brian Sears
23 August 2013
Fulham have lost 68 home games in their 12 seasons in the Premier League and one club stands clear in inflicting the most defeats on them on their own turf: Arsenal.
In 12 visits to Craven Cottage in the Premier League, Arsenal have won eight times. They are Fulham's visitors again at lunchtime on Saturday.
Fulham, in common with Stoke, are a club who have been particularly reliant on their home form to retain their Premier League status over the years. That pair are the only two clubs among the 20 in the Premier League currently to have more than twice as many points at home for each point won away.
In short, both are woeful on the road and need to be particularly good at home to make up for it.
Fulham's 68 home PL defeats are detailed by opponent in the graphic below.
The most recent reverse for Fulham at the feet of Arsenal was by the single Mertesacker goal in April when first Sidwell and latterly Giroud were given their marching orders by the referee.
For Arsenal fans, the match this weekend might act as a barometer of the shape they're in. They must expect, on historical form, to win. As the graphic also shows, they were the top club in the inter-London fixtures and this is their first London derby of the season to boot.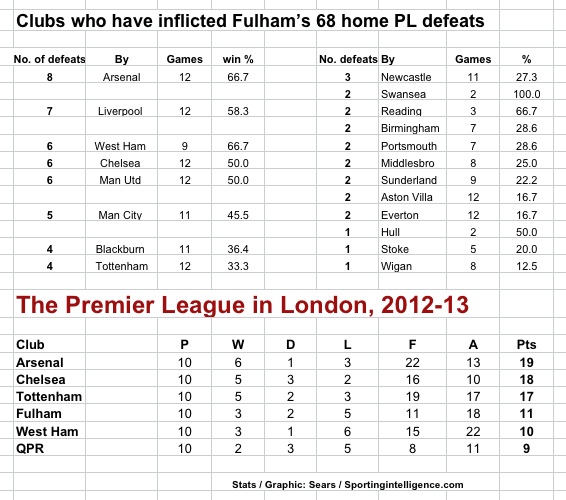 .
More on Arsenal / Fulham (or search for anything else in box at top right)