By Brian Sears
17 January 2014
Any Premier League game with eight goals or more is a remarkable occasion, statistically speaking, because they happen so infrequently. In fact in the 8,436 Premier League games  played so far over the past 22 years, only 75 of them have had eight goals or more. That's only 0.69 per cent of matches, or just less often than once every 112 games.
The most recent of those results was last week, when Liverpool, assisted by the latest double from their prolific Uruguay striker Luis Suarez, won 5-3 at Stoke. We'll come back to Suarez's goal scoring in a moment.
The greatest number of goals in any Premier League game since the top division was revamped in the 'money era' in 1992 has been 11 goals. That was Portsmouth 7 Reading 4 in September 2007. No game has seen more than that one; and that figure of 11 has only happened once.
There have been 10 goals in a game on five occasions. They were:
Tottenham 9 Wigan 1 in November 2009
Man Utd 8 Arsenal 2 in August 2011
Arsenal 7 Newcastle 3 in December 2012
Tottenham 6 Reading 4 in December 2007
And the last game of last season, 5-5 draw between West Brom and Man Utd.
A further 11 games have provided nine goals each including Man City 6 Arsenal 3 just before Christmas.
Following last week's 3-5 score-line at Stoke there have now been 58 games with eight goals each in them. The graphic below shows the breakdown, and how Liverpool and Stoke were involved in the 14th 5-3 (or 3-5), and how it was the first Premier League experience of a 5-3 / 3-5 for either of them.
Article continues below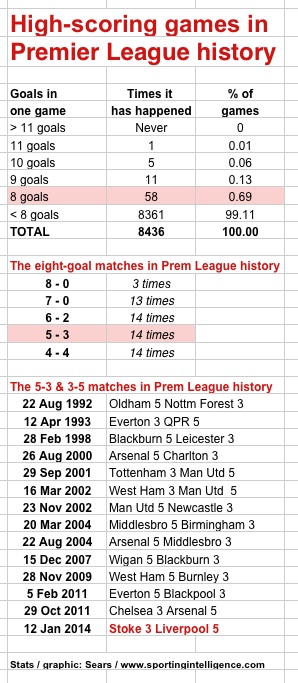 .
Suarez on course to smash records
Our second graphic shows just how prolific Luis Suarez's 2013-14 season has been, in the context of the greatest goal scorers of the Premier League era.
It lists all the players who have scored 25 or more goals in a single league season and shows their strike rates per game. Suarez is on 22 goals from 16 games so far ahead of Liverpool's hosting of Aston Villa on Saturday. Assuming he stays fit and in form, he will join the 25-goal gang shortly, and then work his way towards the record number of goals in a Premier League season.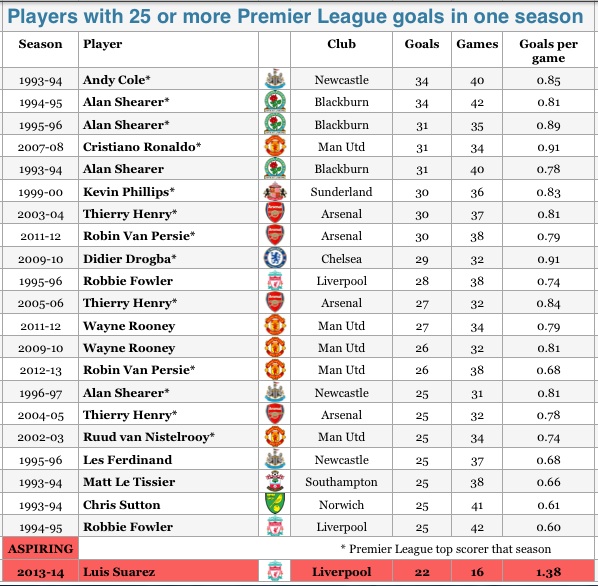 More on Liverpool / Man Utd / Arsenal (or search for anything else in box at top right)