Brian Sears
26 August 2013
David Moyes takes control of his first home league game as Manchester United manager on Monday evening seeking to uphold United's astonishingly good home record in the Premier League era.
How good?
Well, they've played 405 home league games since the division was revamped as the PL in 1992-93 and have won 305 of them, drawn 66 and lost just 34 of them.
That's fewer than two home defeats per season, for 21 years, or an average of 1.62 home defeats per year.
Forty-four different opponents have visited Old Trafford in those 405 games, with a potential 1,215 points to take away. Combined, those clubs have won only 168 points. Only 16 of the 44 visitors have ever won a game at Old Trafford in that period, and 16 others have never even won a single point.
There is one club that has a standout record at Old Trafford, and only that one club has won more than a point per visit on average.
That club is Monday night's visitors, Chelsea, who have played 21 Premier League games at United, winning six, drawing seven and losing eight for a total of 25 points, or 1.19 points per game on average.
Chelsea's 25 points mean that by themselves they have won 15 per cent of all the points won by 44 teams at Old Trafford in the PL era.
Chelsea have most wins (those six) followed by Liverpool on four, then Arsenal and Manchester City on three each. Only one other club, Middlesbrough, have won as many as three PL games at Old Trafford, and have an average of 0.93 points per game there. They along with Derby (0.86 points per game in the PL era) are the only other clubs anywhere close to a point per game at OT.
The club by club records of all visitors are in the graphic here:
Article continues below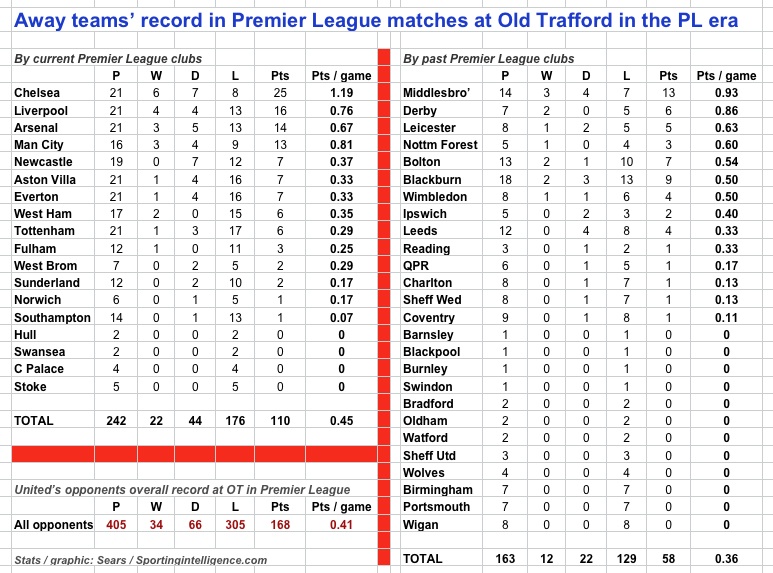 .
Manchester United have evidently been the dominant club overall of the Premier League era, winning 13 of the 21 titles in that period, with Chelsea winning the joint next most titles, three, the same as Arsenal.
The second graphic, below, depicts United and Chelsea's league finishes by season since 1992-93, and also the season-by-season league results at Old Trafford and Chelsea.
There is a supposition that Chelsea only became title contenders when Roman Abramovich bought the club in 2003 and started to flood it with his petrodollars. And that is, of course, to a large extent true.
But it is interesting to note that in the 11 Premier League seasons before Abramovich arrived, Chelsea did better at Old Trafford – P11 W3 D5 L3 for 1.27 points per game – than they have in the 10 years since he came: P10 W3 D2 L5, for 1.1 points per game.
United have won five, drawn one and lost two of the past eight PL meetings at OT.
But then Alex Ferguson was in charge, not Moyes, whose home challenge starts now.

.
More on Chelsea / Man Utd / Arsenal (or search for anything else in box at top right)