By Steve Menary
6 September 2013
FIFA has been accused of playing God after football's world governing body used rules designed to prevent child trafficking to deny a 17-year-old British schoolboy the chance to take up a place on a college course – in Wiltshire.
To make matters worse, the boy's family has concerns that the British government, while sympathetic to the their case and supportive, are reluctant to get actively involved because Fifa has a track record of suspending national associations when there has been 'political interference' in the football business of that nation.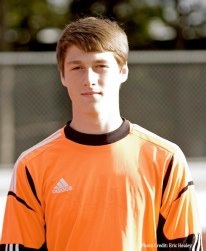 The teenager in question, Brendan Norris, left, was a keen junior footballer in Canada – where he grew up with his British father and Canadian mother – for clubs including Kingston FC in the Canadian Soccer League. But the family moved to the UK in February this year when his father, Mike, returned home for work.
Brendan was offered a place on a BTEC in Sport at Sparsholt College in Wiltshire. To accept, he must first register as a footballer with the college, which has a football affiliation with Premier League side Southampton.
Although Brendan has a British passport courtesy of his father, because he played official junior football in Canada he must go through FIFA's Transfer Matching System, which governs players moving from one country to another before he can play any football in the UK.
As he is only 17, Brendan also needs an International Transfer Certificate (ITC) used to govern moves for players under 18.
The Canadian Soccer Association approved a request from the Norris family almost immediately, only for FIFA to step in and block the transfer before the English Football Association could complete the move.
Two requests for an ITC from the Norris family have been heard by FIFA, the last in mid-August when a one-man FIFA panel in Singapore blocked a request. A PDF of that one-man decision is here.
FIFA's rules governing the movement of junior players were drafted to prevent trafficking of players from Third World countries. But the decision to bar Brendan Norris means that a 17-year-old British national is unable to play football in the country that is now his legal home even though he moved to the UK to stay with his family.
His father Mike Norris said: "In my opinion FIFA have put themselves in the position of police, judge, and executioner while usurping my parental rights with no justification. They're playing God.
"The first request [for an ITC] was made on football grounds, the second was on legal grounds but both have been rejected and we suspect the second one is again on football grounds. They do not appear to have taken the legal arguments seriously.
"Our biggest concern about this decision is that it fails to recognise the interests of Brendan with respect to his schooling.
"Whether FIFA like it or not, the football program compliments the academic curriculum and without it the educational value would be significantly diminished. Also, the FIFA rules were meant to prevent big clubs bringing minors in from developing countries and then putting them on the street when they failed to make it with no support or education.
"Being from Canada, he is clearly not coming from a developing nation. He has and will continue to receive the full support of his family."
In response, FIFA cited the sections of the rules that deal with player trafficking, saying: "The decision has been taken by a member of the competent body of FIFA in accordance with art. 19 par. 1 and 2 in conjunction with art. 19 par. 4 of the Regulations on the Status and Transfer of Players. The grounds of the decision will be notified to the parties concerned if they request so in time. Please understand that, for this reason, we cannot comment any further, in particular not on the substance of the decision."
The Norris family have requested these grounds and also asked the FA to intervene on Brendan's behalf. The FA has twice supported the family's applications for an ITC but a spokesman told Sportingintelligence: "It's a decision FIFA, not The FA, have taken. Those are the rules and FIFA have come back with that and there's not much more we can do."
Mike Norris added: "In my opinion the FA and especially FIFA seem to believe they are above the laws that we all have to abide by. Our next approach will be to ask the FA to grant provisional registration to Brendan whilst we go through an appeal process.
"Based on their behaviour so far I don't expect them to be willing to support this but I would love to be wrong."
The Norris family have also appealed to their local Member of Parliament Richard Benyon for help and to sports minister Hugh Robertson, whose Department for Culture, Media and Sport has approached the FA for clarification.
Both Richard Benyon and the DCMS have been in touch with the Norris family. However, FIFA has suspended more than a dozen national associations in the last few years for various forms of political interference and the Norris family are not hopeful of politicians bringing about any change.
The DCMS said: "We understand the FA has made representations to FIFA on this case and support them in that. While we completely understand the need for FIFA to have strict rules in place to protect minors from trafficking, it does seem odd that a young footballer who has a British passport and British parentage is being blocked from playing University level football in this country."
Increasingly frustrated, the Norris family are working with lawyers and hope the FA can help support an approach the Court of Arbitration for Sport to unlock a case that illustrates the seemingly unchallenged power that sporting bodies now have over both amateur players and the aspirations of the young.
.
More from Steve Menary on Sportingintelligence
Follow SPORTINGINTELLIGENCE on Twitter