*
CHRISTOPHER DAVIES is a veteran football writer who paid 17 shillings and sixpence to be at Wembley for the 1966 World Cup final. A former chairman of the Football Writers' Association, he is the current editor of FootballWriters.co.uk and the author of  'Behind the Back Page: The Adventures of a Sports Writer.' Here he explains how it is indeed the case that facts don't always get in the way of a good story, in this case on the subject of referee "apologies".
..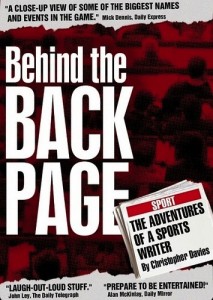 By Christopher Davies
25 November 2013
IT IS golden rule of journalism / a joke / a cliché  – maybe all three, delete as your prejudices deem applicable – never to let the facts interfere with a good story. Don't tell 'em the truth … don't knock the story down … just print the juicy bits.
And "Mike Riley phones West Bromwich Albion to apologise for referee cock-up" is a much better story than "Mike Riley didn't really phone West Bromwich Albion to apologise for referee cock-up."
The head of the Professional Game Match Officials Ltd telephoning Steve Clarke to say sorry for Andre Marriner's decision to award Chelsea a last-minute penalty that saw the Blues draw 2-2 rather than lose 1-2.
As we say in the trade, a good yarn and one that had legs (we also say that).
The story saw Barclays Premier League managers, led by Sunderland's Gus Poyet, demanding Riley apologies for every refereeing mistake against their club, too. A can of worms had been well and truly opened with the contents spilling everywhere. If Riley apologised to Clarke, he must apologise to every manager.
I am sorry to pour cold water over it and if you prefer to believe the story that has been on the back pages, then look away now. You won't like the reality.
Riley phones Premier League managers regularly as part of an agreement with the League Managers Association to discuss refereeing issues. It can be to explain why certain decisions were made, or points of law, trying to make a manager appreciate that in real time with one view from one angle and without the benefit of a dozen slo-mo replays how a referee could have made an error … or occasionally to just say: "He got it wrong, sorry."
When Riley spoke to Clarke he did not try to defend the indefensible. The coming together of Ramires and Steven Reid was not a foul, it was not a penalty.
Marriner made a human error, just as Petr Cech and Liam Ridgewell had earlier in the match which cost their teams goals. Sometimes Riley may say to a manager: "It was a soft penalty" but a soft penalty is still a penalty. With Marriner there were no excuses and Riley uttered the S-word.
Clubs usually acknowledge that conversations between Riley and their manager should remain private, but West Bromwich – for whatever reason – decided to put it on their web site. A back-page lead was handed on a plate to football writers.
Of course, no club has ever put on its site "our manager was wrong to slag off ref." Life, well football life, doesn't work like that of course. Such apologies are a one-way street.
Poyet's dark hint that Riley would not apologise to him because he is foreign is irresponsible and insulting. Two weeks earlier Riley had spoken to Swansea manager Michael Laudrup about a penalty awarded against his club. To the best of my knowledge, Señor Poyet, Laudrup is still foreign.
Poyet was angry – and some – at Wes Brown's dismissal by Kevin Friend at Stoke. Robbie Savage, who no doubt has an extensive knowledge and appreciation of the laws otherwise he would not make such a statement, said it was "the worst sending-off ever in football."
All opinions formed after watching the usual replays in slow-motion from various angles, of course. Interestingly, the reaction of the commentator for Match of the Day was: "Wes Brown went flying in there…" so he obviously thought the Sunderland defender could be in trouble.
If and when Riley phones Poyet their conversation may go something like this.
Riley: Gus, it's Mike Riley…
Poyet: [censored]
Riley: About West Brown's red card…
Poyet: [censored]
Riley: You thought it was harsh…
Poyet: [censored]
Riley: First of all, Gus, the fact that a player gets the ball is irrelevant in law…
Poyet: [censored]
Riley: Commentators keep saying 'he got the ball so how can it be foul?' but they are wrong. Unfortunately, the public now believe if a player touches the ball as he makes a tackle it can't be a foul…
Poyet: [censored]
Riley: If a player lunges at an opponent in challenging for the ball…using one leg or both with excessive force and endangers the safety of an opponent he is guilty of serious foul play and must be sent-off.
Poyet: [censored]
Riley: Brown did lunge in at Charlie Adam with studs of one boot showing and for a second it looked like both his legs were off the ground so he would have had no control over the outcome of the tackle…
Poyet: [censored]
Riley: Adam wasn't hurt, but the referee decided Brown was guilty of serious foul play. I'm sorry you were so upset but in law the referee was correct…his decision certainly justifiable.
Poyet: [censored].
The Sunderland manager later tells friends Riley said "sorry" to him, too.
If you liked this piece, you might also enjoy: 'It would help the credibility of those who criticise refs if they actually knew the laws'
.
Follow Chris Davies on Twitter
Follow SPORTINGINTELLIGENCE on Twitter