By Brian Sears
21 November 2013
Everton have finished higher than Liverpool in the past two Premier League seasons but in the 67 completed post-war campaigns, Liverpool have a 51-16 lead in who has finished higher in England.
In graphical form, that 67-year head-to-head looks like this (article continues below):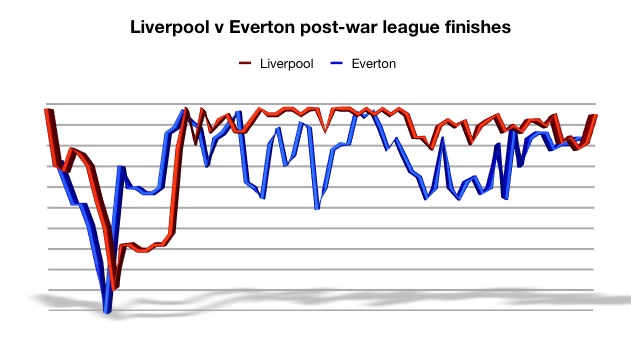 Everton fans of a certain age will look back on their purple patch of the fifties and early sixties when Liverpool were away from the top division for eight years and Everton finished higher for nine consecutive seasons.
Other rare seasons of Evertonian supremacy have been scattered down the decades, always singly, until the last two completed seasons when Everton finished above Liverpool on both occasions albeit by a single place each time.
The Premier League era has seen Everton coming to grips (relatively) with their Merseyside rivals and recently more than matching them stride for stride.
In detail, their post-war finishes (article continues below):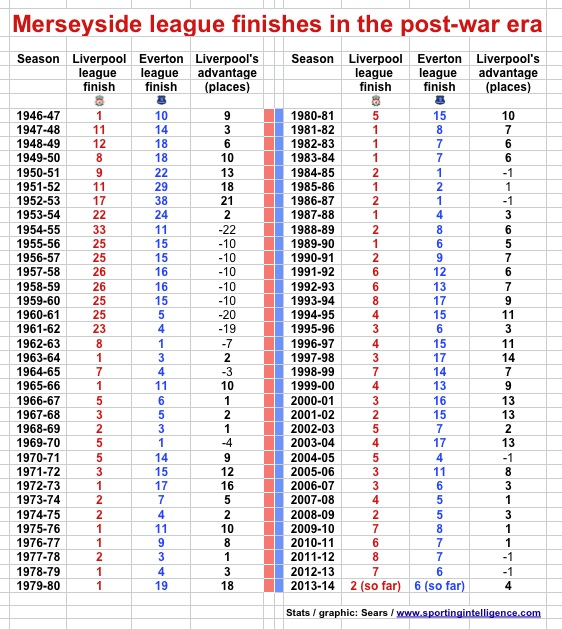 At the same time Everton fans have had to swallow the bitter pill of derby day wins over their rivals becoming rarer and rarer over the 21 seasons of Premier League football.
In the first eight Premier League seasons, Everton won six derby games and only lost three, and seven were draws.
But in the last 13 seasons, Everton have only won three games, losing 15 and drawing eight.
Here is the sequence of the Premier League results of those 42 games from an Everton perspective, with the oldest results on the left.
First eight PL seasons / last 13 PL seasons
W L W L W D W D D D W D D L W D L L L D D L L D W L L L W D L L L D L L W D L L D D 
The two clubs meet at Goodison on Saturday for a lunch-time kick off.
More on Liverpool / Everton (or search for anything else in box at top right)