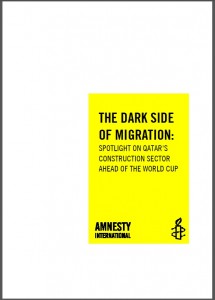 By Nick Harris
17 November 2013
A new report published this evening by Amnesty International and based on interviews with workers, employers and government officials, says that Qatar's construction sector is "rife with abuse, with workers employed on multi-million dollar projects suffering serious exploitation."
Amnesty say that the full 166-page report – The Dark Side of Migration: Spotlight on Qatar's construction sector ahead of the World Cup – reveals widespread and routine abuse of migrant workers – in some cases amounting to forced labour.
Allegations in the report, available via Amnesty's website (or PDF download report here), include:
.
Migrant workers are 'treated like cattle' by subcontractors for Qatar Petroleum, Hyundai E&C and OHL Construction.
Workers are living in squalid, overcrowded accommodation with no air conditioning, and exposed to overflowing sewage or uncovered septic tanks.
 Workers are left unpaid for months and prevented from leaving the country by employers – faced with mounting debts many workers suffering severe psychological distress with some driven to the brink of suicide.
Amnesty say: "The report documents a range of abuses against migrant workers. These include non-payment of wages, harsh and dangerous working conditions, and shocking standards of accommodation.
"Researchers also met dozens of construction workers who were prevented from leaving the country for many months by their employers – leaving them trapped in Qatar. Amnesty's findings give rise to fears that during the construction of high-profile projects in Qatar, including those which may be of integral importance to the staging of the 2022 World Cup, workers may be subjected to exploitation."
Amnesty International's secretary General Salil Shetty says: "Our findings indicate an alarming level of exploitation in the construction sector in Qatar.
"Fifa has a duty to send a strong public message that it will not tolerate human rights abuses on construction projects related to the World Cup.
"Qatar is recruiting migrant workers at a remarkable rate to support its construction boom, with the population increasing at 20 people an hour. Many migrants arrive in Qatar full of hopes, only to have these crushed soon after they arrive. There's no time to delay – the government must act now to end this abuse.
"Construction companies and the Qatari authorities alike are failing migrant workers. Employers in Qatar have displayed an appalling disregard for the basic human rights of migrant workers. Many are taking advantage of a permissive environment and lax enforcement of labour protections to exploit construction workers.
"The world's spotlight will continue to shine on Qatar in the run-up to the 2022 World Cup, offering the government a unique chance to demonstrate on a global stage that they are serious about their commitment to human rights and can act as a role model to the rest of the region."
In one case, the employees of a company delivering critical supplies to a construction project associated with the planned FIFA headquarters during the 2022 World Cup were subjected to serious labour abuses.
Nepalese workers employed by the supplier said they were "treated like cattle". Employees were working up to 12 hours a day, seven days a week, including during Qatar's searingly hot summer months. Amnesty is calling on FIFA to work with the Qatari authorities and World Cup organisers as a matter of priority to prevent abuses.
The treatment of Nepali workers in Qatar were the subject of a Guardian investigation earlier this year.
Qatar's attitude to immigrant labour, including footballers, has also been highlighted by the case of Zahir Belounis (more here); and the response of the Qatari authorities in the past 24 has already caused added controversy.
Qatar won the right to stage the 2022 World Cup after a vote by Fifa's Executive Committee (ExCo) in December 2010. The losing bidders for 2022 were the US, Australia, Japan and Korea.
The 22 ExCo members who voted had been reduced after two others had been suspended amid corruption allegations. Several other ExCo members have since left after being implicated in corruption.
The Qatar 2022 World Cup organisers insist they won the right to stage fairly; that they were picked as the best venue for a World Cup on their own merits; that they can safely stage a summer tournament in the desert heat with no health implications for players and fans; that there was no bribery and no collusion in the 2022 process; and that criticism of Qatar is based on ignorance and anti-Arab sentiment.
Others argue that Qatar are not the only Middle East nation with appalling working conditions for some migrant workers, or indeed the only nation with human rights issues. Russia, hosts for the 2018 World Cup, have long been criticised for human rights abuses.
Amnesty say their report identifies cases that constitute forced labour in Qatar. "Some workers interviewed by Amnesty were living in fear of losing everything, threatened with penalty fines, deportation or loss of income if they did not show up to work even though they were not being paid," the report says.
"Faced with mounting debts and unable to support their families back at home, many migrant workers have suffered severe psychological distress with some even driven to the brink of suicide.'
One Nepalese construction worker, unpaid for seven months and prevented from leaving Qatar for three months, told Amnesty: "Please tell me – is there any way to get out of here? … We are going totally mad."
Amnesty has documented cases where workers desperate to get out of the country were effectively blackmailed to give up money owed to them by their employers. Researchers witnessed 11 men signing papers in front of government officials falsely confirming that they had received their wages so as to get their passports back to leave Qatar.
Meanwhile, many workers reported poor health and safety standards at work sites, including some who said they were not issued with helmets on sites. A representative of Doha's main hospital said earlier this year that more than 1,000 people were admitted to the trauma unit in 2012 having fallen from heights at work: 10% were disabled as a result and the mortality rate was "significant".
Amnesty shared their findings with Fifa prior to publication of the report, and Fifa replied (letter below).
That letter says: "It is Fifa's aim that the host countries of our flagship event ensure healthy, safe and dignified working conditions for all – nationals and foreigners, including construction workers – involved in the preparation of the event."
The sincerity of such a claim remains unclear because Fifa president Sepp Blatter has already declared, more than once, that Qatar will certainly now host the 2022 World Cup. Such a stance appears to rule out any possibility that continued human rights abuse would have any effect on that whatsoever.
(Click to enlarge letter; article continues below)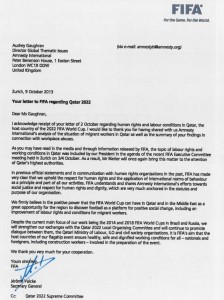 Background
Amnesty carried out interviews with approximately 210 migrant workers in the construction sector, including 101 individual interviews, during two visits to Qatar in October 2012 and March 2013. Amnesty also contacted 22 companies involved in construction projects in Qatar, including meetings, telephone calls and written correspondence. Researchers held at least 14 meetings with Qatari government representatives, including from the Ministries of Foreign Affairs, Interior and Labour.
The report forms part of Amnesty's wider work on labour exploitation of migrant workers. In 2011 Amnesty documented abusive practices by Nepalese recruitment agencies, with agencies were using deceptive practices to traffic migrant workers for exploitation and forced labour in the Gulf States and Malaysia. Amnesty called on the Nepalese government to improve protection of its migrant workers.
Other stories on this site that mention … Qatar / World Cup
Follow SPORTINGINTELLIGENCE on Twitter
.
UPDATE 11 Feb 2014: The Qatar organisers released a detailed workers' charter on 11 Feb 2014, a version of which they say was adopted in March 2013. A PDF of that charter is here as a PDF download: SC WORKERS' WELFARE STANDARDS (EDITION 1) (2)