By Brian Sears
11 September 2015
Tottenham have the youngest starting XIs in the Premier League this season at 25.2 years, followed by Liverpool, while Newcastle are the only other team with an average under 26.
Tim Howard (age 36) is the oldest player and Oxford Reece (age 16, turns 17 in December) is the youngest at almost two two decades younger than Howard.
West Brom have the oldest team by average age of starting line-ups followed by Watford, Manchester City and Sunderland. Clearly there is no performance-related pattern here, although one might suggest Tottenham and Liverpool are maturing (not mature) teams and Manchester City are close to optimal age, perhaps very slightly older than you'd want from a team built not just to dominate but last.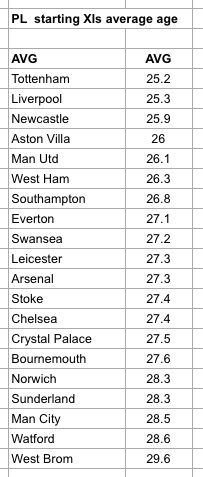 And another thing …
Arsenal have a perfect Premier League record at home to Stoke, who they face at home this weekend.
They have a worse record at home to Swansea in the PL than they do away; uniquely of the opponents they will face this season. The higher the opponents in the table the more Arsenal prefer playing them at home than away.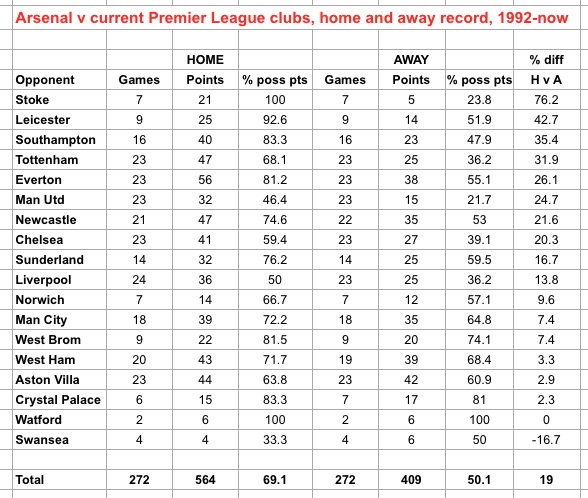 …. And finally
The statistics in these pages will often be in relation to the Premier League era when they deal with English football. We know the game is a bit older than that. We know Preston won as Invincibles in the league's first season in 1888-89. But the Premier League is a distinct era if only because of the money that has transformed the picture. This is the 'monied era'.
To get some idea of how the financial situations of these clubs have changed over time – and finance is a big influence in success in football – further reading and related articles spring from Sportingintelligence's annual global sports salaries reports, are linked here. The 2015 edition of the report (right) was published in May.
You can download a free 120-page PDF here.
2014 Report             2013 Report            2012 Report         2011 Report          2010 Report
.
More on Arsenal / Liverpool / Man Utd  (or search for anything else in box at top right)