By Nick Harris
SJA Internet Sports Writer of the Year
22 March 2012
An authoritative new report on replica kit deals across Europe's five major leagues shows that the Premier League's 20 clubs collectively are making more money in 2011-12 from kit supplier contracts (€109.7m or £91.5m) than their counterparts in Spain (€77.5m), Italy (€69.3m), Germany (€48.1m) and France (€25m).
Conversely, according to the European Football Kit Supplier Report 2012 by SPORT+MARKT, clubs in the Premier League are selling their fans replica shirts at cheaper prices than clubs in the other 'Big 5' nations, with an average shirt price in England of €49.80 (£41.50).
In Spain, which has the next lowest average prices, shirts are being retailed by clubs at an average of €64.38, although the big two clubs, Barcelona and Real Madrid, are charging €81 per shirt.
Of the 28 different brands supplying the 98 teams across the top divisions of England, Spain, Italy, Germany and France, three are dominant: Nike and adidas supply 18 clubs each and Puma supply seven.
The total number of replica shirts sold by the 98 clubs this season will amount to 'approximately' 11.1 million shirts combined, according to the report.
As Sportingintelligence has previously reported (link here), a small group of clubs account for a vast majority of all shirt sales, with Manchester United, Real Madrid, Barcelona, Liverpool, Arsenal, Chelsea and Bayern Munich among them.
The graph below shows the price band of shirts in each of the big five countries, and the average cost:
.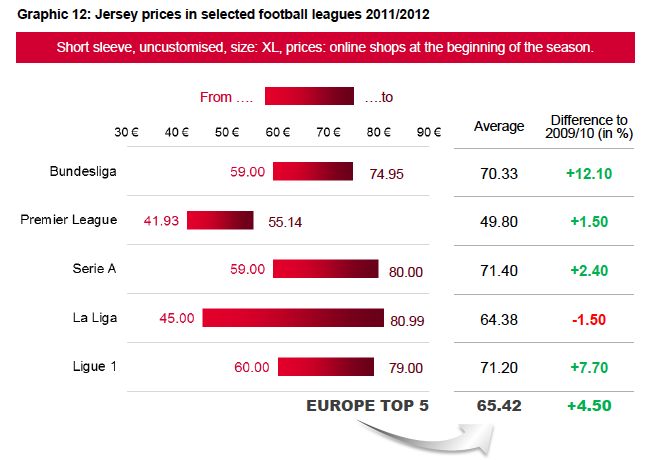 .
The big three suppliers since 2001-02: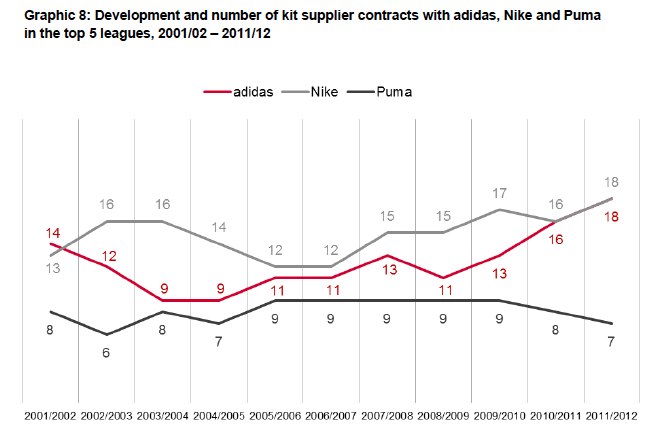 .
.
More stories mentioning Barcelona / Messi
More on Man City / Man Utd / Arsenal / Liverpool / Chelsea (or search for anything else in box at top right)
Follow SPORTINGINTELLIGENCE on Twitter