Part of Sportingintelligence's guide to the 2016 FIFA presidential election: HOME PAGE here
.
PROFILE: David Nakhid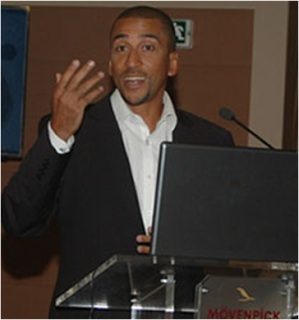 Age: 51.        Born: 15 May 1964, in Port of Spain, Trinidad & Tobago
Twitter: @DavidNakhidIFA Website: http://www.davidnakhid.com
Manifesto: Not available yet.
Football background: A midfielder, Nakhid's was the first player from Trinidad & Tobago to play in Europe while at Grasshoppers in Switzerland and also played in Belgium for Waregem. He won 35 caps for the Soca Warriors, captained the team from 1996-1999 and featured in the 2006 World Cup qualifying campaign. After retiring, Nakhid had spells as a manager in the Middle East and in his native Trinidad, before setting up the Lebanon-based David Nakhid International Football Academy.
Non-football background: Graduate of the American University, Washington DC.
Any corruption? None proven. Nakhid categorically denies ever having received any funding from former FIFA presidential candidate Mohammed Bin Hamman, or even having met him, after The Mail on Sunday obtained paperwork showing someone with his name had purportedly received money from Bin Hammam. Nakhid offered to make his bank accounts available to back this up. Even it Nakhid had received the money in question, it was alleged to have been paid in 2009 and cannot have been related to the current campaign.
Allies: Nakhid jokingly suggested to rival FIFA presidential candidate Jerome Champagne that he could be his general secretary after the Trinidadian had won the February ballot. A day later, Nakhid had been ruled out.
Enemies: The rest of the candidates, whose experience at national association or international level make them anathema to Nakhid's desire for a new broom from outside existing FIFA structures.
Latest news:  10 Dec – preparing for CAS hearing, interview here. Earlier: A day after he firstly publicly unveiled his manifesto at the Play The Game conference in Aarhus on October 26, Nakhid was ousted from the race after the US Virgin Islands (USVI) nominated both Nakhid and another un-named candidate. Under FIFA's rules, Nakhid must now appeal to the FIFA presidential committee. On 16 November 2015 Nakhid appealed to CAS over his ban from the presidential election race. For latest news on all candidates click here for TIMELINE on resources page.
.
Portrait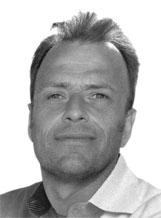 By Steve Menary
China or FIFA? That, for many national sports associations in the Caribbean, is often the route to fund capital projects. The Chinese have built and funded cricket grounds in Bahamas, Barbados and Dominica, the Sligoville mini-stadium in Jamaica, the George Odlum football stadium in St Lucia and the Anthony Nesty Sporthal in Surinam, but FIFA has funded many, many more. That is the miasma through which many of Sepp Blatter's critics struggle to peer through, but not David Nakhid.
In the Elsinore Theatre in Aarhus, Nakhid for the first – and for now, only – time detailed parts his manifesto. Only 15 per cent of FIFA's members feel enfranchised he said. He meant that only 15 per cent of FIFA's 200-plus nations attend FIFA's World Cups, at any level, and most of them are the same big nations. The remainder are disenfranchised. 'What do we do about that?' asked Nakhid rhetorically.
The answer is not to cut off funds for development. The prospect of yet more FIFA money disappearing into a dirty Caribbean plughole certainly horrifies the lay FIFA critic and some lazy parts of the western media, some of whom did not even include Nakhid amongst the runners-and-riders even before he was sidelined on October 27.
The millions of dollars to vanish into the Antiguan GOAL project is certainly an obscenity given the standard of pitches that children on the island must play on, while the St Lucian government famously decided to "unscramble the eggs" and demolish the half-built GOAL project in La Clery. The site now hosts a shrimp farm.
The prospect of more money going to places like Montserrat, which has a population of 5,000, no league and a national team mainly drawn from the United Kingdom, seems absurd. But to try to form a power-base in the fractious, sometimes sclerotic world of Caribbean football this is what Nakhid has to do.
Nakhid, like his would-be rival Jerome Champagne, knows that to suggest pulling the plug on GOAL money or the Financial Assistance Programme to combat corruption is suicide.
"FIFA must use the peripheral nations as its base," he says, avowedly pro-development.
While not ideal, the one-member one-vote is democracy at its rawest: Germany's vote is worth the same as Vince Cassell's in Montserrat. The articulate and intelligent Nakhid knows this but he is also an outsider.
He was part of the Soca Warriors' 2006 World Cup squad, but played no part in the players' union subsequently formed by Shaka Hislop that lobbied hard for years to get their appearance fees from the TTFA.
That is the dichotomy of Nakhid's bid. Though generally well regarded, he has no obvious power base amongst associations or players. But could his independence and place outside the FIFA system be enough to help him build a power base if he is allowed to re-join the race?
He toured parts of the Caribbean to outline his vision and drum up support, but made a major tactical mistake in only finding the minimum five nominations, including one – the USVI – that could clearly not be relied upon.
One theory floated locally behind the USVI's decision to nominate Nakhid and another candidate, thus setting in train events that might rule out the Trinidadian, was that this was done at the behest of the United States and through the USSF.
Politically, the USVI is an organized, unincorporated US territory. The suggestion is that with the FBI leading the charge against FIFA corruption, no part of the US could be seen to be backing another Caribbean official given the track record of the two FIFA vice presidents from the region: Nakhid's infamous compatriot Jack Warner and the Cayman Islands banker Jefffey Webb, who was arrested this summer in the US.
Neither the USVI nor the USSF would respond to this allegation, but the chances that the UVSI simply made a mistake seem unlikely.
The Caribbean and wider CONCACAF region are riven by divides; the days of Jack Warner's bloc vote are long gone.
Nakhid drew his support from the English-speaking nations, which illustrates just how the Caribbean Football Union groups together in blocs-based on language.
The French territories are now fully CONCACAF members thanks to Webb, but not in FIFA so will play no part. The Dutch-speaking members play together in the ABCS Cup and three CONCACAF members, Aruba, Curacao and Surinam, vote next February.
Interestingly, the main whistle-blower to out Bin Hamman for allegedly handing out $40,000 in envelopes to CFU members was Louis Giskus, president of the Surinam association, while those FIFA members belatedly subject to censure were mainly from English-speaking Caribbean associations.
Was Nakhid unable to persuade places such as Surinam to support him, or did he not even try? If Nakhid rejoins the race, he will need to campaign more widely, and could even soon lose support from those willing to back him.
Nakhid has publicly declined to name his supporters but Caribbean sources suggest that the other four countries to nominate Nakhid were Antigua & Barbuda, Guyana, St Lucia and his native Trinidad & Tobago.
If correct, this could be a fragile alliance. In St Lucia, Lyndon Cooper won the latest SLFA presidential election in April this year but in Guyana and Trinidad there could soon be a change of football leader as elections are later due this month (November 2015).
By then, Nakhid should know if he is allowed to rejoin the candidates aiming to replace Sepp Blatter. If so, he will be an outsider but with votes up for grabs in the Caribbean one that could yet motivate a number of votes.
Nakhid in his own words …
On why FIFA needs a 'new blood' president: 'Because everyone who has been involved in FIFA for the last two decades have been tainted. It's almost impossible for someone who has been there [to be untainted]. Silence in itself is complicity in an organisation like FIFA. If you were there, and saw corruption and did not say anything, you have been complicit. I think Jerome [Champagne] is a wonderful guy, very affable and intelligent, but he was there for 11 years. That's almost three terms of a president. One word from him during that time [about suspicious activity] could have made a lot of difference … it's very important that the next president is someone who can't be touched [with association to corruption].'
On redistribution of wealth: 'England probably don't need FIFA's money. But why do English national teams not do well? Any given Sunday few English players playing in top teams. Development in other countries will help players stay in their own country … we have to be even-handed … speak to the imbalance that exists … even within Europe … when you develop countries, you can encourage players to stay in their domestic leagues … the leagues in Argentina and Brazil are very poor now.'
.
More on the FIFA presidential race