*
JOHN ROBERTS wrote for the Daily Express, The Guardian, the Daily Mail and The Independent, where he was the tennis correspondent for 20 years. He collaborated with Bill Shankly on the Liverpool manager's autobiography, ghosted Kevin Keegan's first book, and has written books on George Best, Manchester United's Busby Babes (The Team That Wouldn't Die) and Everton (The Official Centenary History).
As Matthew Engel once wrote in the British Journalism Review: "I suspect posh-paper sports writing changed forever the day John Roberts left the Daily Express to join The Guardian in the late 1970s, was handed a piece of routine agency copy and picked up a telephone to start asking questions."
.
.
By John Roberts
1 November 2010
.
George Best and Paddy Crerand looked on helplessly from the touchline as a leg-shattering two-footed tackle perpetrated by Louie Scavio left their protégé, Malcolm Wagner, writhing and screaming in the mud with a broken tibia and fibia.
This did not happen in the San Siro or Old Trafford but on a recreational pitch at Hough End in Manchester on a Sunday morning. Wagner was playing for the Village Barber XI, coached by Crerand, against the Quality Street Gang, a team of hard men who once allegedly turned back the Kray gang at Central Station when the infamous London mob attempted to move in on Manchester's clubland.
The Quality Street Gang, or QSG, were regulars at Phil Lynott's mother's 24-hour drinking club, Phyllis's, and were the inspiration for Thin Lizzie's hit song, 'The Boys Are Back in Town'. Scavio and his QSG team-mates were regular visitors to the hospital bedside. "Amongst them," Wagner recalls, "were some of the most genuine, moral and decent people you could wish to meet."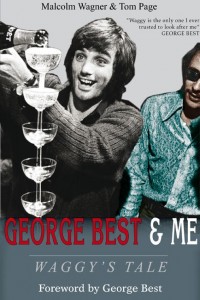 The QSG are just a few of the fascinating characters to be encountered in Wagner's book, George Best and Me: Waggy's Tale, written in collaboration with Tom Page, published on 8 November.
Best urged "Waggy", his closest friend, to write the book and even provided a foreword for it in May 2004, fourteen months before his death. Best acknowledged that: "This is the man who's pulled me out of a thousand holes, suffered pursuit by hostile football managers, police and mad women who all wanted to get their hands on me."
I can vouch for this, having known Malcolm Wagner from my days as Best's ghost-writer for the Daily Express in the early 1970s, when the football genius's career with Manchester United ended in chaos. (Some other stories relating to life with George could be found here and here).
Waggy, the Sunday footballer, was the Village Barber. His shop stood next door to Best's boutique, Edwardia, and his customers included Michael Parkinson. Best was a regular at the Village Barber XI's matches, having previously coached the Brown Bull pub team, the Netminder's Eleven, featuring Wagner and other imbibers.
The footballer and the barber were introduced by a mutual friend in a Manchester nightclub in 1965. Best was a shy young man in the process of establishing himself as a sporting great. Waggy was a frustrated pop star, having been dropped as a vocalist by a group named the Whirlwinds who, thanks to Graham Gouldman, went on to success as 10 cc.
Waggy's vivid and sometimes hilarious recollections of growing up in a Jewish community in Manchester and of the 1960s pop and clubland scene develop into a potted history of Manchester nightlife during this period and into the 1970s, when he partnered Best in the running of several night clubs, Waggy doing most of the running.
There is a bizarre account of Waggy and the Whirlwinds performing at Bernard Manning's Embassy Club and of being startled when, shortly before they were due on stage, the outrageous comedian burst into the dressing room and took a pee through a hole in the floorboards.
Waggy revelled in the glamorous times and adventures with Best, travelling the world with him, and stuck by him through the darker years. "There is no doubt in my mind," says Sir Michael Parkinson, their mutual friend, "that Waggy was the man who actually cared for George more than anyone else."
After Best "quit" football for the first time in 1972, I shared a meal and drinks with Waggy in a bar in Majorca while Best went on a night out. We knew that Best would be going back to play for United.
"I was with George when he went to see [Frank] O'Farrell before we came here," Waggy told me. "When he came out and got in the car he didn't say anything and we drove off. He still didn't say anything, so I said, 'Well?' and he said, 'Well what?' I said, 'Well, what happened?' And he said, 'Oh, he talked about wolves.' So I said, 'Wolves? Wolves?' wondering if there was going to be a transfer or something, and he said: 'Yes. You know, about the boy who cried wolf'."
One day, as we gazed across the Mediterranean, Waggy turned to me and said: "People say we [Best's friends] just hang around George for the glory, but there's no glory now. Just the nasty cracks about being hangers on." Fortunately for Best, Waggy hung on supportively until the end.
The book, lively and unpretentious, is packed with insights into the life of one of football's most gifted and controversial players. At the same time, it is emphatically Waggy's tale.
.
George Best and Me: Waggy's Tale (Empire Publications, Manchester) can be ordered for £12 direct from the publisher.
.
Sportingintelligence's home page
.
Details of how to order John Robert's recent book about working with George Best, as detailed in this column, directly from the publisher can be found here. The book can also be ordered by telephone on 0845 143 0001, and is available in all good book shops.