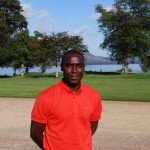 By Andy Cole
2 April 2010
Arsenal were handed a footballing lesson on Wednesday night in the Champions League by the team whose blueprint they seek to follow – not to mention given a fortunate penalty by an incompetent referee.
But Arsène Wenger's side showed they've got some mettle by recovering from 2-0 down to give themselves a chance of reaching the semi-finals. Funnier things happen; Rubin Kazan went to the Nou Camp in October and came away with a 2-1 win when the group stages were still very much live.
Barça are going to be without Carles Puyol and Gerard Pique, who will be both be suspended, and they can be susceptible at the back at the best of times, so you never know.
As for Puyol's red card, it's my view, even as a striker, that it was harsh. The counter argument is that Cesc Fabregas was about to swing his leg and score, and any contact, however light, warrants a red card. But if I had had a penalty for every time that had happened in my career, I would have had a few per game.
Puyol was doing little more than watching the ball. Still, Arsenal – who I played for, and admire hugely – will seize the breaks where they fall.
If Pep Guardiola's team had taken their chances in that first half not even the most one-eyed Gooner could have complained if Arsenal had been 3-0 down at the break. It would have been that score at least but for some poor finishing and several fine saves by Manuel Almunia.
Barça bossed that first half using their pass-and-move system, which operates as a 4-2-3-1 in its current incarnation, with flexibility, interchange and quite staggering amounts of effort all over the pitch.
Progressive full-backs flanking powerful centre-halves sit behind a pairing that on Wednesday featured Sergi Busquets and Xavi, with Xavi the fulcrum. Andres Iniesta, when available, is also terrifically important in that area.
Then there is that attacking line of three – Pedro, Lionel Messi and Seydou Keita on Wednesday, but Thierry Henry comes into that sometimes – behind the central front man, Zlatan Ibrahimovic. The trio are fluid, dynamic (and clearly a genius in Messi's case) but through the whole team it is all about passing, passing, passing; short, accurate passing, that is. You will count on one hand the long balls Barça will play in a game. It's not their way.
That pass and move continues from start to finish; there is no lumping it towards the end. Remember last season when Barça were 1-0 down at Chelsea in the semi- final second leg and unless they scored they were out? They just kept very level heads and passed and passed until Iniesta's goal took them through right at the end.
Another thing you have to admire about this Barcelona team is their effort in getting the ball back. It is obvious all their players are comfortable on the ball – they treasure it, that's a given for a footballer at that club. They keep possession for minutes at a time. But when they lose it, they work as hard as any team I have seen in getting it back. It is that tenacity that also makes them great.
Yet Arsenal got the draw; and that says much about them. They went from 2-0 down on the hour to 2-2 thanks in no small part to Theo Walcott's introduction, pace, and goal. The penalty was reward for second-half persistence even though I think it was soft. The other winners on the night were any neutrals who tuned in to a treat.
Can Arsenal go to the Nou Camp and get a result to go through? I have to think they'll struggle because Barça have got those two away goals, and will generally score at home, so they will rightly be the clear favourites. But the absence of key players on both teams will make it interesting. If we get another match of the calibre of this week's we'll be lucky.
Manchester United face a tough job in the second leg of their own quarter-final, against Bayern Munich, after losing 2-1 in Germany on Tuesday. United did not play especially well; aside from Wayne Rooney's early goal I think there was only one other real chance in the 90 minutes and it was saved. Bayern, in contrast, were good. They worked hard, they closed United down, they got better and better as the game went on, and did for United late on.
Nobody should expect a stroll for United in the second leg. A 1-0 win would be terrific, but food for thought: Bayern have scored in every away game in the competition this season: 10 goals in four games.
The fee for Andy Cole's column is donated to Alder Hey hospital and sickle cell anaemia research. He works on charitable projects with the sport and media team at law firm Thomas Eggar.
.
Andy Cole also writes for in The Independent.
Read more Andy Cole columns here