By Nick Harris
21 January 2014
Barcelona produce more first-team footballers across Europe's elite 'Big 5′ divisions than any other club in the world, according to new analysis by the CIES Football Observatory and published today by Sportingintelligence.
The Spanish giants have developed 44 players currently with top-flight clubs in Spain's La Liga, England's Premier League, Italy's Serie A, Germany's Bundesliga 1 and France's Ligue 1. Sixteen remain with Barca and 28 others play top-level football elsewhere.
The next best producers of talent for the 'Big 5' are Lyon of France and Real Madrid of Spain (31 players each), followed by Rennes of France (28), and Arsenal and Manchester United of the Premier League (27 and 25 respectively). No other clubs have been responsible for as many as 25, with Bayern Munich next on 23. An extended list is in the first graphic below.
Barca and Arsenal-produced players are named later. Lyon's talent stream in recent times has produced the likes of France and Real Madrid striker Karim Benzema, his international team-mate Loïc Rémy (on loan at Newcastle from QPR), Newcastle's Hatem Ben Arfa, and Roma and Bosnia striker Miralem Pjanić.

All the data in this article come from the highly respected Swiss-based CIES Football Observatory research organisation. The Observatory previously assisted Sportingintelligence in identifying and publicising the best producers of talent in the 'Big 5' leagues in the 2012-13 season, with the findings published HERE in December 2012.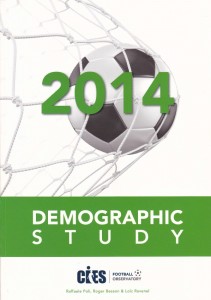 The 2013-14 results, expanded this time to look also at the best producers across all of Europe's main 31 leagues, as well as separately for the 'Big 5' divisions, are carried on this website today to coincide with the publication of the latest CIES Observatory Demographic study of European football (right).
A comprehensive and fascinating piece of work, the CIES study analyses the squads at 472 clubs across Europe's 31 major leagues across metrics as varied as nationality, training background, migratory patterns, international experience, age, height, duration of stay at each club and more. There is also a country-by-country analysis of the 31 leagues as well as a section that identifies 25 of most promising young players in each top division.
This piece only touches upon one small part of the report, namely the production of players and identifying which clubs are doing the best job at raising talent. It also expands on that. If you are interested in other sections of the report or more background details on the content of this article, visit the CIES website or contact them via the links at the bottom.
The definition of 'produced' for these purposes means a player spent three or more seasons within the development programme of the club in question specifically between the ages of 15 and 21, which are considered a footballer's most important 'formative' years.
The pool of talent being assessed to identify who produces the most 'Big 5' players are the 2,532 first-team squad members registered for the 2013-14 season at the 98 clubs in the top divisions of England (535 players at 20 clubs), Spain (498 at 20 clubs), France (504 at 20 clubs), Germany (459 at 18 clubs) and Italy (536 at 20 clubs) on 1 October 2013.
Of the 44 Barcelona-produced players at clubs in the 'Big 5' divisions, 16 of them are still with Barcelona and 28 at other clubs. We will name them all in a moment, but first a graphic that shows the best 22 producers of 'Big 5' talent.
Article continues below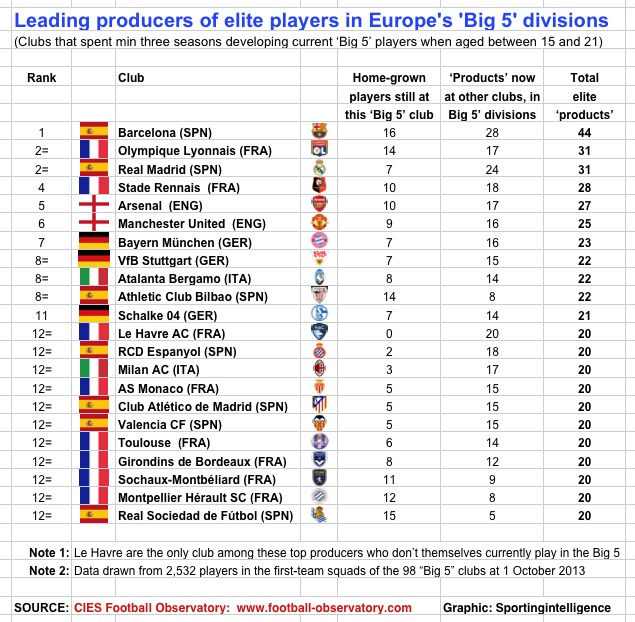 .
To provide two examples in detail of clubs good at rearing players (not always of that club's nationality, but developing them nonetheless), we'll use Barcelona in Spain and Arsenal in England as the most prolific clubs now from those two countries.
These examples also show how, in relatively rare cases, a player can have two 'producing clubs' who each spent three years nurturing him before the age of 21. In this case, both Barca and Arsenal helped to 'produce' Cesc Fabregas.
Barca's 44 players break down into 16 still registered with them, and 28 others.
The 16 are: Cuenca, Tello, Valdés, Olazábal, Puyol, Piqué, Bartra, Montoya, Xavi, Iniesta, Fabregas, Busquets, Dos Santos, Sergi Roberto, Messi, Pedro.
The 28 are: Arteta, Arsenal; Deulofeu, Everton; Muniesa, Stoke; Riera, Osasuna; Botía, Elche;  Xumetra, Levante; Casado, Málaga; Martínez, Vallecano; García, Vallecano; Trashorras, Vallecano; Baena, Vallecano; Falqué, Vallecano; Fontàs, Celta Vigo; Alcântara, Celta Vigo; Sánchez, Espanyol; García, Espanyol; Lanzarote, Espanyol; Verdú, Real Betis; Peña, Real Valladolid; Valiente, Real Valladolid; Sastre, Real Valladolid; Navarro, Sevilla; Valderrama, Sevilla; Romeu, Valencia; Giovani dos Santos, Villarreal; Motta, PSG; Thiago, Bayern; Reina, Napoli.
Arsenal's 27 players break down into 10 still registered with them and 17 others.
The 10 are: Szczesny, Gibbs, Boateng, Wilshere, Frimpong, Bendtner, Afobe, Akpom, Ramsey, Walcott.
The 17 are: Cole, Chelsea; Thomas, Crystal Palace; Gayle, Crystal Palace; Sidwell, Fulham; Pennant, Stoke; Larsson, Sunderland; Aliadière, Lorient; Sunu, Lorient; Angha, Nürnberg; Djourou, Hamburg; Connolly, Cardiff; Senderos, Fulham; Clichy, Manchester City; Mannone, Sunderland; Song, Barcelona; Fàbregas, Barcelona; Barazite, Monaco.
.
Best 'external' producers for the 'Big 5' divisions
As the first graphic shows, most of the best producers for the 'Big 5' leagues are clubs within those five divisions. The only exception in that graphic is Le Havre of France's second tier.
Next we'll look at the clubs outside the 'Big 5' who produce the most players for that elite group. It is a self-explanatory list, topped by Le Havre (20 players) and with two Argentine clubs, River Plate (16 players) and Boca Juniors (15) next.
Ajax of Netherlands are famously big producers of talent, as well as producers of brilliant talent. They appear at No5 on this list, having produced 13 players currently at work with teams in the 'Big 5' leagues. We'll return to Ajax later, because they actually produce more players working across Europe as a whole (31 major top divisions) than any other club.
Article continues below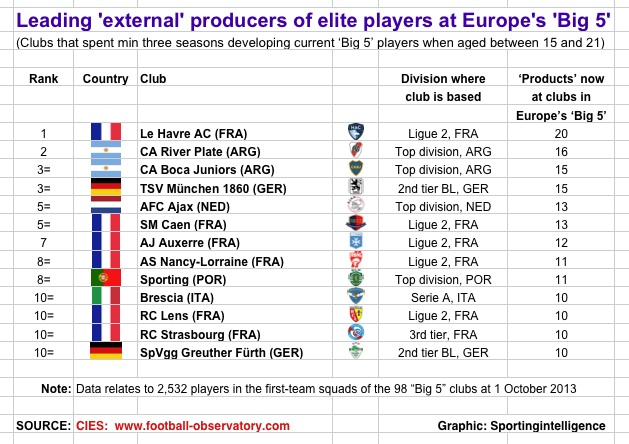 .
Best English producers for the 'Big 5' divisions
Arsenal have usurped Manchester United as the producer of the most players in 'Big 5' divisions currently. Last season this review showed United had produced 24 such players to Arsenal's 20 in second place (at-a-glance table here). But this time Arsenal are in the lead with 27 against United's 25.
The graphic below shows how many current players each English club (all levels) has produced of the 2,532 players in the first-team squads of the 98 top-flight clubs in England, Spain, Italy, Germany and France. Together 68 different clubs playing in the English system have produced 267 players now at clubs in the 'Big 5' leagues, from those 27 by Arsenal to the 25 by United to 15 by Aston Villa down to twos and ones by clubs in the lower divisions and non-league.
The 267 players from English clubs mean the English system has produced 10.5 per cent of Europe's elite players (Big 5 divisions). Of those players, 247 play in the Premier League, among a total of 535 players, meaning English clubs have produced 46 per cent of players for England's top division – although of course many of those players are not English.
Below the graphic, which shows how Middlesbrough, Blackburn, Charlton, Ipswich and Sheffield United have produced the most 'Big 5' players of English clubs currently outside the Premier League, is a list of 20 players produced by English clubs who are playing in 'Big 5' divisions outside England. Again, most are not English.
Article continues below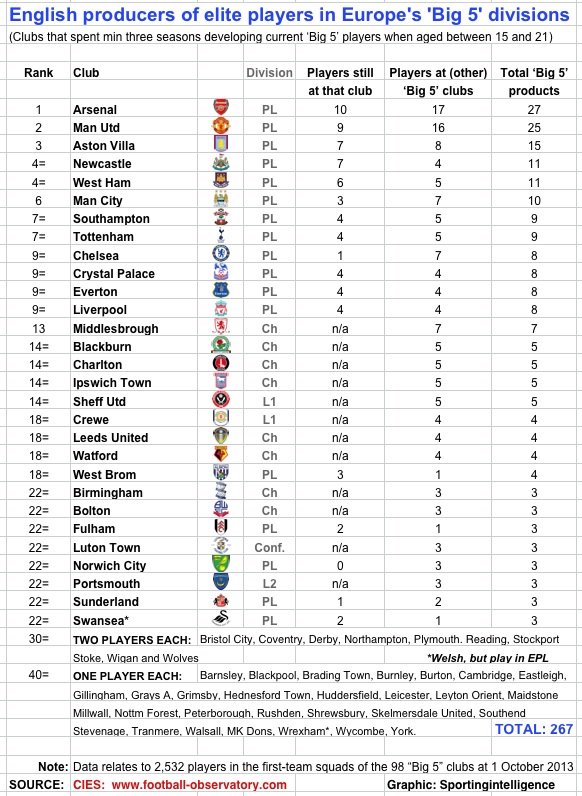 .
The 20 players 'produced' in England now playing in 'Big 5' divisions outside England:
Song (produced by Arsenal), now at Barcelona; Fàbregas (Arsenal), Barcelona; Suso (Liverpool), Almería; Insúa (Liverpool), Atlético Madrid; Piqué (Manchester United), Barcelona; Ronaldo (Manchester United), Real Madrid; Bale (Southampton), Real Madrid; Aliadière (Arsenal), Lorient; Sunu (Arsenal), Lorient; Barazite (Arsenal), Monaco; Gradel (Leicester), St-Etienne; Angha (Arsenal), FC Nürnberg; Djourou (Arsenal) Hamburg; Mancienne (Chelsea) Hamburg; Mak (Manchester City) FC Nürnberg; Zieler (Manchester United), Hannover; Jackson (Rushden and Diamonds), Braunschweig; Sala (Chelsea), Hellas Verona; Pogba (Manchester United), Juventus; Kupisz (Wigan), Chievo Verona.
.
Most 'products' playing in 31 'main' top divisions across Europe
The point of considering the 'Big 5' leagues so far is that they are the major five divisions of Europe – and indeed world football – in many respects from economics to attendance to Uefa co-efficient ratings for member nations (here) and clubs (here).
But there are popular and successful leagues across Europe and there have routinely been contenders in latter stages of European club competitions from Portugal and Russia, the Netherlands, Ukraine, Turkey and Greece and elsewhere.
CIES have also calculated which clubs in Europe produce most players for these 31 top divisions combined, made up of 472 clubs and  11,653 players.
Ajax come out on top. Again the graphic is self-explanatory.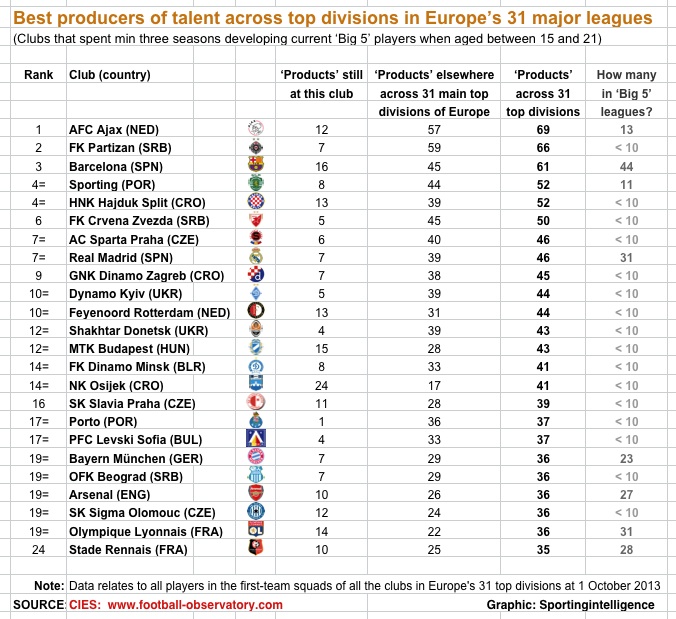 .
The CIES Football Observatory academic team has launched the latest edition of the Demographic Study (details and an excerpt of this  reports may be downloaded here and other reports / excerpts HERE). The 2014 analysis includes 11,653 players at almost 472 clubs in 31 top division leagues of UEFA member associations. For more information, please contact them at: (click to send email) football.observatory@cies.ch 
.
Follow SPORTINGINTELLIGENCE on Twitter