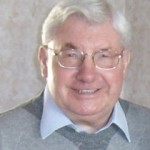 JOHN ROBERTS wrote for the Daily Express, The Guardian, the Daily Mail and The Independent, where he was the tennis correspondent for 20 years. He collaborated with Bill Shankly on the Liverpool manager's autobiography, ghosted Kevin Keegan's first book, and has written books on George Best, Manchester United's Busby Babes (The Team That Wouldn't Die) and Everton (The Official Centenary History).
As Matthew Engel once wrote in the British Journalism Review: "I suspect posh-paper sports writing changed forever the day John Roberts left the Daily Express to join The Guardian in the late 1970s, was handed a piece of routine agency copy and picked up a telephone to start asking questions."
.
.
By John Roberts
9 September 2010
Cassius Marcellus Clay, Jr., began to infiltrate the public consciousness 50 years ago by winning the light heavyweight boxing gold medal in Rome at the 1960 summer Olympic Games – which concluded precisely half a century ago this weekend – and by winning his first professional bout, a six-round decision against Tunney Hunsaker, the police chief of Fayetteville, West Virginia, on 29 October the same year.
Neither event prepared us for the explosive impact the man would have on sport and politics in the years that followed, particularly after he changed his names to Muhammad Ali.
Ali briefly came into my life in the 1970s as a result of an unemployed labourer and former bare-knuckle boxer from Abingdon by the name of Paddy Monaghan, who wanted George Best – who I knew and worked with – to say a few words in praise of The Greatest for his fan club magazine.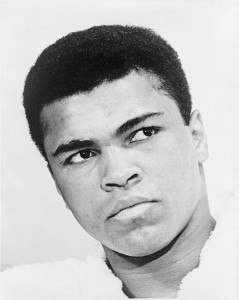 Ali had come into Paddy's life after being shown a petition signed by thousands of British people sent by Paddy to the boxing authorities in the United States in protest at the ban imposed on Ali because of his refusal to fight for his country in the Vietnam war.
So impressed was Ali that he sent Paddy airline tickets so that he could join him on a lecture tour of America. During the lectures Ali would call Paddy on stage, introducing him to the audience as "My greatest fan." When Ali returned to boxing, Paddy had a place in his corner for one of his title fights. Some of Paddy's neighbours in Abingdon were sceptical about his association with Ali until the day The Greatest arrived on his doorstep.
Paddy stayed at my home before meeting George Best and gave me Ali's New Jersey telephone number. He then called him and introduced me to him. If Ali was not at home he invariably left a number where he could be contacted. As a result I was able to speak with The Greatest before and after several of his fights. I hesitate to use the word interview because as soon as I introduced a topic Ali would do all the talking.
For example, the day after Joe Frazier lost the world heavyweight title to George Foreman in Jamaica I asked Ali for his thoughts. "Joe Frazier is a fool," he growled down the telephone. "If he was going to get beat he should have let me beat him – that way we would both have made a lot of money. I know I'll beat George Foreman because he fights like a wash-er-wom-an."
Ali paused and said: "Say, what's that newspaper of yours?"
"The Daily Express," I said.
"Well, you're sure getting a good interview."
George Foreman visited London a short time later and I had the opportunity to exchange a few words with him. When I told him what Ali had said, he responded: "I'm too busy thinking about my own career to worry about somebody else's."
Their careers famously collided on 30 October 1974, when Ali regained the title by knocking out Foreman in the eighth round of the 'Rumble in the Jungle' in Zaire.
At one point in 1972 there had seemed to be a possibility of Paddy Monaghan working for Ali in Britain through George Best's agent, Ken Stanley. To that end I accompanied Paddy and one of Ken Stanley's representatives to meet Ali in Dublin, where he was due to fight an American compatriot, Al "Blue" Lewis.
Two memories stick in my mind about that meeting. The first is of Ali's footwear. He had just returned from a training run and was wearing what looked like diving boots. The second memory is of a rhyme ad-libbed by Ali after I asked him to say a few words into Paddy's cassette recorder for my two-year-old son, Christopher. Ali riffed:
Christopher who's only two
This is Muhammad Ali speaking to you
Don't be no fool
Obey the rule
And go to school
Or I'll be after you
When I've beaten "Blue"
Later, when I attempted to replay the message, I realised I had failed to press the correct button and there was no recording. What a disappointment.
Years later I made the mistake of telling the story to Christopher, who has still not forgiven me.
.
Sportingintelligence's home page
.
Details of how to order John Robert's recent book about working with George Best, as detailed in this column, directly from the publisher can be found here. The book can also be ordered by telephone on 0845 143 0001, and is available in all good book shops.