By Brian Sears 
6 May April 2016
Only three goalkeepers of the 45 who have played in the Premier League this season have played for every minute of every match and it seems appropriate that title-winner Kasper Schmeichel of Leicester City has the best record of those three.
The 29-year-old Dane has appeared for every second of the Foxes' 36 league games this campaign and conceded only 34 goals in those games, or 0.94 goals per game.
The other two 'ever present' keepers are Gomes at Watford and Fabianski at Swansea and their comparative figures are 1.2 goals per game and 1.39 goals per game conceded.
The records of all 45 goalkeepers are in the graphic, and they are bunched by the number of games they have played. The green column on the right ranks them 1 to 45 on the fewest number of goals per game conceded, regardless of the number of games. The article continues below.
.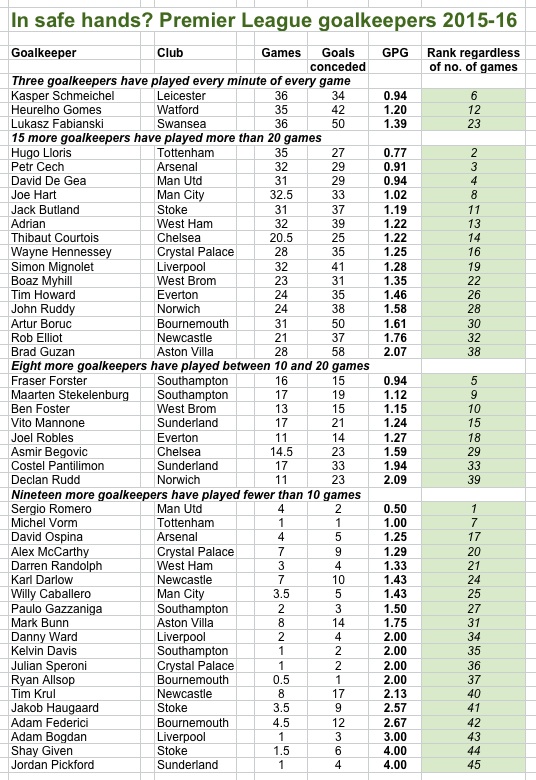 .
So far this season, 946 goals have been scored (and conceded) at a rate of 2.66 goals a game. With only 24 games remaining, that goals total is 120 short of the Premier League record total of 1,066, four years ago. Defences are reasserting themselves, and keepers are part of that unit. 
The three clubs mentioned have called on just the one custodian each so far this season: Leicester, Watford and Swansea. Southampton at the other extreme have used four.
Lloris of Tottenham, Cech of Arsenal, Schmeichel of Leicester and Forster of Southampton have all allowed less than one goal a game past them on average among keepers to have played more than 10 games.
Sergio Romero deserves a special mention in that he only allowed two goals past him in Manchester United's opening four games of the season but then has been confined to the bench watching David De Gea perform in his place.
And a special mention, too, for Shay Given.  After a career spanning more than two decades and nearly 500 league appearances, this season Stoke called on him recently for the home game with Tottenham (0-4) and the first half of the game at Man City (0-2).  Thus he let in 6 goals in 135 minutes.
.
… And another thing
The next event in Sunderland's battle for Premier League survival is a home game with Chelsea.
The good news: they have beaten Chelsea three times in 14 home Premier League games.
The bad news: they were all in the first three meetings of the Premier League era. Since then Chelsea have gained nine straight wins in Sunderland sandwiched between two goalless draws.
Sunderland's Premier League home games v Chelsea:
SUNDERLAND WINS 15 Dec 1996 Sunderland  3 (Duberry og, Ball, Russell) Chelsea  0; 4 Dec 1999 Sunderland  4 (Quinn 2, Phillips 2) Chelsea 1 ( Poyet); 14 Oct 2000 Sunderland 1 ( Phillips pen) Chelsea  0.
BORE DRAW 9 Dec 2001 Sunderland  0 Chelsea  0.
CHELSEA WINS 5 Apr 2003 Sunderland  1 (Thornton) Chelsea  2 ( Zola, Cole); 15 Jan 2006 Sunderland  1 (Lawrence)    Chelsea 2 (Crespo, Robben); 15 Mar 2008 Sunderland  0 Chelsea  1 ( Terry); 24 May 2009 Sunderland 2 (Richardson, Jones)    Chelsea 3 ( Anelka, Kalou, Cole A); 18 Aug 2009 Sunderland  1 (Bent) Chelsea  3 (Ballack, Lampard pen, Deco); 1 Feb 2011 Sunderland  2 (Bardsley, Richardson) Chelsea  4 (Lampard pen, Kalou, Terry, Anelka); 10 Sep 2011 Sunderland  1 ( Ji)  Chelsea  2 (Terry, Sturridge); 8 Dec 2012 Sunderland  1 (Johnson) Chelsea  3 (Torres 2, one pen, Mata); 4 Dec 2013 Sunderland  3 (Altidore, O'Shea, Bardsley) Chelsea  4 (Lampard, Hazard 2, Bardsley og).
BORE DRAW 29 Nov 2014 Sunderland  0 Chelsea  0.
.
And ANOTHER thing …
The most lucrative single event in the history of sport takes place on Saturday: Middlesbrough versus Brighton in the Championship. It's worth £187m to the team who makes it to the Premier League as a result of this game. This Vine tells the story.
…
.
…. And finally
The statistics in these pages will often be in relation to the Premier League era when they deal with English football. We know the game is a bit older than that. We know Preston won as Invincibles in the league's first season in 1888-89. But the Premier League is a distinct era if only because of the money that has transformed the picture. This is the 'monied era'.
To get some idea of how the financial situations of these clubs have changed over time – and finance is a big influence in success in football – further reading and related articles spring from Sportingintelligence's annual global sports salaries reports, are linked here. The 2015 edition of the report (right) was published in May.
You can download a free 120-page PDF here.
2014 Report             2013 Report            2012 Report         2011 Report          2010 Report
.
More on Arsenal / Liverpool / Man Utd  (or search for anything else in box at top right)
Follow SPORTINGINTELLIGENCE on Twitter
Related articles across the web