By Brian Sears
27 August 2010
Ideas, ideas. Where do they come from?
Sometimes they are obvious, having six six six appeal.
Other times they arise in the strangest of places, like on the exercise bike at the gym.
A fellow pedaller, also a football follower, was on the bike next to mine at the gym one day earlier this week, when he said to me: "Brian, I wonder how rare it is for only one team to left with a 100 per cent record after just two rounds of games in a Premier League season?"
This question arose, of course, because only Chelsea in England's elite division still have a 100 per cent record after two games.
To become metaphorical for a sentence, when a ball sits up as nicely as that question sat up – a ball, it must be said, just waiting to be thwacked into the back of the net with a little lift and a touch of spin – there's only one way to approach it. You finish your exercise, you go home, and you do your research.
And what do we find?
Chelsea's 2010-11 team are the 47th side in the Premier League era to gain six points from the first two games of the season.
Chelsea sides have achieved it in seven of the last eight seasons, and eight times altogether.
Manchester United are not so good at it, starting with back-to-back wins only five times in 19 years.
The 2010-11 campaign is only the fourth time in the 19-season history of the League that there has been only one club left at this stage with a 100 per cent record after two games, although in 1998-99 not a single club managed it.
At this stage last season, four sides were 100 per cent and one of them, Chelsea, of course, went on to be champions.
That was only the sixth time that the eventual winners had started with back-to-back wins.
Chelsea are the only club this season who can now mount an assault on their own remarkable record start a Premier League season, which was nine straight wins, in 2005-06.
The complete record statistical record on this subject is in the table below.
In the inaugural Premier League season, Coventry started best with three straight wins, but it was Newcastle with six straight wins in 1994-95 who had the best start of the 90s. Sheffield Wednesday had four in 1996-97 when no other team could manage two.
Now on yer bike.
.
Sportingintelligence home page
.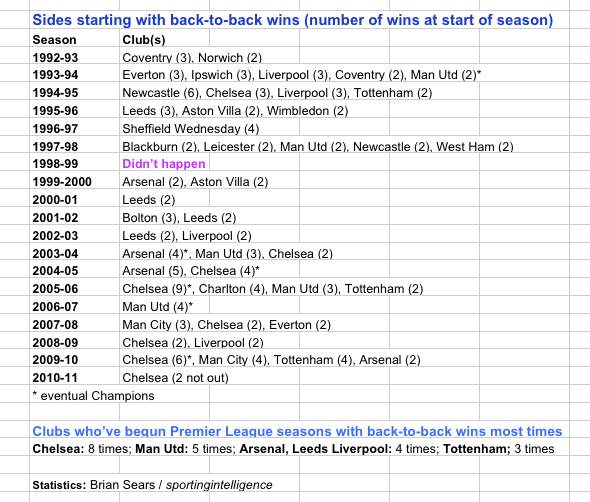 * * * * * * * * * * * * * * * * * * * * * * * * * * * * * * * * * * * * * * * * * * * * * * * * * * * * * * * * * * * * * * * *
Do you watch Premier League football anywhere outside England? Join our unique research project
* * * * * * * * * * * * * * * * * * * * * * * * * * * * * * * * * * * * * * * * * * * * * * * * * * * * * * * * * * * * * * * *