By Brian Sears
27 August 2010
Hitting opponents for six has been a topic of the season, with four 6-0 scorelines already, two of them by Chelsea. And according to sportingintelligence analysis of high-scoring games in the Premier League since 1992, those two 6-0s mean Chelsea have overtaken Manchester United at the head of the League's "big scorers" league (where a big score is defined as a team scoring six goals or more).
Chelsea now lead 13-12 against United.
On 12 January 2008, Manchester United defeated Newcastle and thus registered six or more goals in a Premier League game for the 12th time. At that point United led Chelsea 12-6 in terms of occasions scoring six or more.
United have yet to score as many as six goals in a single League game since, while Chelsea have done it seven times, to bring their "six-hitting" tally to 13.
Up until the beginning of this season, there had been 77 instances of a Premier League team scoring six or more goals in a game, in 6,706 matches, or in 13,412 attempts (because two teams attempt it per match). That works out as a success rate of below six in a 1,000, or to be exact, a success rate of 0.574 per cent.
Already this season, there have been four sixes or more (all 6-0s, as it happens) in just 20 games, or in 40 tries, for a magnificent, stupendous, barely believable but absolutely delicious success rate of one in 10, or 10 per cent. Astonishing.
Even more astonishing is there had been only 16 examples of 6-0 in the Premier League in 6,686 games before this season (in 0.239 per cent of games). Already this season it has happened four times in 20 games, or a whopping 20 per cent.
The season-by-season record of "big-scoring" feats is in the chart below, while the full record of those teams who have hit six or more in one Premier League game is as follows:
13 times – Chelsea
12 times – Man Utd
10 times – Arsenal
8 times – Liverpool
6 times – Newcastle
4 times – Blackburn, Everton, Tottenham
3 times – Man City
Twice – Aston Villa, Fulham, Leeds, Middlesbrough, Portsmouth
Once – Nottingham Forest, Oldham, Reading, Sheff Utd, Sheff Wed, Southampton, West Ham
.
The Premier League clubs who have been "hit for six (or more)" on the most occasions are Derby and Southampton (five times each), followed by Sheffield Wednesday, Tottenham, West Ham and Wimbledon (four times each).
..
Sportingintelligence home page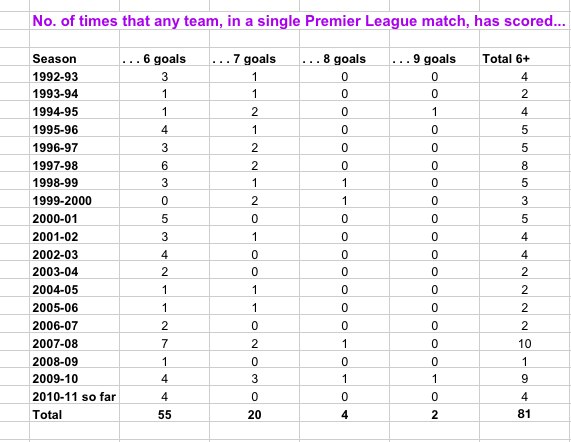 .
* * * * * * * * * * * * * * * * * * * * * * * * * * * * * * * * * * * * * * * * * * * * * * * * * * * * * * * * * * * * * * * *
Do you watch Premier League football anywhere outside England? Join our unique research project
* * * * * * * * * * * * * * * * * * * * * * * * * * * * * * * * * * * * * * * * * * * * * * * * * * * * * * * * * * * * * * * *