By Brian Sears
28 August 2015
This is the 24th season of the Premier League and the previous 23 seasons have involved 466 teams collectively starting campaigns. That's 22 teams for the first three seasons, then 20 for each of the past 20 seasons.
Of those 466 teams, only 18 of them, or 3.9%, began a season with three clean sheets. Now this season, another three teams have achieved the feat: Liverpool, Manchester City and Manchester United.
Is this a big deal? Does it matter? Does it say anything about a team's chances of winning the title or finishing high up?
Here's what happened to the 18 teams with three+ clean sheets to start seasons.
Article continues below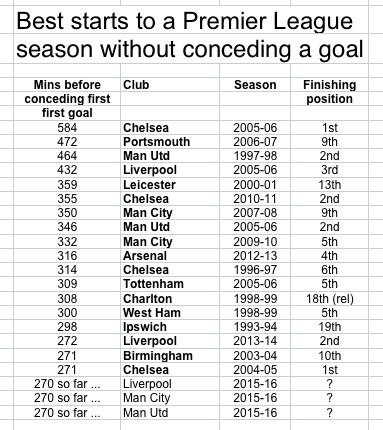 .
The answer is that three clean sheets don't really mean that much. History shows that teams achieving it have finished anywhere from 1st to 18th (and relegated).
What is slightly more interesting is that only four teams have gone beyond the first four games with conceding. Liverpool (in 2005-06) conceded in the fifth game, United (1997-98) and Portsmouth (2006-07)  conceded in their sixth games; and the record holders, Chelsea, in 2005-06 conceded in their seventh game.
Three of those four teams ended up in the top three places in the table. So a fourth clean sheet this weekend for Liverpool, City and United would statistically suggest, if achieved, they are shaping up to be top-three teams. Liverpool host West Ham, City host Watford and United play at Swansea.
.
And another thing … home discomforts
Already 30 games of the Premier League season have been played. That's 8 per cent of the season gone. And there have been only been six home wins so far (or 20 per cent), alongside 11 draws (36.7 per cent) and 13 away wins (43.4 per cent).
In the 23 completed Premier League seasons before this season, 8,986 games had been played, with 4,158 home wins (46.3 per cent), 2,386 draws (26.5 per cent) and 2,442 away wins (27.2 per cent). As any statistician will tell you – while on a break from straightening the anorak hood – we fully expect this early trend to revert to the mean. Or, in laymen's terms, sort itself out over the course of the season. 
But at this early stage of the season, the lack of home wins is certainly a notable quirk. As is the Premier League table before play starts this weekend, with the top six places occupied by the six different clubs who have each record one home win so far.
8 Aug 2015 Leicester  4    Sunderland  2
8 Aug 2015 Man Utd  1    Tottenham  0
15 Aug 2015 Swansea  2    Newcastle  0
16 Aug 2015 Man City  3    Chelsea  0
17 Aug 2015 Liverpool  1    Bournemouth  0
22 Aug 2015 C Palace  2    Aston Villa  1
.
And another thing … West Ham's Anfield win wait goes on
Liverpool have played 444 Premier League games at Anfield, winning 272, drawing 107 and losing just the 65 listed in the table below. That has brought Liverpool a total of 923 home points.  Only Man Utd (1059), Arsenal (954) and Chelsea (949) have gained more home Premier League points since the era started in 1992.
Altogether 46 different Premier League clubs have visited Anfield and the club that has the longest struggle to gain a win there turn out to be this Saturday's visitors West Ham. 
Article continues below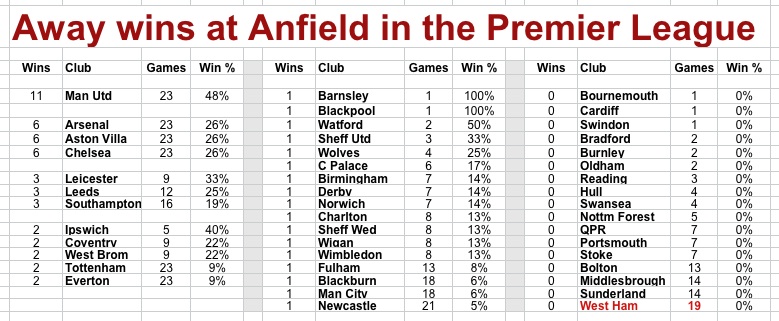 .
In fact West Ham have not won at Anfield since 1963, as we explored in a piece earlier this year, which contains memorable footage of the Kop from that era.
NINETEEN SIXTY THREE! The last time West Ham won at Anfield, The Beatles were at No1 in the charts with She Loves You.
Harold MacMillan was the British Prime Minister, John F Kennedy was the president of the United States and Nehru was the Prime Minister of India. Charles De Gaulle was the president of France, in the days before he became an airport. Georges Pompidou was the Prime Minister of France, before he became a Centre.
The average house price in Britain was £3,160 and the average weekly wage was £18.46, or £960 per year. The average footballer's wage in England's top division was £29 per week, or £1,508 a year, as opposed to a figure north of £2m per year now as can be seen in the report linked here.
A loaf of bread cost 5p – or a shilling, in old money – while a season ticket for Manchester United cost £8.50. The Great Train Robbery, which had happened the previous month, was still occupying the police not to say the public imagination.
It was 14 September 1963, and Geoff Hurst and Martin Peters, still years away from winning the World Cup with England, were the scorers as West Ham won 2-1 at Anfield. Bobby Moore was also in the West Ham team.
Since that win, West Ham have made 42 league visits to Anfield, losing 31 and drawing 11.  In those games the Hammers have conceded 87 goals and only scored 16 themselves. Contained in that is a Premier League record of 19 visits, with 14 defeats and 5 draws while conceding 39 goals and only scoring five themselves.
..
…. And finally
The statistics in these pages will often be in relation to the Premier League era when they deal with English football. We know the game is a bit older than that. We know Preston won as Invincibles in the league's first season in 1888-89. But the Premier League is a distinct era if only because of the money that has transformed the picture. This is the 'monied era'.
To get some idea of how the financial situations of these clubs have changed over time – and finance is a big influence in success in football – further reading and related articles spring from Sportingintelligence's annual global sports salaries reports, are linked here. The 2015 edition of the report (right) was published in May.
You can download a free 120-page PDF here.
2014 Report             2013 Report            2012 Report         2011 Report          2010 Report
.
More on Arsenal / Liverpool / Man Utd  (or search for anything else in box at top right)