By Brian Sears
22 August 2014
Everton are widely and rightly expected to finish in the top seven places in the Premier League this season, as they have done for the past four seasons and in eight of the last 10 seasons. They are stable, consistent, have a talented (and likeable) manager in Roberto Martinez, and a squad with plenty of youthful potential, including multiple home-grown players.
But only once in 22 completed seasons of the Premier League era – the 'monied era', during which they have lagged behind financially – have they finished in the top four, and that was in 2004-05. In fact that was the only time they have finished in the top four since the 1980s. One significant reason for that is their poor record against the 'bigger' teams, specifically those, like themselves, who are 'ever present' in the Premier League era: Manchester United, Arsenal, Chelsea, Tottenham, Liverpool and Aston Villa.
And as Everton prepare to host Arsenal at Goodison Park on Saturday, it is notable that, since 1992, Everton have lost twice as many home Premier League game against Arsenal (10 of them) as they have won (five). There have also been seven PL draws for Everton v Arsenal at Goodison.
Everton have also lost more times at home against Liverpool than they've won in the era (9 defeats, 7 wins), and lost more against Tottenham (7-5), and against Chelsea (8-7) and against Manchester United (14-5).
Away from home, Everton's record against those clubs has been even worse; of 110 games against those clubs on their grounds, Everton have won just nine in total in the PL era, and lost 65. Their full record against all the current PL clubs in the PL era is in the first graphic below.
It also contains the stats for just the past 10 seasons, and the past five. The bad news is that Everton are becoming weaker over the years against Liverpool, although slightly better (NB slightly, relatively) against Tottenham, Chelsea and slightly better still against Manchester United. But they're still some way from parity. And against Arsenal they are still taking less than a point per meeting on average. That's why games for Everton against the 'big' clubs are arguably the best barometer of how they might fare in a season. And the first such test this campaign is this weekend.
Article continues below (click on graphic to enlarge)

.
H-away the lads: Toon visit Villa with history on their side 
Newcastle lost their opening Premier League game of the season and Aston Villa won at Stoke but Newcastle will visit Villa Park for Saturday's lunch-time kick-off with history on their side.
Whether home or away, Newcastle have won more Premier League points from Aston Villa than from any other club (in total). At home, Newcastle have won 44 points in 20 PL games. Away they have won 30 points in 20 games. Of clubs Newcastle have played 10 or more times in the PL era, they have a better record even in points per game terms against Villa than against any club at home bar Southampton, and against any club away bar Sunderland.
The full record is in this graphic; article continues below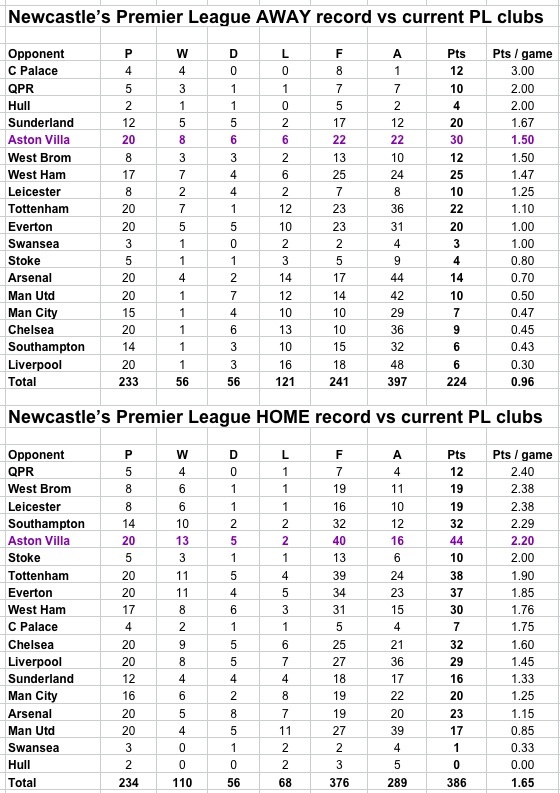 Newcastle have won as many 13 times against Villa at home and won eight times in the PL at Villa Park, or more times than Villa have beaten them on their own turf (six). And this is not a story of only ancient history. Since Newcastle returned to the Premier League four seasons ago, they have played Villa eight times in the league, winning five, drawing two and losing just one.
. 
And another thing …
This is the 23rd season of Premier League football and only once before have there been more away wins on the opening weekend of matches than this season's six, and that was in the second season, when there were 22 teams, 11 games, and seven away wins. Five seasons ago there were six away wins on opening weekend but that was distinguished by being the only opening weekend without a single draw.
The present crop of six away wins follows on from last season when the rate of away wins over the whole season was at record Premier League levels. The majority of the away wins came from the clubs finishing in the top seven: Arsenal had 11, with 10 each for Manchester City, Liverpool, Chelsea, Tottenham and Manchester United, and eight for Everton.
Perhaps the 'big seven' becoming increasingly dominant over 'the rest' is the reason. We may find out more as this season wears on.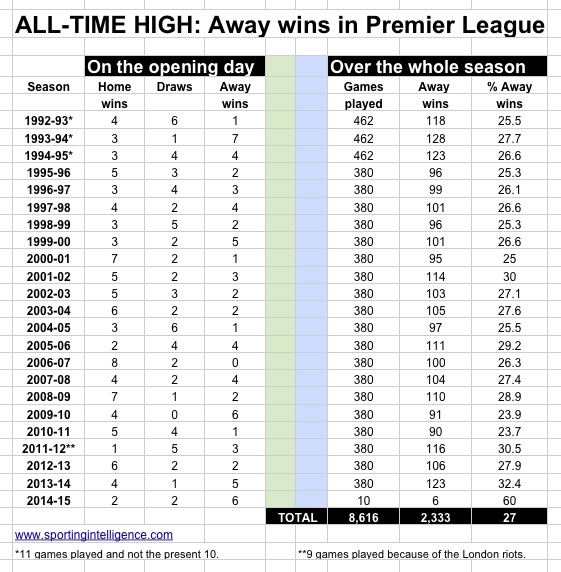 .
More on Man City / Liverpool  /Arsenal / Chelsea (or search for anything else in box at top right)
Follow SPORTINGINTELLIGENCE on Twitter