By Brian Sears
15 July 2014 
The Premier League is about to start its 23rd season, the 23rd season since England's top division was rebranded 'Premier League' and effectively broke away from the rest of English football. The 23rd season of the 'money era' when TV riches have poured into the game in ever-increasing amounts. The 23rd season when the difference between the 'haves' of the Premier League and the 'have nots' of the rest of English football is especially pronounced.
That is the context for what is to follow: an assessment of the chances that this season's promoted clubs – Leicester City, Burnley and QPR – will be able to survive this coming campaign without being immediately relegated.
To move quickly and bleakly to the point, it is statistically highly probable that at least one of those clubs will be relegated immediately. It is likely that more than one of them will go down. If we take the precedent of the past 22 years into consideration then it would not be a surprise if QPR and Leicester go down.
Why? (And remember, this is not personal, this is simply explaining what statistics tell us from previous years). As the first graphic shows, 65 promoted teams have played in the previous 22 Premier League seasons, with three each year except 1995-96, when only Middlesbrough and Bolton came up as the PL was slimmed down. Of those 65 teams, 28 of 65 have been immediately relegated (or 43 per cent). As such, we would expect more than one promoted team per season to go down, on average.
Actually, only one of three has gone down in each of the past six seasons (except in 2011-12 when none went down), so we might argue that surviving is getting easier. But in seven seasons at least two of three promoted clubs have gone down and in 1997-98 all three went down.
It is undoubtedly harder for a promoted team to 'thrive' in the sense of coming up and challenging for the top spots. Such a concept is laughable now. Yet as recently as 1993-94, promoted Newcastle finished third, as did promoted Forest the following season, while promoted Ipswich were fifth in 2000-01. That seems ancient history now. Of the last 21 clubs promoted, only one of them has finished their first season up in the top half of the table, let alone near European places. (Birmingham, 9th, in 2009-10).
Statistically, the most likely promoted club to go down has come up through the play-offs (a 55% chance), then the team who have come up as champions (41% relegation chance) and then the team who came up as second-tier runners-up (33% per cent relegation chance). On that basis, play-off winners QPR are most likely to fall, then Leicester, then Burnley. But of course sport is not so simple, or so easily predicted.
Promoted teams are particularly susceptible to relegation because, in general, they arrive with poorer squads and fewer financial resources than the existing Premier League teams who have been fattened on the PL TV riches.
Next we'll consider the chances of the promoted clubs getting off to good starts this weekend, but first, here are the fates of all the previous promoted clubs in their first seasons in the Premier League after promotion.
Article continues below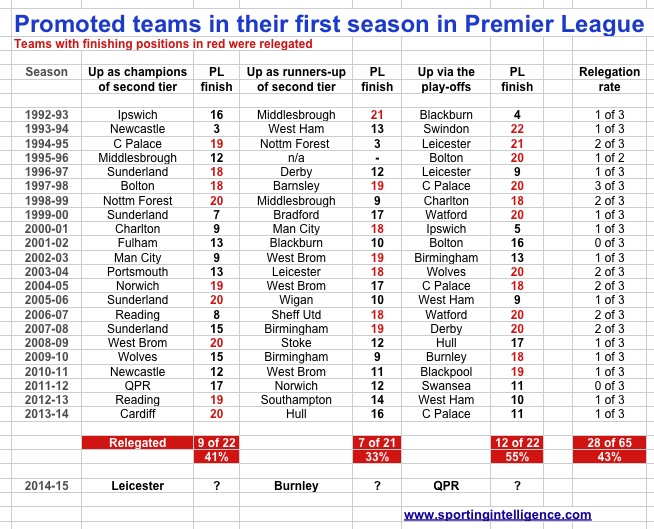 .
All three promoted sides – Foxes, Clarets and R's – have experienced the Premier League before, Leicester for as many as eight seasons although the most recent one was as long ago as 2003-04. QPR have played in the PL for six seasons and as recently as the season before last, and Burnley for just the one season, in 2009-10.
What chance that any of the promoted trio will win on their returns to the PL? Leicester host Everton on Saturday as QPR host Hull while Burnley must wait until Monday to host title favourites Chelsea.
The 65 promoted sides of the past 22 seasons have only known 13 opening day victories (one in five) and there have been 16 draws alongside the 36 first-day defeats. The list of those 13 wins to encourage Leicester, Burnley and QPR is below.
Yet each of them statistically, historically, on average, has just that one in five chance, although the bookies have Burnley as a one in ten chance, with QPR likelier to win than Leicester but neither strongly fancied to win.
Article continues below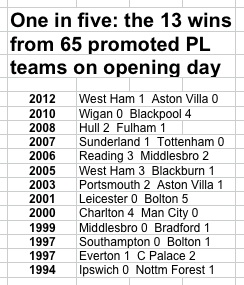 Leicester have had three promotions to the Premier League before this one. On their debut game in 1994 they lost 1-3 at home to Newcastle but then they improved their opening-game results, drawing away at Sunderland in 1996 and at home to Southampton in 2003.
In their one previous Premier League promotion Burnley lost 0-2 at Stoke in 2009 and QPR lost 0-4 at home to Bolton in 2011.
At least the fixture list has been kind to all three promoted clubs, giving them home fixtures.
Leicester's hosting of Everton is statistically intriguing. Here is their full Premier League history, and the significance of it is detailed below.
Article continues below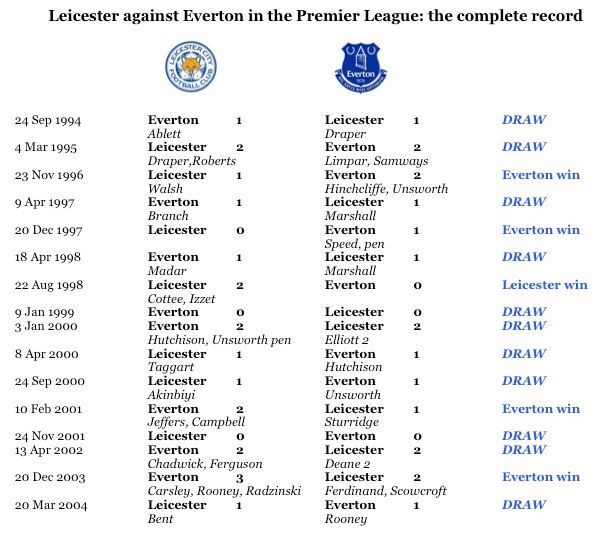 .
Which brings us to ….

.
Leicester fans will be less keen to be reminded that they allowed Bolton the biggest ever opening-day win of any side promoted to the Premier League. That was on the 18 August 2001 and the five Bolton goals were netted by Kevin Nolan and Per Frandsen (two goals each) and Michael Ricketts.
.
More on Man City / Liverpool  /Arsenal / Chelsea (or search for anything else in box at top right)