By Brian Sears
8 August 2014
With the 2014-15 English football season about to begin, and with every fan still at the stage where they can dream that this will be the year, the notion of where a club 'deserves' to be is again a topic of relevance.
Up and down the country there will be supporters who will assure you that their team 'should' be in the top four, or top six, or top division, or top two divisions. And there will be others who will assure you their team does not 'belong' in the lowly place where they currently reside.
It is uncontroversial enough to say that fans of Manchester United (and City), and Arsenal and Liverpool and Chelsea will believe they should have an excellent shot of finishing in the Premier League's top four. Some Everton fans too, will probably argue that, and those of Spurs.
And there will be plenty from other clubs who swear their club's 'rightful' place is in the Premier League. Leeds fans will be most likely loudest on this subject (with some justification). Those who support Blackburn and Wolves, both Sheffield clubs and Middlesbrough and Derby will also make claims.
Lower down the divisions, Coventry fans will tell you they really shouldn't be in the third tier, and lower still, Portsmouth, twice champions of England, can argue that really, all things being equal, they should be at least two divisions higher.
Before we use one method to explore where clubs 'should' be playing, it is worth looking at a historic league table, from 40 years ago, the 1974-75 season, below. It is notable not only for the absence of Manchester United, and for the presence of the likes of Carlisle and Luton, but also for how many of the same names will contest the forthcoming 2014-15 Premier League; twelve of the same teams who contested the 1974-75 top division.
Article continues below
1974-75 First Division final table, England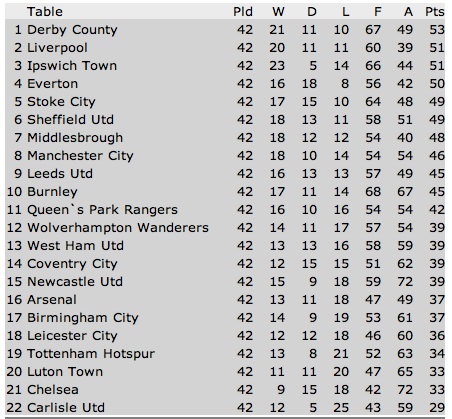 .
The very essence of the English league pyramid system is that clubs can go up and down. Any team can aspire to move from the non-league to the top division, and perhaps even Europe. Wigan in recent decades proved they could make just such a move.
And as was described in some detail on this website last year – link to the relevant article here – participating in the Premier League is on the verge of being a 'majority experience' for the professional football clubs of England. The 'breakaway' league, which began in 1992-93, has now featured 46 of the current 92 teams from England's top divisions for at least one season each. The fact that half of all clubs have tasted the top division, even in this 'monied era' over the past 22 years, shows that upward mobility remains possible.
Yet most clubs remain fairly 'stable' in where they play their football. There is a certain order of dominance where the 'big' clubs tend to play high up, and achieve titles and cup wins, and the 'small' clubs play lower down, only now and again punching above their level.
In an attempt to measure this, and also highlight which clubs might justifiably show they are currently punching 'above their weight', or are temporarily below where 'they should be', we have looked at the post-war experiences of all 92 current clubs, specifically which division each club has played in for each of the completed 68 post-war seasons. (Post-war is used simply because it is one unbroken stretch of football history).
We have allocated each club four 'pedigree points' for each season spent in the top tier of English football, since 1946-47 (Premier League now, old First Division), and three points for each season in the second tier (Championship now, old First Division, even older Second Division), and two points for each third-tier season and one point for each fourth-tier season.
Arsenal, with an unbroken run of 68 years in the top division, have most points, followed by Manchester United, Everton, Tottenham, Liverpool, Chelsea, Aston Villa and Manchester City. Using this measurement, those eight clubs are the eight clubs with the highest post-war 'pedigree'.
And how indicative of success is such 'pedigree'? Well seven of those eight finished in the Premier League top eight last season, Villa being the only ones who did not. So actually, on a broad level, such 'pedigree' is indicative.
In the first table below, we show how 15 of the 20 clubs for the 2014-15 Premier League season 'deserve' by their post-war 'pedigree' to be in the top division. This same graphic shows how Burnley, QPR, Crystal Palace, Hull and Swansea are all punching above their historical pedigree to be there – a commendable thing for those clubs.
Article continues below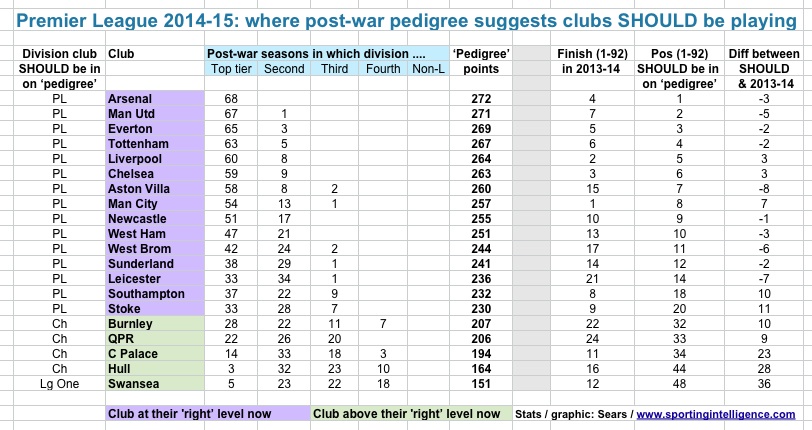 .
The graphic shows where each club finished in the league (1 to 92) last season; where their 'pedigree' says they 'should'; and the difference. A difference in single digits is really neither here nor there. That Palace, Hull and Swansea finished 23, 28 and 36 places about their 'natural' post-war level is especially commendable.
Looking at the 2014-15 Championship (below), the post-war pedigrees of the clubs suggests that Leeds, Wolves, Forest, Middlesbrough and Birmingham should be in the Premier League. Subsequently their finishing positions last season were respectively 22, 30, 15, 15 and 22 places worse than they 'should' have been. At the other end of the Championship, the likes of Bournemouth and Wigan are punching well above their historic 'weight' just to be in the second tier this coming season, let alone any higher.
Article continues below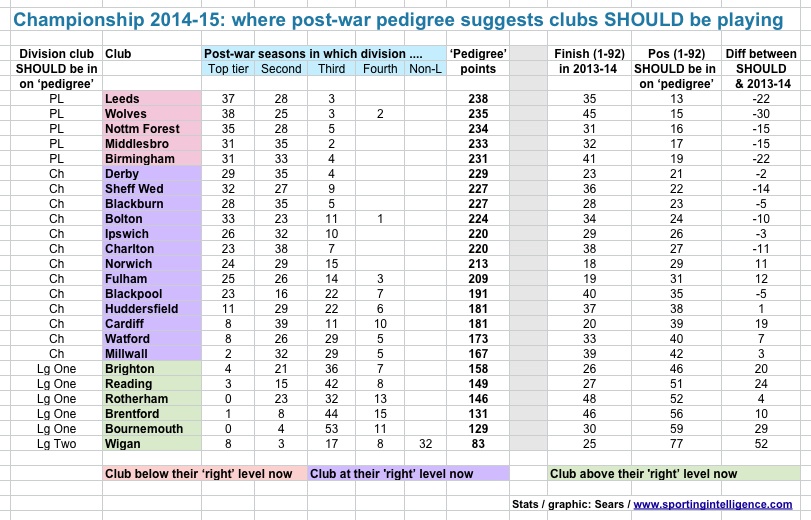 .
Moving down further, we see that Coventry and Sheffield United are the two teams clearly below their 'level' in League One, and that Portsmouth, Luton and Plymouth are below where they should be in League Two. It will be no surprise whatsoever if multiple clubs across the leagues who are in divisions above and below where they 'should' be don't 'correct' that via promotion or relegation this coming season. In fact it would be a surprise if we didn't see at least a handful of those clubs moving.
Article continues below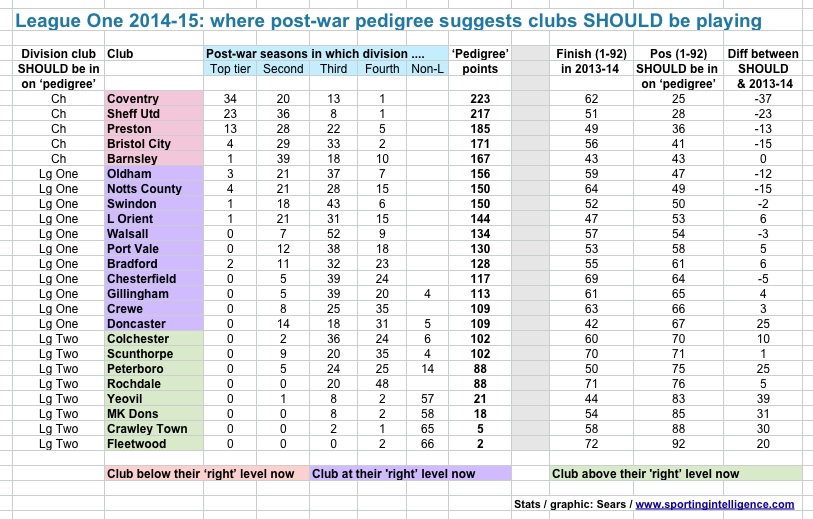 .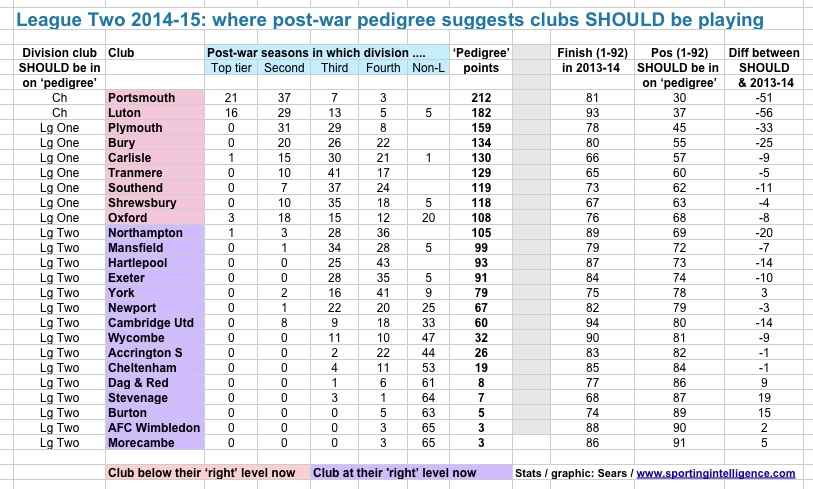 .
It goes without saying there are multiple ways you can measure where a club 'should' be playing. The exercise above is just one method. This website has previously considered how a 'deserved' Premier League might be made up using multiple different factors, such as trophies or ground capacity. Link here.
Equally one might average out the finishing positions for all the clubs over 68 years. In that respect you would find Manchester United have a higher average finish position than any club: 5th place on average over 68 seasons. Arsenal are next best in 6th on average, then Liverpool in 7th, Tottenham in 10th, Everton in 11th, Chelsea in 12th, Aston Villa in 14th and Manchester City in 15th. The same eight clubs, in other words, who also have the best 'pedigrees' by division.
You could consider 100 years, or 130-plus back to the start of the league in England, or 22 years for the Premier League. You could find all sorts of patterns. And yet nothing, definitively, will tell you, for sure, what will happen this season. Which is the beauty of the game. Today – anything can still happen.
.
More on Man City / Liverpool  /Arsenal / Chelsea (or search for anything else in box at top right)