By Nick Harris
SJA Internet Sports Writer of the Year
11 March 2013
A new large-scale survey of Chinese football fans to coincide with the start of the 2013 Chinese Super League (CSL) season has found that three of the top five players that supporters would like to see imported to the competition are Steven Gerrard, Frank Lampard and Michael Owen.
Although the trio are in the twilight of their careers – Gerrard will be 33 in May, Lampard turns 35 in June and Owen is 33 – there could be hugely lucrative contracts available to them if they opted to move east.
Officially salary data seen by Sportingintelligence shows that former Premier League strikers Didier Drogba and Nicolas Anelka were both on annual contracts worth £9m a year each (£190,000 per week) for their ill-fated stints at Shanghai Shenua, while even the former Blackburn forward Yakubu is currently earning £4.9m a year with Guangzhou R&F.
In the CSL 2013 season, each of the 16 teams are allowed a maximum of five foreign players, one of whom must come from the Asian Football Confederation. Many of this season's imports are Brazilian, including Luiz Guilherme da Conceição Silva, aka Muriqui. The prolific 26-year-old winger-cum-striker plays for Guangzhou Evergrande and is the most popular foreign player in China.
Other foreigners currently in China include the former West Ham and Tottenham forward Fredi Kanoute (now with Beijing Guoan), the former Barcelona and Middlesbrough midfielder Fabio Rochemback (now with Dalian Aerbin), the French forward Guillaume Hoarau (signed from Paris St Germain by Dalian Aerbin) and the Paraguayan forward Lucas Barrios, formerly with Borussia Dortmund and now a team-mate of Muriqui at Evergrande.
The CSL had endured a multitude of problems in recent times, not least the conviction of 58 officials and players for historic match-fixing. And the departures of Anelka and Drogba in January illustrate that some big-money moves are not sustainable.
But the CSL has recently recruited David Beckham as an ambassador to promote the league and Chinese football more widely. It remains the case that lucrative deals are available for the right players. And the new survey, a poll of 5,500 fans conducted by sports business experts FMM International and one of China's major online firms, NetEase, shows Gerrard, Lampard and Owen are all on the "most wanted" list.
The No1 most coveted player is Real Madrid's Kaka, followed by Ronaldinho, then Gerrard, Lampard and Owen in that order. Theo Walcott and Ashley Cole are also on the list. The full results of the survey:
Article continues below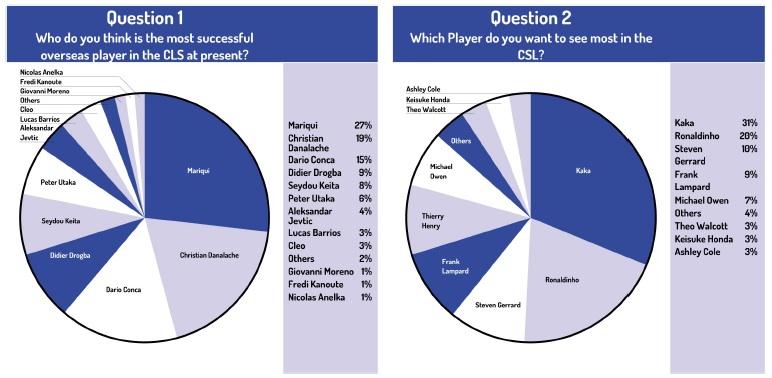 .
A new report by FMMI, analysing the business potential of the CSL, is due to be published next month, and one of its authors, Tom Markham, says that although the Shanghai experience of Drogba and Anelka points to isolated overspending, "overall, the CSL is financially stronger and more stable than before. There should be more encouragement to come from the central government regarding football soon, with this month seeing the annual National Congress taking place for a week, with a number of significant decisions on the area of youth sport expected be passed."
In trying to recruit big names from foreign leagues, the CSL is simply following a pattern laid down previously around the world by other nascent competitions, ranging from the J-League in Japan to MLS in America. The logic is simple: the stars bring publicity and credibility will the roots of domestic production take hold, hopefully to staff the league at a decent standard later.
The next two graphs indicate the price that the CSL clubs are willing to pay, the first being a list of the highest paid overseas players up to January, the second being the wage distribution overall.
Article continues below

.

.
Expenditure is not confined to players: some clubs are spending huge sums to import the best managerial talent. Marcello Lippi, the Italian manager who coached his nation to World Cup glory in 2006, is earning £8.7m a year as the manager of Evergrande, while the former Argentina manager Sergio Batista is earning £2m a year in Shanghai.
Article continues below

.
Whether it is Gerrard, Owen, Lampard or another player who becomes the first Englishman in the new-look CSL remains to be seen. Gerrard is a one-club man likely to see out his career at Liverpool, where he is contracted until next year. Lampard could yet sign an extension at Chelsea, although he could leave for nothing in the summer.
Observers inside China believe that setbacks to date won't stop the CSL developing in a healthy fashion now. "While Drogba and Anelka leaving is bad, there are many reasons to be positive about the new season," says Yan Qiang, vice-president of Titan Media, China's major sports publisher, said. "It is important not to forget that Shanghai Shenhua are just one club in China."
Tom Markham, author of the new report, is a football finance expert and can be followed on Twitter @TMFootyFinance. Tom has previously written for Sportingintelligence on the exact science of sacking managers. Anyone wanting more information on FMMI's report can contact them via their website.
.
More stories mentioning China (or search for anything else in box at top right)
Follow SPORTINGINTELLIGENCE on Twitter