By Nick Harris
SJA Internet Sports Writer of the Year
21 February 2012
Craig Whyte, the absent former owner of Rangers whose takeover and nine-month period of control at Ibrox is currently under investigation, broke cover to hold a meeting with administrators Duff & Phelps at their London offices in Portman Square (below) yesterday, Sportingintelligence can reveal.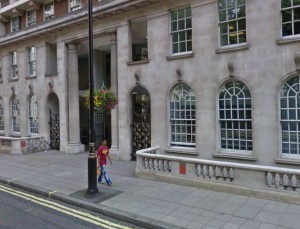 We can also reveal that job losses at the club are not imminent and that normal monthly wage payments have been sanctioned in the past few hours for this month and will be paid within the next few days. Job losses have not been ruled out but are now unlikely before next month.
Whyte, 41, has effectively been in hiding since the club went into administration last week as a result of up to £9m of unpaid PAYE contributions and VAT owed to HMRC since he took control of Rangers in May 2011 having paid former owner Sir David Murray a £1 nominal sum for his shareholding.
Whyte also repaid Lloyds bank £18m owed by Rangers as part of the deal, and as Sportingintelligence reported on Sunday it was suspected that Whyte had made that payment from £24.4m received for selling some of Rangers tickets for the next four years to brokers Ticketus.
That suspicion has now been confirmed (see today's Scottish Daily Mail story).
Sportingintelligence can reveal that visitors yesterday to Duff & Phelps at their London office for separate meetings that were held to try to find the full facts behind Rangers' demise, were:
Whyte, 41, who continues to insist via a spokesman that he has done nothing wrong. Sportingintelligence understands, however, that Whyte misled even some of his close associates about how he funded the £18m to Lloyds.
One or more representatives from Ticketus themselves, who passed on details to the administrators about the deal that saw them pay Whyte £24.4m. It is understood that Ticketus director Ross Bryan was at Portman Square at some point yesterday.
Phil Betts, Rangers director and tax specialist, was also interviewed by Duff & Phelps in London yesterday. Today's Daily Record reveals that Betts "was paid more than £160,000 in eight months while the club were being dragged into administration". Betts was Whyte's first appointment to the Ibrox board after taking over the club last May.
The different parties are believed to have confirmed to the administrators that Whyte did the Ticketus deal and then paid off Lloyds.
Central to any potential criminal action against Whyte is whether he was dishonest in his dealings at any stage in official declarations. Strathclyde Police have confirmed they are 'continuing to look at information' but have not yet launched any formal investigation.
Mystery still surrounds the precise involvement in Whyte's Rangers' plans of former bankrupt Aidan Earley (more about him here), and why £250,000 was paid to Earley from a bank account also used to hold the Ticketus income and used to pay Lloyds. (Daily Record story on that here).
.
Follow SPORTINGINTELLIGENCE on Twitter
Sportingintelligence home page