*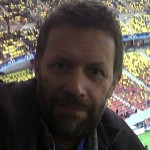 By Ian Herbert
22 December 2013
The sign on the exterior wall of the building where I started out in this business, on a September morning 24 years ago, has not kept up with the sad diminution of the paper which became a rich part of my life for a decade. "Liverpool Daily Post and Echo," the words read.
During the rapid cycle of reduced resources and falling circulation – which saw the Liverpool Daily Post become a weekly title a year ago and publish for the last time last week – no-one got around to putting up a ladder and taking the sign down. It looked like a defiant last testament to better days when I saw it last week.
I picked up a copy of the last issue of the Post, (below), and later read the comments of one of the Trinity Mirror bosses who, you assume, has helped take this decision to close the title down.
The Post is "a wonderful and much-loved old lady who has simply come to the end of her natural life," he said. "The Liverpool city region no longer creates the demand."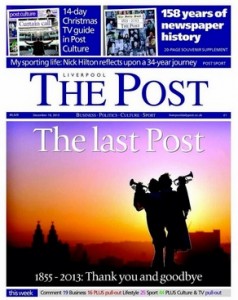 As if the decline of the paper were an inexorable and inevitable fact, unrelated to the whittling away of investment. And as if the people of Liverpool – inquisitive, curious, enterprising and proud of their place – do not care much about news any more.
You'll probably think that this is shaping up to be an elegiac, sentimental, self-interested ramble but I don't think so. It's hard to let this landmark pass without recalling some of the work which was a source of such awe to me when I arrived as a 21-year-old in Old Hall Street offices and first saw that sign on the wall.
The memory of Hillsborough was still fresh that autumn which, as we now know all too well, was precisely the time when the South Yorkshire Police's attempts at misinformation about the Disaster were cranking into top gear.
The city's Liverpool Echo was producing some great work on this subject, but the Post surpassed it. Reporters like Susan Lee, Michelle Worthington, Michael Johnston, Sue Critchley and Steve Brauner were delivering work of incredible detail and exclusivity, day after day.
There is a delicate balance to be struck in local newspaper journalism between the spirit of inquiry and the sense of respect to that place you are reporting on.
My friend Jason Burt, the Sunday Telegraph football correspondent, whom I met and worked with in those days, reminded me last week of the mantra instilled by the legendary news editor of the time – Alf Green. "Don't be a cheerleader for this place. But celebrate it when you can. Don't dump on your doorstep," were his words.
No-one could ever accuse the Daily Post's great sports editor of that time, Len Capeling, of veering from that mantra. A proud Liverpudlian and huge Evertonian, his immense weekly sports column was wise, unflinching and would be guaranteed to get his football writers banned, in these days of control and media management, when the clubs have far more staff producing 'content' than the paper have to report news.
I was deputy editor when Capeling's battles with Joe Royle, then Everton manager, reached their peak, and some of the fallout would be delegated my way.
"Where's Rasputin?" I remember Royle demanding to know down the phone one day. Royle was invited into the boardroom, as I recall, and things were smoothed over.
Capeling had an incredible charm, too. An expectation that his reporters prosecute sport with the same forensic zeal made for some extremely fine chief football correspondents: in my day Phil McNulty, Peter Jardine and Paul Joyce.
The memory of Burt ruffling some feathers has also stayed with me and, since we sat at opposite desks for a while, I fielded a call about him too. It was from Bill Kenwright, extremely unhappy and questioning the veracity of the piece he had been alerted to. It claimed that he wanted to take over the ownership of Everton.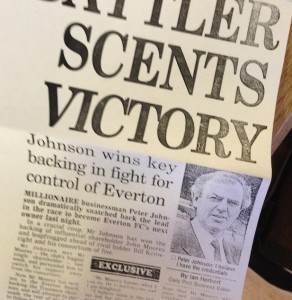 Reporters were not the only ones who owed their start on the ladder to the Daily Post. Capeling gave Alan Hansen his first column. 'The Professional View' we called it.
Mark Lawrenson, likewise. He has been writing weekly for the paper ever since.
A box of yellowing cuttings under my desk yielded up more memories, this week. The hitherto untold story of Peter Johnson taking over at Everton, for example. (Right)
And some of the brilliant old ink-black Daily Post football supplements of the 1980s which, for us growing up in North Wales, were a window on the incredible football being played in the big city 50 miles away. 'Champions '83,' (left) one of those in the box is entitled.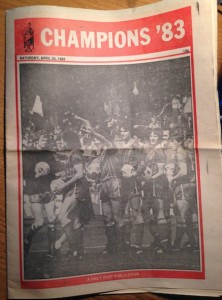 And then there is the Daily Post issue of March 22, 1993, (below right) 24 hours after the IRA's bombing of Warrington, delivering more proof that local journalism, more than simply being there, is about discovering the previously undiscovered.
My friend Richard Williams, who started as a trainee on the same day as me, reports the story of Wilf Ball – father on one of the two children who died that day in Warrington town centre. "He had waited 30 years for a son and had taken nearly retirement at 56 to spend more time with him…"
The demand for work like this exists now, as much as it did then. But with no-one to produce it, the vacuum is filled with the vast repository of material washing around websites and recycled, from to another. Flat Earth News, as The Guardian's Nick Davies described it in his brilliant exposition of vanishing journalism. It's why I think the website you are reading from, which recycles nothing and generates everything, is so important.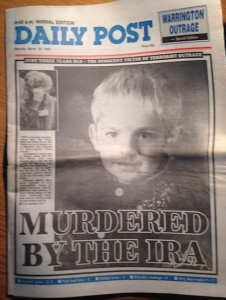 There are occasional compensations to this process of diminution. When a Guardian reporter and I recently covered a court case relating to football practices in the 1980s, we were expecting news agencies and local paper to hoover up the coverage before we could so much as open a laptop.
But only we two and another national journalist were there. Good news for us. Not so great for those who believe that when newspapers are gradually stripped away and journalists vanish, the spirit of analysis, accountability and intelligent inquiry disappears down the same road.
.
Ian Herbert, who was shortlisted as Sports Journalist of the Year in the prestigious Press Awards, and highly commended in the SJA Sports News Reporter of 2012 category,  is The Independent's Northern Football Correspondent (see archive of his work here). Follow Herbie on Twitter here.
.
Follow SPORTINGINTELLIGENCE on Twitter
Sportingintelligence home page
.
CHARITY APPEAL The Independent, Independent on Sunday and i are supporting Space for Giants for our charity appeal this year. Space for Giants works hard to stop the illegal poaching of elephants in Africa, providing protection against increasingly militarised attacks that are threatening the survival of the species. Please help them stop the slaughter of these magnificent creatures.
CALL: 0800 441 4161
TEXT: GIANTS to 70007 to donate £5. (Charged £5 plus one message at your standard network rate)
WEB: spaceforgiants.org/elephantcampaign
POST: Cheques payable to 'Space for Giants' to Space for Giants, RSGG–EKYT-UUTK, 1 Balloo Court, Bangor Co Down.
Twitter: #elephantappeal