By Brian Sears
31 December 2010
Nowich City won more matches in the league in 2010 than any other club in English professional football, and those 27 victories put them in No1 place in our composite table of Football League clubs for the calendar year. (See below).
The table does not distinguish between divisions, counting only the total number of wins, draws and defeats in Football League games for the 67 teams who spent the whole of 2010 somewhere within the Championship, League One or League Two.
The records of clubs in the Premier League can be seen here.
Our Football League table speaks for itself, but here are some of the other notable achievements of the year that aren't obvious from our stats alone.
Football League highs and lows from 2010
Most home wins: 16 by Notts County and Nottingham Forest.
Most away wins: 13 by Norwich.
Fewest home wins: 2 by Stockport ( 4-3 against Wycombe in February and 2-1 against Barnet in October).
Fewest away wins: 2 by Accrington Stanley and Barnet.
Fewest home defeats: 0 by Nottingham Forest. (Nought I say! Zero!)
Fewest away defeats: 4 by Brighton and Wycombe.
Most home defeats: 11 by Crystal Palace and Peterborough.
Most away defeats: 15 by Middlesbrough, Leicester and Southend.
Most home draws: 10 by Stockport.
Most away draws: 10 by Accrington Stanley, Torquay and Crewe.
Fewest home draws: 1 by Peterborough.
Fewest away draws: 0 by Scunthorpe
.
Sportingintelligence home page
.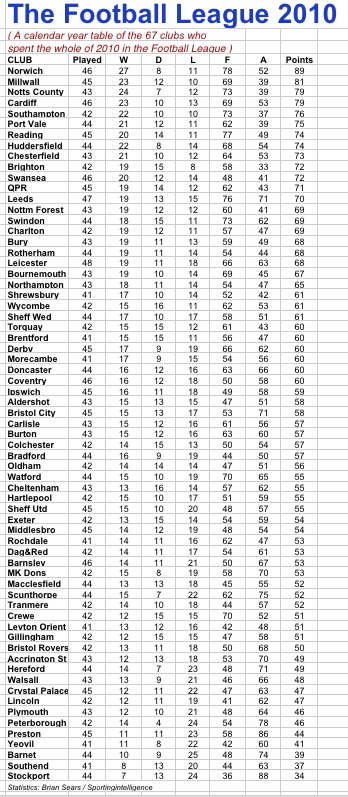 .
* * * * * * * * * * * * * * * * * * * * * * * * * * * * * * * * * * * * * * * * * * * * * * * * * * * * * * * * * * * *
Do you watch Premier League football anywhere outside England? Join our unique research project
* * * * * * * * * * * * * * * * * * * * * * * * * * * * * * * * * * * * * * * * * * * * * * * * * * * * * * * * * * *