By Brian Sears
31 December 2010
Chelsea are the defending holders of the Premier League-FA Cup Double but Manchester United were the Premier League team of 2010, as our analysis of league results in the calendar year shows. (See table below).
Of those 17 clubs who spent the whole year in the top division, United reached the end of 2010 with 80 points from 36 games, five points clear of Chelsea (despite United playing one game fewer), and 10 points clear of Manchester City and Arsenal in third and fourth, despite United playing fewer games than either of them. Tottenham are fifth in the calendar year table with 66 points from 37 games.
When points per game are considered (and thanks to Toby Gilles for the request), the order of the table remains largely unchanged, with United top and Chelsea second. Arsenal (1.84 points per game) would move ahead of Manchester City, who themselves would remain just ahead of Tottenham.
United played the joint fewest games in the year (36), while Bolton played the most (40, gaining 50 points).
West Ham's dire 2010 is underlined by the measly seven wins in the year. At the other end, United and Chelsea won 23 times each.
United suffered only two league defeats the whole of 2010: 1-3 at Everton in February, and 1-2 at home to Chelsea in April. The only thing keeping United in the sights of other clubs are the 10 away draws they have amassed on their travels; only Everton with 11 had more.
Everton gained five away wins in 2010 but Liverpool could manage just two: 4-0 at Burnley in April and 1-0 at Bolton in October.
.
Sportingintelligence home page
.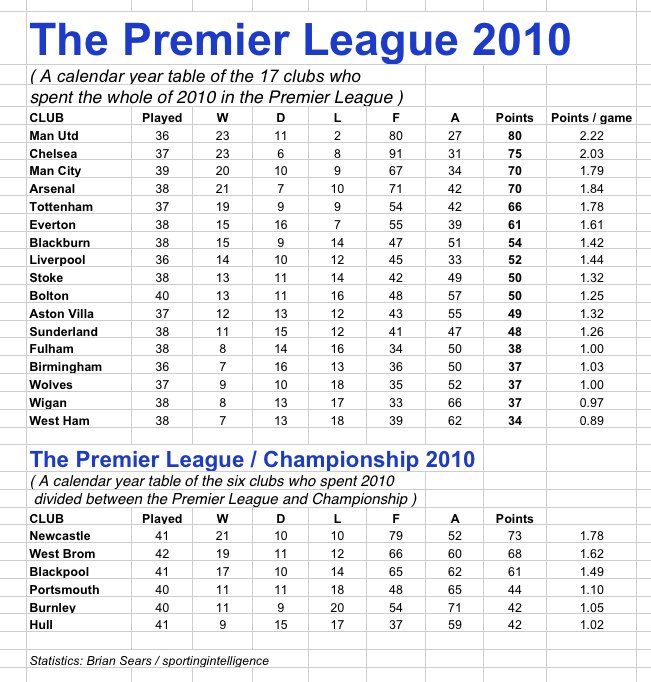 .
* * * * * * * * * * * * * * * * * * * * * * * * * * * * * * * * * * * * * * * * * * * * * * * * * * * * * * * * * * * *
Do you watch Premier League football anywhere outside England? Join our unique research project
* * * * * * * * * * * * * * * * * * * * * * * * * * * * * * * * * * * * * * * * * * * * * * * * * * * * * * * * * * *