By Brian Sears
10 January 2014
Liverpool have made five Premier League visits to Stoke City's Britannia Stadium but have yet to win there in the PL era.  Twice they have returned to Anfield with a point, and three times with nothing at all.
Stoke's home success against Liverpool can be seen in context in our club-by-club analysis of Stoke's home record in the Premier League. At the beginning of this season Stoke had gained more home points from Liverpool (11) than from any other club except for Blackburn (12), over whom Stoke hold a 100 per cent record at home.
Since then, Stoke have taken their tally against Sunderland to 13 points in six meetings, but Stoke's points-per-game record over Liverpool remains better.
Stoke host Liverpool this weekend.
Their record at home in the PL (article continues below):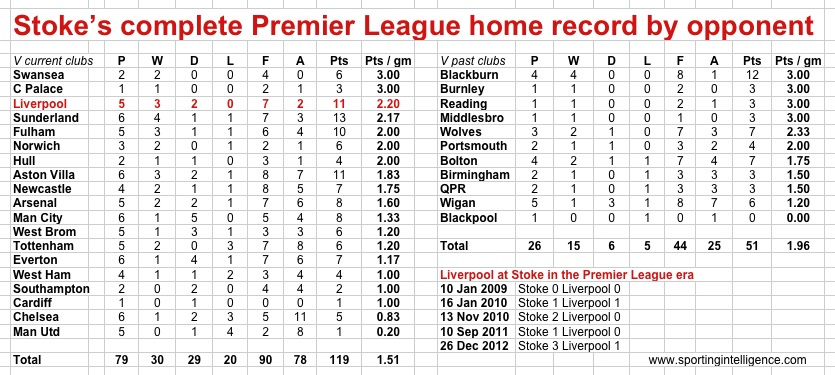 And another thing …
It might be more remarkable that Tottenham have yet to record a White Hart Lane Premier League victory over Crystal Palace. Spurs host Palace this weekend.
It is well documented that Palace are in their fifth season of Premier League football and all the previous four times they have been "one season wonders". The only club they have visited on all four occasions and remain undefeated against is Tottenham Hotspur.
Here are the four occasions:
22 Aug 1992 Tottenham  2 (Durie,Sedgley) Crystal Palace  2 (McGoldrick,Young)
27 Dec 1994 Tottenham  0    Crystal Palace  0
22 Nov 1997 Tottenham  0    Crystal Palace  1 (Shipperley)
28 Dec 2004 Tottenham  1 (Defoe)  Crystal Palace  1 (Johnson)
.
More on Liverpool / Man Utd / Arsenal (or search for anything else in box at top right)
Follow SPORTINGINTELLIGENCE on Twitter