By Brian Sears 
30 December 2013
Of all the teams playing in the four main divisions of English football in 2013, Arsenal performed the best in the calendar year in terms of points per game. Arsene Wenger's side played 38 league games, winning 25 and drawing seven for 82 points in total or 2.16 points per game.
In all, 94 different teams spent all or part of 2013 in those four divisions. Of those 94 clubs, only four – Arsenal, Manchester City, Chelsea and Manchester United – averaged two or more points per game.
This article will give a breakdown of the performance of every club in 2013 in a series of tables that highlights the best and worst of the calendar year.
DOWNLOAD the data and do your own calculations: Calendar Year 2013 English League Football
What is the particular relevance of the calendar year? It tends to highlight long-term trends that might not be quite as obvious from the current season's table, particularly among the very best and very worst clubs.
The first graphic shows the 20 best performing teams in England. It is notable the top six are all from the Premier League. That could suggest they are brilliant – or that the competition in their division is relatively poor.
Article continues below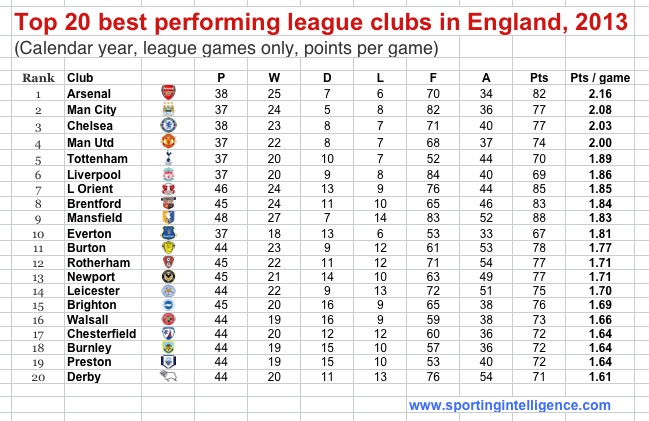 ..
Next: the worst 10 performing clubs of 2013. Note that only one team in all of England have been worse than Sunderland this year – and that is Stevenage. Also note that Sunderland and West Brom have the fewest wins of 2013, at seven each. West Brom had been poor for a lot longer than the first part of this season, hence the managerial change.
Article continues below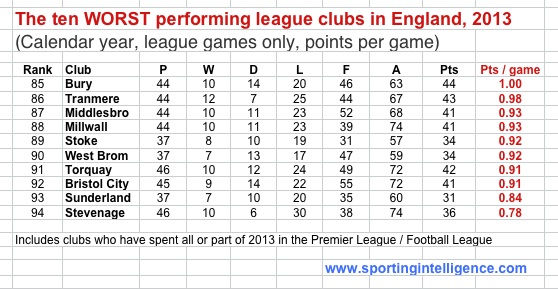 .
Before we move on to the divisional tables, here are some of the 'most and least' highlights among the 94 clubs in 2013:
Most wins: Mansfield 27, Arsenal 25.
Least wins: Sunderland 7, West Brom 7.
Most defeats: Stevenage 30, Tranmere 25. Most in PL: Fulham 21.
Most goals scored: Liverpool 84, Mansfield 83, Man City 82. (And only Liverpool and City scored more than two goals per game on average of all clubs).
Fewest goals scored: Stoke 31, Norwich 34, Sunderland 35. (Fewest per game Stevenage 0.83 then Stoke 0.84).
Most average team in England: The average points per game of all clubs is 1.37, so AFC Wimbledon (1.38) and Birmingham (1.36) are closest.
.
And while we're on the subject of random stats:
Article continues below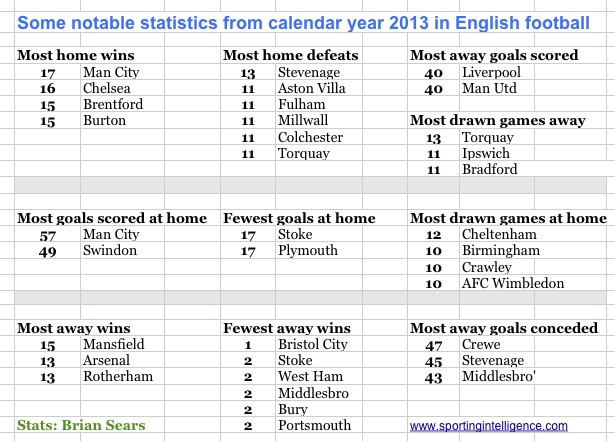 .
And here are the tables by division: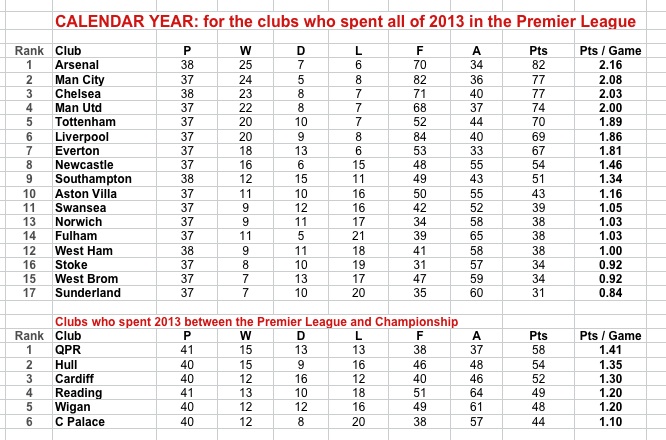 .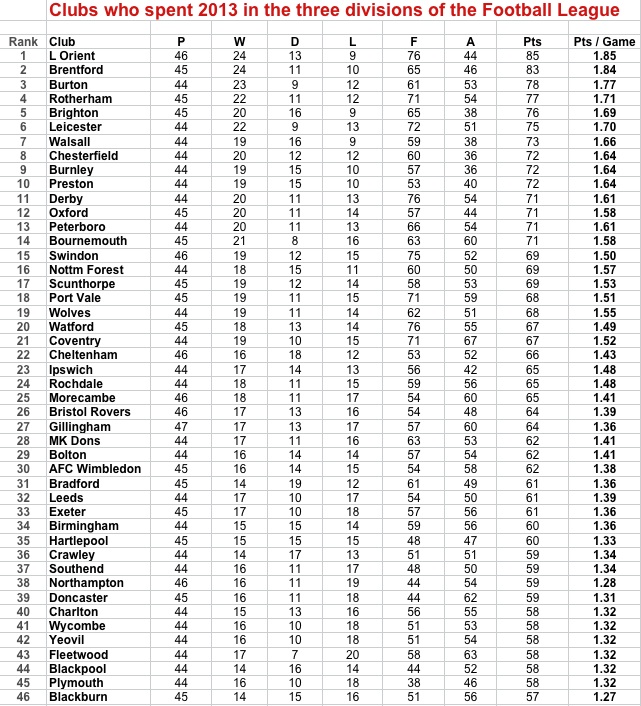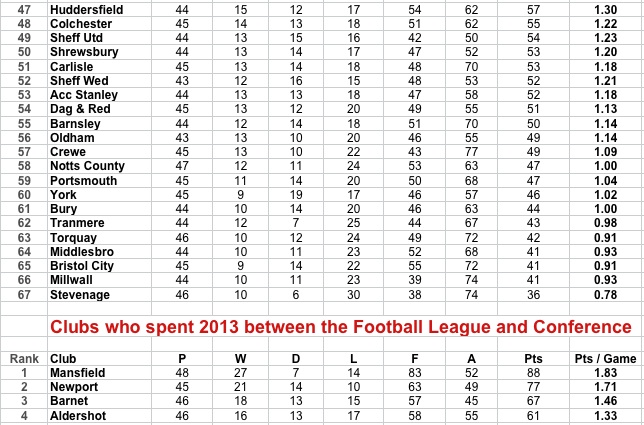 . 
More on Man Utd / Arsenal (or search for anything else in box at top right)
Follow SPORTINGINTELLIGENCE on Twitter