By Brian Sears
2 October 2015
It was four years, one month and a few days ago that this happened:
Arsenal went to Old Trafford on 28 August 2011 and were given an absolute mauling as Manchester United thrashed and embarrassed them, 8-2, with Wayne Rooney scoring a hat-trick, Ashley Young getting two, and Danny Welbeck, Nani and Park Ji-Sung getting a goal each. Theo Walcott and Robin Van Persie scored for Arsenal.
That match remains the only time in 9,056 Premier League games since 1992 that one team has beaten another 8-2.
More worrying for Arsenal is that they have failed to win a league game home or away against Manchester United since. United are the only team  Arsenal have failed to beat out of the 27 clubs they have come up against over the last four completed seasons. 
Below is their PL record, club-by-club by opponent, for the four campaigns, 2011-12 to 2014-15 inclusive. Note that this season West Ham pierced Arsenal's 100 per cent record the first day of the season but then Palace  yielded Arsenal a further three points in the second game.  Newcastle have succumbed to a further Arsenal defeat but Chelsea have now managed six wins in their last nine Arsenal games. 
It has been a long wait for Arsenal to get some revenge for 8-2 but this weekend sees their next opportunity, when United visit the Emirates.
Article continues below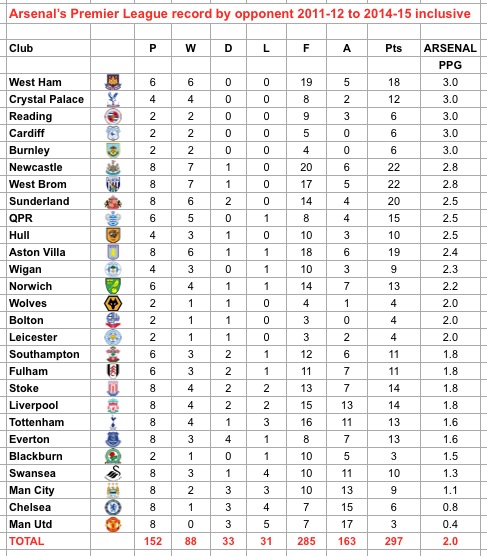 .
And another thing …
Last weekend's torrential spurt of goals was the 'correction' that Premier League scoring needed this season to get back to average levels. Before last weekend the average rate of goals per game (GPG) had been 2.43. That was well below the all-time average of 2.66 GPG recorded since 1992-93 as shown here: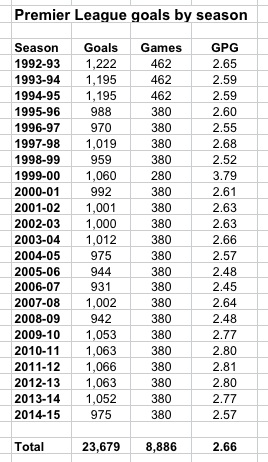 Then 41 goals were bagged in one weekend, taking the seasonal tally from 146 goals in six rounds of games to 187 goals in the seven rounds, to increase the average to 2.67 GPG. Last season the average for the whole campaign was just 2.57 GPG, which was a disappointment after five years of plenty in which the average never dipped below 2.77 GPG and in 2011-12 got as high as 2.81 GPG thanks to 1,066 (and all that).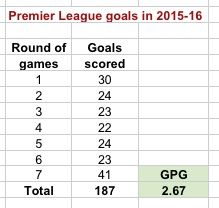 ..
…. And finally
The statistics in these pages will often be in relation to the Premier League era when they deal with English football. We know the game is a bit older than that. We know Preston won as Invincibles in the league's first season in 1888-89. But the Premier League is a distinct era if only because of the money that has transformed the picture. This is the 'monied era'.
To get some idea of how the financial situations of these clubs have changed over time – and finance is a big influence in success in football – further reading and related articles spring from Sportingintelligence's annual global sports salaries reports, are linked here. The 2015 edition of the report (right) was published in May.
You can download a free 120-page PDF here.
2014 Report             2013 Report            2012 Report         2011 Report          2010 Report
.
More on Arsenal / Liverpool / Man Utd  (or search for anything else in box at top right)