By Brian Sears
16 October 2015
None of the previous Premier League champions – and 23 of them since the inaugural 1992-93 breakaway season is a fair sized sample – won fewer than 14 points from their first eight games before going on to take the title. And only two managed it after winning as few as 14 points, both of them Manchester United teams, from five seasons ago and from 2002-03.
Two United sides also did it from as few as 15 points after eight; but the other 19 champion teams needed 16 or more points from the first eight games. The average points haul after eight games of the eventual champions is just more than 18.
So when we made an early call in August that Chelsea's hopes were gone in two games (here), and reiterated how that was panning out last month (here), it now looks even more unlikely that with eight points so far they'll be winning this season.
In fact unless Premier League history is to be re-written totally, this season's title race is already down to the current top six: Manchester City (on 18 points), Arsenal and United (16 each), Crystal Palace and Leicester (15), and West Ham (14).
That includes three clubs who've never been Premier League champions. Refreshing, no?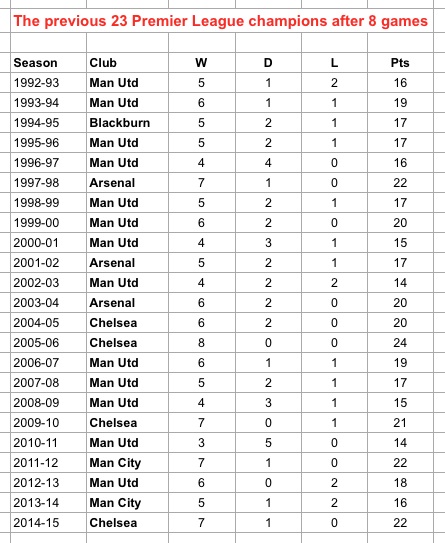 Note: It goes without saying that the three clubs of the six who have won the title before are the three realistic challengers now in 2015-16, in almost any sense you can imagine, including but by no means only according to the bookmakers, who place City, Arsenal and United in that order. Meanwhile Palace can still be backed at 1000-1 or larger in places, and Leicester at 2000-1 and West Ham at up to 2500-1 at the time of writing. That's a pretty accurate reflection. Key here is there is no place, statistically, for Chelsea or Liverpool or Spurs or Everton in the shake-up, given their records after eight games compared to history. It is refreshing that three of six 'possible' winners – Palace, Leicester and West Ham – are even in that bracket but only the strictest literalist would interpret those stats to mean there is now a credible six-team race. It is one regrettable fact of the Twitter age that sometimes there is a constituency of people who will want every point of this type spelling out to them, ie: that a six-team title race judged on statistical history is not, on the balance of probability, literally a six-team title race. Literally speaking, the title race still involves 20 teams.
.
And another thing …
All Premier League teams have played eight league games so far this season – four at home and four away – and nine of them have won more points on the road than at home. Here's the breakdown.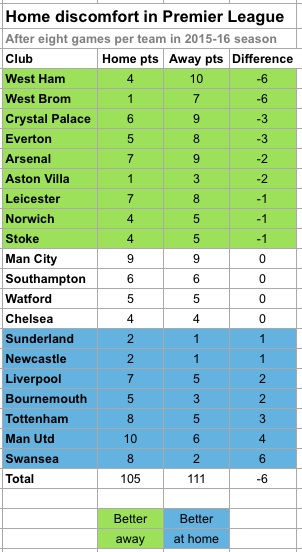 West Ham have the joint biggest discrepancy between home form and away form, doing much better away from Upton Park than at it in their final season there. West Brom are also relatively terrible at home and decent away while Crystal Palace, Everton, Arsenal, Aston Villa, Leicester, Norwich and Stoke are also doing better away.
Four teams are faring as well at home as away, and seven are doing what we'd expect: winning more points at home.
The upshot only 27 home wins in the season's first 80 PL games (33.75%), with 24 draws and 29 away wins (36.25%). Before this season the all-time corresponding percentages  were 46.3% home wins, 26.6% draws and 27.2% away wins.
We can assume that over the season the patterns will revert to the mean, or in laymen's terms that normal service will be resumed. But for now there have been 10 fewer home wins than expected, three more draws and seven more away wins.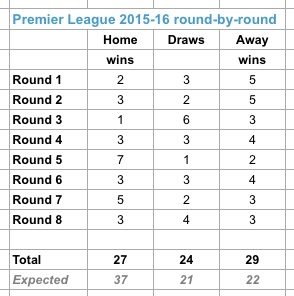 .
…. And finally
The statistics in these pages will often be in relation to the Premier League era when they deal with English football. We know the game is a bit older than that. We know Preston won as Invincibles in the league's first season in 1888-89. But the Premier League is a distinct era if only because of the money that has transformed the picture. This is the 'monied era'.
To get some idea of how the financial situations of these clubs have changed over time – and finance is a big influence in success in football – further reading and related articles spring from Sportingintelligence's annual global sports salaries reports, are linked here. The 2015 edition of the report (right) was published in May.
You can download a free 120-page PDF here.
2014 Report             2013 Report            2012 Report         2011 Report          2010 Report
.
More on Arsenal / Liverpool / Man Utd  (or search for anything else in box at top right)