By Brian Sears
25 September 2015
Newcastle have represented the north-east of England in the Premier League in 22 of the 24 seasons since the 1992-93 revamp, this season included. Sunderland have been in the PL for 15 of the 24 years and Middlesbrough, currently in an automatic promotion spot in the Championship, for 14 of 24.
Newcastle have by any measure been the most successful of the trio over the 23 completed seasons, finishing as the best north-east club in 14 of those 23 seasons; and averaging 1.41 points per PL game. Boro are comfortably next best in points per game (1.19 to Sunderland's 1.04) and have finished best in the north-east four times to Sunderland's five.
Here is a quick recap of the season-by-season performances.
Article continues below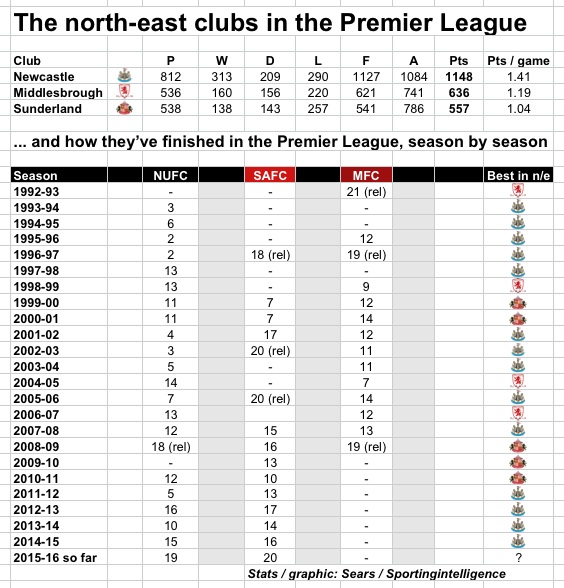 .
But these are edgy days in the north-east and after six games of the season Newcastle and Sunderland, in 19th and 20th places in the table, are the only Premier League clubs with as few as two points each and along with Stoke are still the only clubs awaiting that elusive first win of the season.
What are their chances of getting it this weekend? History — and money and other things  — says Sunderland face a tough task this weekend at Old Trafford. In their previous 14 Premier League visits, Manchester United have won 11, drawn 2 and lost just the one, two seasons ago. United have scored 30 goals in those games to Sunderland's six.
As for Newcastle, recent history should encourage Newcastle as they prepare to host Chelsea. Over the last three completed seasons, Newcastle have gained the possible maximum of nine points at home against just one club: Chelsea. Here's the home record for Newcastle in those last three completed seasons, club-by-club by opponent.
Article continues below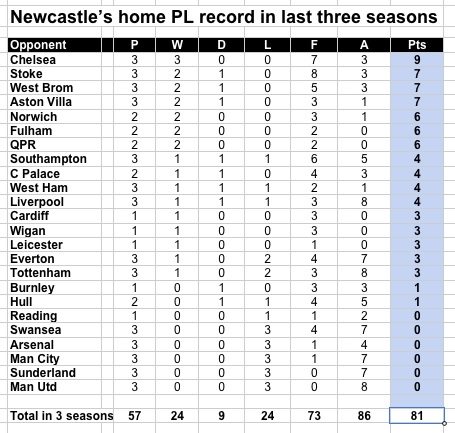 .
That Chelsea stat is an encouragement of sorts but there is much else to cause furrowed brows amongst the SJP faithful. Over the last three completed seasons they have witnessed as many home league defeats as victories: 24 of each. Then there are those five clubs at the foot of the table that have visited in each of the three seasons and have returned with the full three points each time.  Arsenal, Manchester City and United might be expected to be amongst them … but Swansea? … And Sunderland? Sunderland?! SUNDERLAND??!!
.
… and another thing
This season's promoted clubs have made a positive start: Watford have won nine points, Norwich eight points and Bournemouth seven points for a total of 24 points after six games each. Only in the first season of the Premier League era has that total been bettered.
Then Blackburn had 14, Middlesbrough 10 and Ipswich eight after six games of that 42-game season.  As a warning to the present three promoted clubs, Boro were still relegated by the end of the campaign.
In two previous seasons, the present total of 24 has been matched. But the warnings go on that by May 2003, West Brom in spite of nine points from the first six games were relegated and by May  2011 Blackpool after seven in six returned to the Championship and all that has followed for them.
Encouraging, however, for Watford, Norwich and Bournemouth is the fact that on the two occasions when all three promoted clubs survived, 23 points in 2001-02 and 21 points in 2011-12 had been a good enough total of points from the first six games.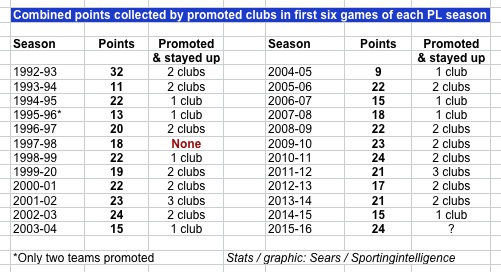 .
…. And finally
The statistics in these pages will often be in relation to the Premier League era when they deal with English football. We know the game is a bit older than that. We know Preston won as Invincibles in the league's first season in 1888-89. But the Premier League is a distinct era if only because of the money that has transformed the picture. This is the 'monied era'.
To get some idea of how the financial situations of these clubs have changed over time – and finance is a big influence in success in football – further reading and related articles spring from Sportingintelligence's annual global sports salaries reports, are linked here. The 2015 edition of the report (right) was published in May.
You can download a free 120-page PDF here.
2014 Report             2013 Report            2012 Report         2011 Report          2010 Report
.
More on Arsenal / Liverpool / Man Utd  (or search for anything else in box at top right)