By Brian Sears
18 September 2015
Almost a month ago, we highlighted how the statistical evidence suggested Chelsea had blown their title hopes after two games. Now, five games into the season, or more than an eighth of it gone already, they'll have to do something unprecedented to retain their crown.
No Premier League title winner has ever collected as few as four points from their first four games in a title-winning season. As the graphic below details, a majority of title winners have been in double figures of points after five games. Way back in the revamped league's first season, Manchester United collected as few as seven points from five games. But the next lowest tally, eight, several times, is twice what Chelsea have now.
All of Chelsea's four Premier League title wins started with unbeaten runs of at least five games that amassed at least 13 points from those games.
Never have the Premier League champions elect lost three of their first five games (as Chelsea have) and only once – United in that first PL season – have the eventual champions been beaten as many times as twice in their first five games.
Chelsea's drop-off compared to last season is also starkly illustrated when you look at how the champions each season started the next one. They are nine points down on their first five games, a record drop-off; 20 years ago the then champions, Blackburn, had gained only four points from their first five games but that was only seven points down on a season earlier. Blackburn went on to sink to 7th place, a fall from grace only matched by the United side of three seasons ago.
Article continues below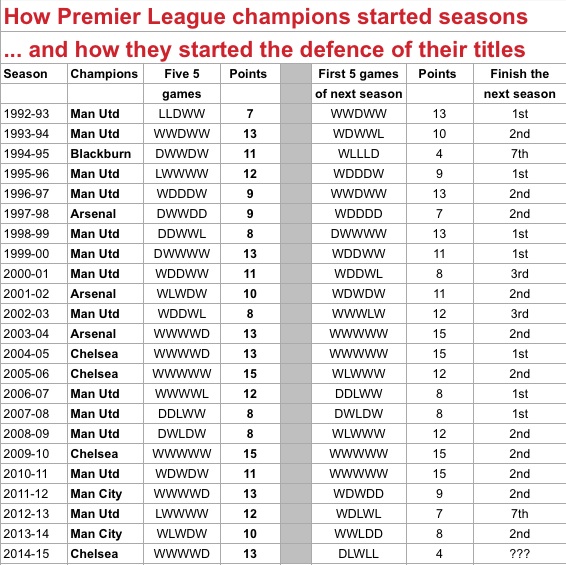 .
And another thing …
Manchester City have become only the fourth side of the Premier League era to have kept clean sheets for all the first five games of a Premier League season. Should they stop their next opponents, West Ham, from scoring for 23 minutes of the game they will move up into second place behind the Chelsea side of 2005-06.
That Chelsea side went six whole games without conceding a single goal and then in the seventh game at home to Aston Villa, Luke Moore finally pierced the Chelsea defence 44 minutes into the game. Chelsea
still won the game 2-1 and went on to complete a starting sequence of nine straight wins that ended
with a 1-1 draw at Everton.
Chelsea's first defeat that season did not come until 6th November when they lost by the only goal of the game at Old Trafford but they still had the last laugh when as champions they were eight points clear of second placed United.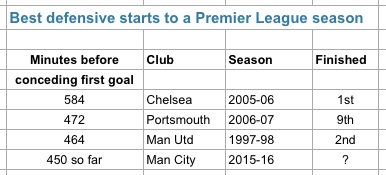 …. And finally
The statistics in these pages will often be in relation to the Premier League era when they deal with English football. We know the game is a bit older than that. We know Preston won as Invincibles in the league's first season in 1888-89. But the Premier League is a distinct era if only because of the money that has transformed the picture. This is the 'monied era'.
To get some idea of how the financial situations of these clubs have changed over time – and finance is a big influence in success in football – further reading and related articles spring from Sportingintelligence's annual global sports salaries reports, are linked here. The 2015 edition of the report (right) was published in May.
You can download a free 120-page PDF here.
2014 Report             2013 Report            2012 Report         2011 Report          2010 Report
.
More on Arsenal / Liverpool / Man Utd  (or search for anything else in box at top right)