By Brian Sears
25 January 2011
Manchester United's Premier League season reached the half-way mark, its 19th game, with the New Year's Day 2-1 victory at West Brom. Since then they've played three more league games, beating Stoke, drawing at Tottenham and then thrashing Birmingham 5-0, all ahead of Tuesday's match at Blackpool.
As sportingintelligence's historical analysis of United's previous Premier League seasons shows (see table below), it's typical for United to get stronger as the season goes on. Generally, they get better in the second half. They win more matches. They win more points. That's a statistical fact.
It turns out that in the 18 completed Premier League seasons to date, United have won more points in the second half of their seasons on 11 occasions, and on seven of those occasions, they've won the title.
On the seven occasions they gathered more points in the first half of their seasons, they still went on to be the champions four times.
Altogether 770 points have been gained by United in the 367 games played in the first half of seasons, at an average of 2.1 points a game; and 765 points have so far come from the second halves of the completed seasons, at an average of 2.2 points per game.
If that average increase, of 5 per cent, is maintained this season, then United's second 19 games will add 43 points to their first half haul to make a total of 84 points, and they already have seven of them from their wins over Stoke and Brum, and that draw with Spurs.
The present season is the first time United have reached half-way in a Premier League campaign unbeaten, but then eight draws was their highest number at half way since the first Premier League season, when there were a total of four more games played.
Those chasing United can only grasp at the straw of seven seasons ago. As the New Year of 2004 dawned, United led the way with 46 points but 19 games later they trailed eventual champions Arsenal by 15 points, having only gained 29 points from the second half of that season.
.
More stories mentioning United
Sportingintelligence home page
.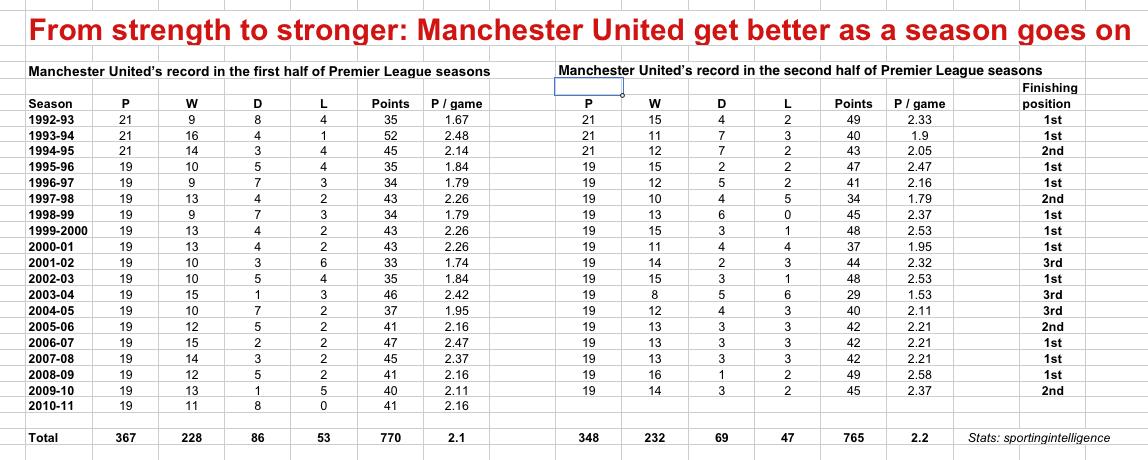 .