By Brian Sears 
14 May 2016
Winning away from home is now officially a 'thing' in the Premier League. The trend has been inching towards better away performances for a few seasons now but the amount of points won on the road in 2015-16 is guaranteed to be at record levels no matter what happens on the final day – and by a margin.
Leicester have led the way en route to their miracle title, with 11 wins and five draws away from the King Power.
We have been flagging up all season that teams in the Premier League are finding it easier to gather points away from home (and / or harder at home). Now here's the proof in the table below.
.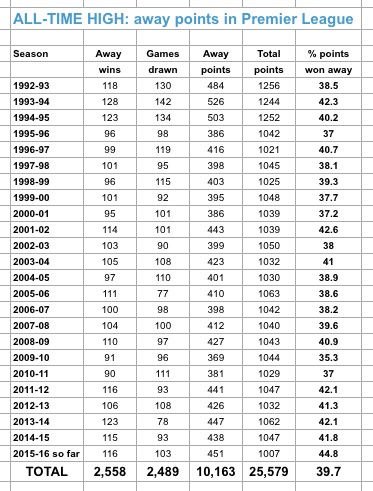 .
In the first 19 seasons of the Premier League era the percentage of points gained away from home struggled above 40 per cent on six occasions but now the percentage has been comfortably above 40 per cent for the last five seasons, and never more now, on 44.8 per cent as we stand today.
Even if all of Sunday's final games ended in a home win, the percentage of points gained away from home over the season as a whole would be 43.5 per cent and remain at record levels.
Why? Well that is a discussion that has been unfolding for years if not decades. And continues to do so. Discuss!
.
And another thing …
Manchester United lead the way when it comes to good results in the final games of the Premier League era. They have won 15 last-day games in the past 23 seasons, drawn six and lost just two. Those two defeats were away at Tottenham in 2001 (a 3-1 defeat) and then at home to West Ham in 2007, when Carlos Tevez scored the only goal.
United's outside chance of qualifying for next season's Champions League rests firstly on their ability to beat Bournemouth in the final match, and also on Manchester City getting beaten at Swansea.
City have won six of their 18 last-day games in the Premier League. Swansea have won two of four.
Only Sunderland of the current Premier League clubs have gained less than one point a game from these matches and lost as many as 13 times in those 23 games. They are, of course, already safe.
More recently Arsenal have gone 10 games since losing a final match of the season, United and Leicester have both gone eight games since losing. Indeed Leicester have seven straight wins to their credit in final games, with Tottenham on five and Arsenal and Chelsea both four.
West Brom have gone seven final games since their last win, and Aston Villa and Sunderland four games since their last last-day win.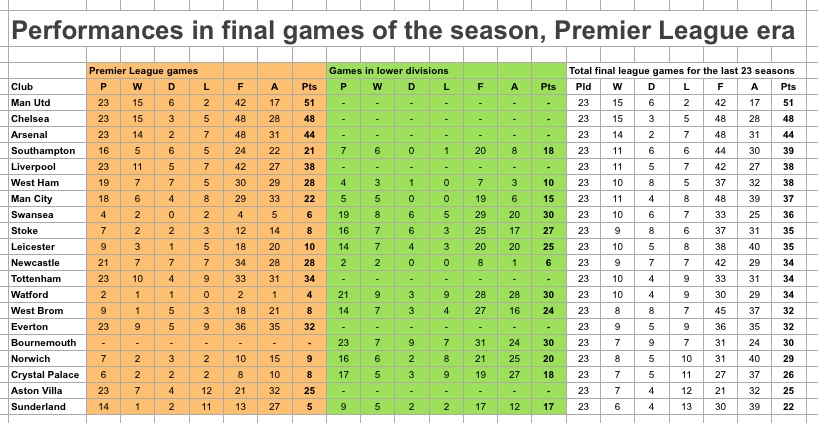 .
…. And finally
The statistics in these pages will often be in relation to the Premier League era when they deal with English football. We know the game is a bit older than that. We know Preston won as Invincibles in the league's first season in 1888-89. But the Premier League is a distinct era if only because of the money that has transformed the picture. This is the 'monied era'.
To get some idea of how the financial situations of these clubs have changed over time – and finance is a big influence in success in football – further reading and related articles spring from Sportingintelligence's annual global sports salaries reports, are linked here. The 2015 edition of the report (right) was published in May.
You can download a free 120-page PDF here.
2014 Report             2013 Report            2012 Report         2011 Report          2010 Report
.
More on Arsenal / Liverpool / Man Utd  (or search for anything else in box at top right)
Follow SPORTINGINTELLIGENCE on Twitter