By Brian Sears 
26 October 2011
What with all the brouhaha about alleged incidents that have nothing to do with any beautiful game, it's been easy to forget that QPR's defeat of Chelsea at the weekend ended an unbeaten run of more than 10 years by Chelsea against promoted sides in the Premier League.
As we highlighted last month, Chelsea had not lost to a promoted side since 21 April 2001, when Charlton beat them 1-0 at Stamford Bridge, thus completing for Charlton a famous London double that season over Chelsea.
Since then and until Sunday, Chelsea had gone 63 games unbeaten against promoted clubs in a run comprised of 54 wins and nine draws. Chelsea remain the best overall at bullying the new boys. (See table at the very bottom of this piece).
But the 'mantle of unbeatenness' against promoted sides now passes to Manchester City (who haven't lost to a promoted team for 14 games), Manchester United (11 games) and Blackburn Rovers (10).
The next test for one of these sides arrives on Saturday when Blackburn visit Norwich to defend their 10-game unbeaten run against promoted sides since losing at Birmingham in December 2009.  Rovers' record in the period is here, as is City's 100pc 10-game run against promoted teams: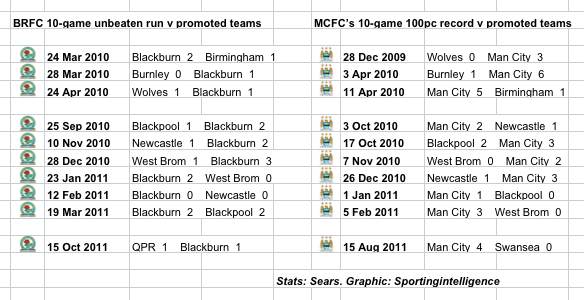 As our second, lower graphic shows, this sequence of results for Blackburn in the Premier League is no 'flash in the pan'.  When the record of all current Premier League clubs are aggregated then Blackburn have the fifth best record against promoted clubs – only the 'Big 4' with an excess of two points a game outdo Rovers, on 1.8 points a game.
Next week City visit QPR and they will be defending a run of 10 straight victories over promoted clubs…..another great nut for Neil Warnock's men to attempt to crack.
.
More on Chelsea /QPR / Man Utd / Man City / Blackburn / Arsenal  / Liverpool (or search for anything else in box at top right)
Sportingintelligence home page
.