By Brian Sears
21 November 2014
Fans of Southampton must have been pinching themselves over the last year or so, having built on the survival of their 'return' season to the Premier League in 2012-13 with two storming starts last season and this.
They were ever-present in the revamped top division between 1992 and 2005, and counting the 2012-13 season too they averaged a little under 10 points from their first 11 games in each of those 14 PL campaigns.
Then last season their haul from the opening 11 games shot up to 22 points, and despite the turmoil of the summer at St Mary's, that has risen again this season to 25 points from 11 games. Before this weekend's action commences that puts them in second place behind Chelsea (who are in amazing shape) and, for the moment, four points clear of last season's champions, Manchester City.
Article continues below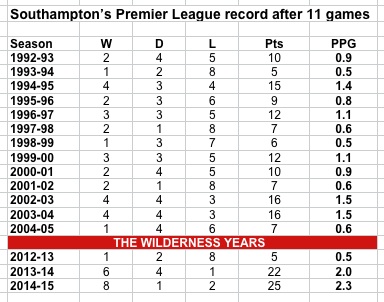 .
Southampton already have eight win from 11 league games this season – two more than last season and seven more than two seasons ago at the same stage. This is extraordinary stuff by the Saints 'normal' PL standards over the past two decades. Indeed in 1995-96, they kept their Premier League status while winning just nine games all season.
So what has changed?
Last season Mauricio Pochettino, in his first and only full season with Southampton, continued the work started by Nigel Adkins and helped to bring the best out of a group of players mostly already in the Saints system for a long time before he arrived. Adam Lallana, Luke Shaw, Rickie Lambert and Calum Chambers were among them. Dejan Lovren was one player bought in on Pochettino's watch, for what turned out to be a bargain £10m, and he was a good counterpoint to a £15m waste of money that Pochettino also purchased, Dani Osvaldo.
The Saints then lost an executive chairman, Nicola Cortese, and Pochettino went to Spurs in the summer, replaced by Ronald Koeman. And the Dutchman, with the substantial assistance of the long-standing and highly methodical in-house recruitment unit, oversaw an extraordinary upgrade.
Why extraordinary? Because on the face of it Southampton sold all their best players yet replaced them with better players while spending tens of millions of pounds less than they received. This was no fire sale. A fire sale is "the sale of goods at extremely discounted prices, typically when the seller faces bankruptcy or other impending distress." This was almost the opposite of a fire sale. This was the sale of goods at top-whack prices.
The graphic below tells its own story. Fraser Forster came in for £10m from Celtic as Artur Boruc went on loan to Bournemouth. Forster has been part of a defensive unit keeping seven clean sheets in the league.
Also playing key roles in that back line have been full-backs Nathaniel Clyne and Ryan Bertrand. Clyne was already at the club and Bertrand came in on loan from Chelsea with an option for Saints to make the deal permanent. Out went Luke Shaw and Calum Chambers, respectively to Manchester United and Arsenal, for £43m combined. Saints sold Lovren for £20m and re-invested £6m in Florin Gardos while also taking the La Liga-winning Toby Alderweireld on loan from Atletico with an option to buy.
The solidity of the Alderweireld-Jose Fonte pairing at centre-half ahead of Forster, in turn protected by shielding defensive midfielders, allows the progressive Clyne and Bertrand to get forward with confidence of cover.
The upgrading continued in midfield, where it might recently have seemed sacrilegious to suggest Lallana was anything less than Saint's heartbeat and soul. But one of the more astonishing aspects of the summer upgrade is that Dusan Tadic – bought from Twente for £10.9m – has been better than Lallana was. And Southampton bought both Tadic and Senegal wing man Sadio Mane combined with the money they got for Lallana, and still had £4.1m left over.
And then there were the striking changes, Rickie Lambert sent with the good wishes and blessing of all Saints fans to boyhood club Liverpool. And there was even four million quid in it for Saints. In came Graziano Pelle from Feyenoord, as did Shane Long from Hull as the low-profile Billy Sharp went to Leeds.
The upshot? A pretty decent team from last season, dismantled, upgraded – and with a £37.7m profit.
Nobody would suggest this is the sort of thing any football club should be doing on a regular basis. Or perhaps at all. But that's a taste of why Southampton are still doing pretty much as well this season as they were at this stage last year.
As we'll come to in a moment …..
Article continues below (and click to enlarge graphic)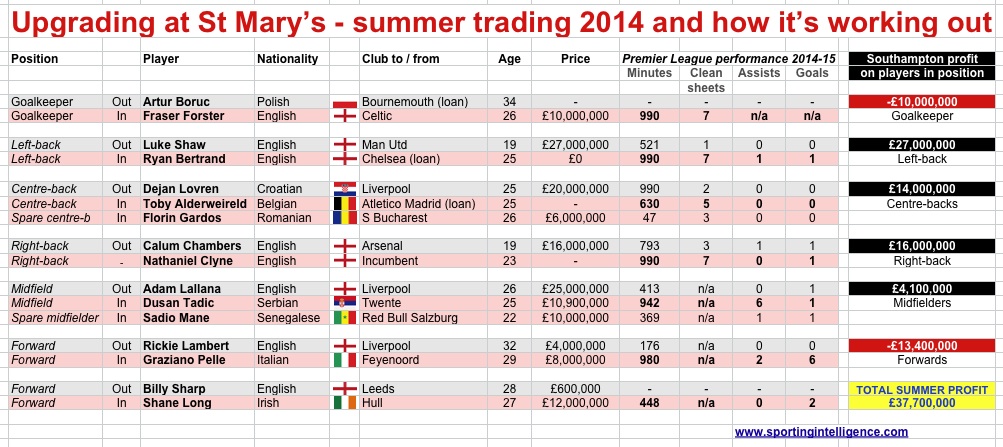 .
Southampton fans trying to keep their feet on the ground will not need reminding that from a situation similar to the current one, last season they went on to gain only two points from their next six games. In the terminology of the stats geek – and this is being penned while wearing the free anorak handed out at the StatsGeek2014 convention – the Saints might well be argued to have benefitted this season (and last season by the same stage) from 'schedule bias'. Or in laymen's terms – easy fixtures so far.
Thus Saints fans will be eyeing up their matches leading up to Christmas. And there are one or two or three eerie similarities. A year ago their next six games were Arsenal, Chelsea, Villa, City, Newcastle and Spurs. This year Arsenal also feature in the next six, after Villa and City in the next two games, then Manchester United, Burnley and Everton are far from gimme games. Chelsea lie just beyond those.
Saints alive! Alive with potential. But how Koeman's upgraded team handle the crunch will be key to whether they push into the new year with something genuinely remarkable still on the cards.
Article continues below

.
… And another thing
This weekend's fixtures have thrown up a remarkable set of contrasting ties – six at 3pm on Saturday with a Premier League head-to-head history of home dominance, then four from Saturday tea-time onwards where none of the home sides have won more than 40 per cent of home PL meetings with this weekend's opponents.
The six fixtures at 3pm on Saturday have collectively been played 39 times in the PL era, with 29 home wins for a 74% win rate plus seven draws (18%) and just three home defeats. The tea-time onwards fixtures have been played 45 times in the PL era with just 15 home wins (33%), 16 draws (36%) and 14 away wins (31 per cent).
If history is our guide then it's home wins for Chelsea, Everton, Leicester, City, Newcastle and Stoke this weekend while Arsenal, Palace, Hull and Aston Villa shouldn't expect easy rides on their own turf.
The game-by-game breakdown is in the graphic below.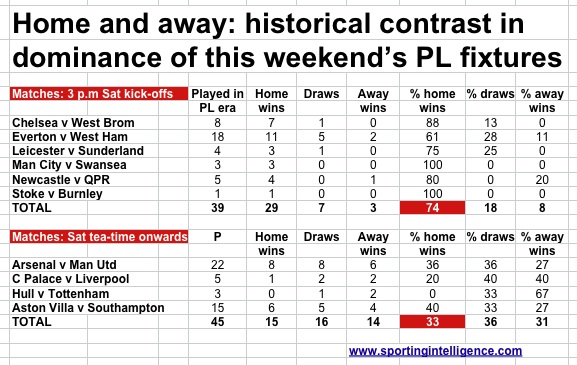 .
More on Saints / City / United / Arsenal / Chelsea (or search for anything else in box at top right)
Follow SPORTINGINTELLIGENCE on Twitter