By Brian Sears
27 November 2014
Chelsea's storming start in the Premier League is their best ever start in the 23 seasons of England's revamped top division. With 32 points from their first 12 games, they are a point ahead of their previous best-ever tally at this stage – and more than nine points clear of their average tally after 12 matches.
In stark contrast, everyone knows Arsenal have been struggling for consistency, but in fact it's worse than that. This is their worst ever start to a Premier League season. Their current 17 points from 12 games means they are currently one point down on their previous worst tally after 12 games; that was back in 1994-95 when the Gunners ended the season 12th in the table. The following season they recovered to fifth and in the 18 completed seasons since they have never finished outside the top four.
Elsewhere in London, the perception is that Tottenham are struggling a little under Mauricio Pochettinho. But the reality is that by their own standards, Spurs are having a bang average campaign. On average at this stage over the past 22 years of Premier League football they have had 16.7 points. This season they are on 17. A bang average tally for a bang average team.
To be fair to Tottenham supporters, the current tally is some way short of their best haul of 28 points from their first 12 PL games. But it is also rather better than their worst haul of eight points at this stage.
As our graphic at the bottom of this article shows, three clubs this season are having their best ever Premier League starts: Southampton and Swansea join Chelsea in that category.
Manchester City, West Ham, Everton and Stoke are also having better than average starts when measured by their own standards in the Premier League era.
But three of the one-time "Big Four" clubs are way down on even their average points hauls at this stage: Manchester United are almost six points down, with Liverpool and Arsenal almost seven points down on their own average benchmarks. All of them are much further away still from their best starts, it goes without saying.
Our table is cruel on the current Burnley squad, being compared to a Burnley who have just the one previous PL season to be compared with. Five seasons ago that team collected 16 points from 12 games and then only 14 from the next 26 as they were relegated with Hull and Portsmouth.  Sean Dyche's men will hope to play it differently this time round.
.
More on Saints / City / United / Arsenal / Chelsea (or search for anything else in box at top right)
Follow SPORTINGINTELLIGENCE on Twitter
.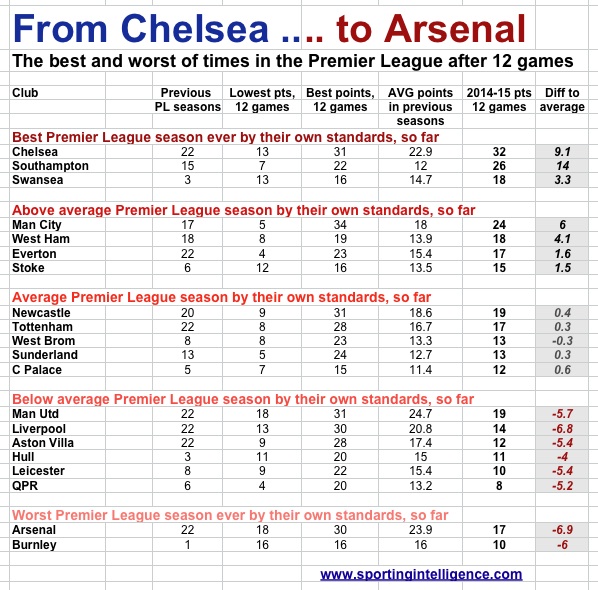 .