By Brian Sears
8 September 2011
Swansea have played three games in their Premier League adventure and have yet to score a single goal – which means they are already on the 10th longest goalless spell at the start of any Premier League season, and within two full games of the longest goalless opening.
So far they've lost 4-0 against Manchester City and had 0-0 draws at home to Wigan and Sunderland. On Saturday they travel to Arsenal, knowing another blank will put them in the all-time top three for goalless minutes at the start of a PL season – of 460 teams over 20 years.
Only two sides – Sheffield Wednesday in 1993-94 and Newcastle in 2005-06 – have gone on to fail to score for the whole of a fourth game.
Swansea are only the 10th team side to have failed to score in their opening three games, as this table shows: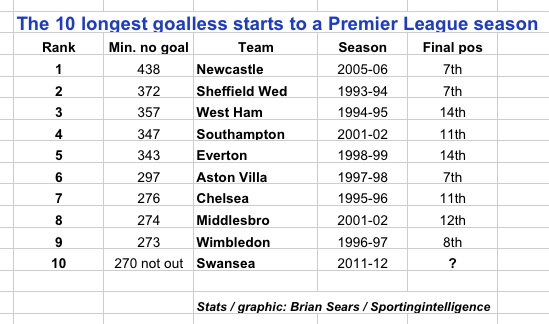 Swansea needn't be overly concerned, yet. Their pair of 0-0s still mean two points. Of the other scoreless teams in the table, only Chelsea (1995-96) had gained that many points from their first three goalless games. And all the teams in the table above managed survival comfortably despite their initial lack of goals.
.
And another thing…
This is the 20th season of the Premier League and so far there have been 7,495 games played – with the 7,500th during the Saturday afternoon programme.
And still this league throws up remarkable scores: the 8-2 win by Manchester United against Arsenal was the first and only 8-2 in Premier League history.
That was only the third time that fans have been able to watch 10 goals in a single game. Eleven has happened once, when Portsmouth beat Reading 7-4 four years ago.
So much for the exceptional cases. What's the more normal expectation?
The most likely experience is that fans will watch two goals in a single game – a quarter of matches have ended 1-1, 2-0 or 0-2.  The figures also show that every 11th or 12th game ends up goalless but also every 8th game provides five or more goals.
A breakdown is in the graphic below, along with the details of games in which nine goals or more have been scored.
.
Sportingintelligence home page
More on Arsenal / Swansea / Manchester United / Chelsea / Liverpool / Tottenham / Man City (or search for anything else in box at top right)
x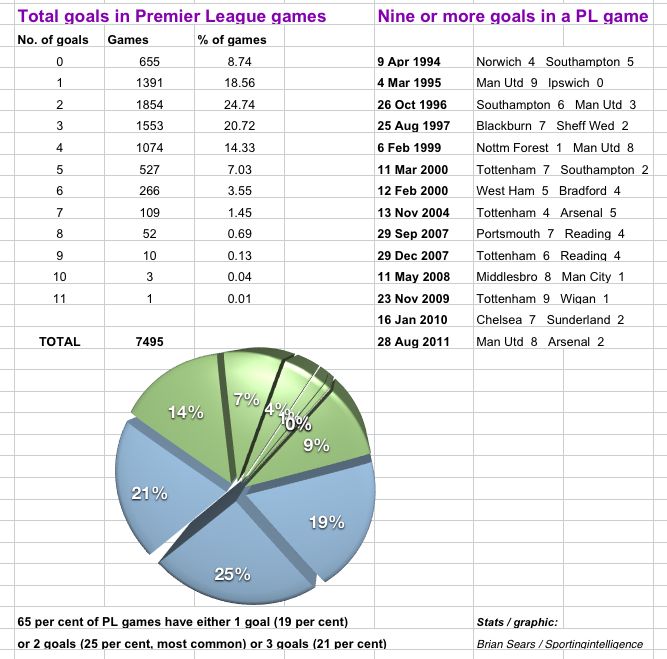 .x