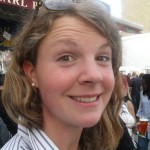 *
ALEXANDRA WILLIS is a multimedia tennis journalist who flits between Wimbledon, SportingIntelligence, the TennisSpace and a few other outlets, while tweeting copiously and trying to improve her (terrible) backhand in her spare time. 
 .
.
By Alexandra Willis

31 August 2012
With two Grand Slam champions on her tennis conquests sheet, a first Grand Slam fourth round, a first top 10 win, and a game so natural you couldn't teach it, it's all too easy to forget that Laura Robson is just an 18-year-old.
But, as she dissolved into giggles at a One Direction reference during her post-match press conference, having shown no hesitation in lambasting Wayne Rooney for calling her Robinson instead of Robson, we were reminded that behind the tennis, she is just a teenager.
She said it herself.
"I'm only 18, so if I was that negative, last year or a year ago, then who knows what I'm going to be like in a few years," remarking on the struggles she's had with injuries, finding herself on crutches for a stress fracture barely 9 months ago, dealt abdominal strains, thigh strains, tonsillitis, and even, this very tournament, an infected toe.
All of which makes her passage to the fourth round of this US Open, the first British woman to do so since Jo Durie in 1991, all the more exciting, both for British tennis and for women's tennis. Because there is inevitably so much more to come.
" I've always thought that I can play with the top girls," Robson said, while reminding us all she is still 'the baby' of the locker room. "Whenever I've practiced with Caroline or Maria, I've always felt that level was there. It was just taking that onto thte match court and keeping the level up for the whole match. That's the biggest difference."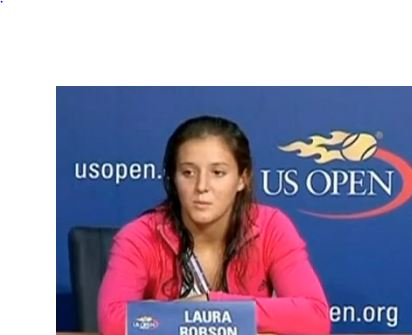 Robson has always had a ready wit and easy charm, ever since she wowed a room full of often cantankerous journalists at the age of 14. Questioned whom she would ask to the Champions' Dinner, were she to win the title, she said, without trace of a pause, 'Marat Safin.'  But the Russian was to deny her. "He sent me a letter," she said. "I've memorized it. It says, 'Sorry I can't come to the ball, but good luck for your final tomorrow.' A bit disappointing actually."
A master of the self-deprecating put-down, Robson has kept her feet on the ground in her four years on the tour to date, preferring to quip rather than get drawn into the whole 'big picture' of it all.
During her senior Wimbledon debut in 2009, for example, when she led Daniela Hantuchova by a set on the new No.2 Court, only to lose, Robson was asked what she was thinking about as she prepared. The 15-year-old replied, "Nothing really. I was kind of thinking about what the towels were going to look like this year. They're really nice (laughter)."
Remarking she spent much of today's match trying not to wave at comedian James Corden in the crowd, it's no wonder she has developed such a following on twitter, out-ranking the likes of world No.1 Victoria Azarenka, Andy Roddick, even though you're likely to find more tweets about the Masters, the Olympics and her taste in music than insights into the tennis tour. Which, quite frankly, makes a change.
""I honestly don't understand why," she told the New York Times yesterday. "I guess people just love Twitter in England."
Another typical Robson moment, which had even Judy Murray splitting her sides, came at GB's Fed Cup zonal tie in Eilat, Israel earlier this year. As the rookie member of the team, it fell to Robson, who had also brought the board game 'Pass the Bomb', with her to Israel, to give a speech to the rest of the teams. Rather than wax lyrical about this and that, she took the entire room aback by rapping Sir Mix-A-Lot's 'Baby Got Back', better known for its opening line, 'I Like Big Butts And I Cannot Lie.' When the British team completed their win over Israel, she performed it again, by popular request, on Israeli TV.
When not playing tennis, which according to her twitter profile is something she does 'occasionally,' Robson likes to walk her dogs, cook, watch TV (the ilk of Gossip Girl and Vampire Diaries), and listen to music. Just like many other 18-year-olds.
"I don't know any 18-year-olds that don't listen to cheesy music from time to time. I can't help myself, I love it," she revealed to the NYT, having tweeted her excitement at the presence of Carly Rae Jepsen of 'Call Me Maybe' fame at Arthur Ashe Kids' Day, and later confessing to the world's press that she sang along to Taylor Swift on a changeover during her match with Clijsters on Arthur Ashe.
"Can anyone not sing along to Taylor Swift," she joked this afternoon.
But if it seems like it is all one big party for the British youngster, let that not fool you. Beneath all the banter, humour and down-to-earthness, there is a gritty, steely determination, but also a wisdom that most 30-year-olds would crave, let alone an 18-year-old .
"I don't see how I can not be relaxed when you're playing someone as good as Li Na or Kim, you have to go out there with nothing to lose, and that's what I did," she said, when asked how she was able to keep so calm in the face of two such career-changing moments.
It's rather like her fellow Olympic medallist, Andy Murray, in fact, who is well known to like a joke or few, and yet is certainly a 25-year-old going on 40, in some senses.
Reminding the world No.4 that he owes her diamonds. Fluffing a mini Union Jack in the face of the gold medal champion. Getting him to sniff at the presentation flowers suspiciously. Or producing a world-class eyebrow raise at Gabby Logan's dancing, to name but a few.  And yet an Olympic medallist and set to be ranked in the world's top 75 at the end of this tournament at the age of 18. It's all part of what makes Laura Robson Laura Robson.
And, hopefully, it's only the beginning.
.
Visit the Sporting Intelligence home page for the latest news and exclusives
More on tennis / More from Willis