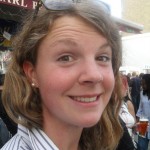 ALEXANDRA WILLIS is the Deputy Editor of ACE Tennis Magazine, and alongside mag work and an affair with social media, has the dubious honour of following British players to Grand Slam qualifying from time to time as part of her professional duties. If you happen to bump into her court-side, she'll probably tell you that she went to Oxford (and not just shopping).
.
.
.
.
.
By Alexandra Willis
10 March 2010
If you have been reading the British papers over the past few days, or checking the blogosphere and twittersphere, you'll see that there is yet another furore over the state of British Tennis. Why? The AEGON GB Davis Cup team lost a match, their fifth in a row, which will see them play off against Turkey in July to avoid relegation to the lowest tier of the prestigious competition. That's the Europe/Africa Zone Group III, if you were wondering.
Britain's conquerors? Lithuania, the Baltic state whose most famous tennis player, Vitas Gerulaitis, was an American citizen. The Lithuanians threw down the gauntlet to the British team under a low roof with poor lighting on the outskirts of the capital, Vilnius. Their team of teenagers played with passion, vigour, and verve, ably supported by one of the most vehement Davis Cup crowds this writer has ever heard. And there were only 1,500 of them.
With Andy Murray absent, and Alex Bogdanovic, the British No2, not selected, it fell to Britain's No3 and No4, James Ward and Dan Evans, to pull off a vital singles win. Ward won the first match, the first British male, other than Tim Henman, Greg Rusedski and Andy Murray, to win a live Davis Cup rubber since Andrew Richardson in 1997. Some statistic.
But while Colin Fleming and Ken Skupski did enough to put Britain 2-1 ahead going into the final day – also the first British doubles pair to win since Jamie Murray and Henman saw off Croatia in September 2007 – that was it as far as the wins. Ward capitulated in three sets to the Lithuanian No1, the short and stocky but very talented Ricardas Berankis, while Evans played two five-set thrillers, the first two five-set matches of his young career, losing both at the last gasp.
The players cannot be faulted for effort. The Lithuanians were simply better, despite what their rankings may suggest on paper. This latest result merely adds to the perennial mystery why every other country, apart from Britain, seems able to raise their game, rise to the occasion, and play their socks off in a big match arena.
But the result is only half the fuss. The major hoo-ha circulates around the fact that the budget of British tennis is Goliath to Lithuania's David, a sum that makes their annual spending look like that of a parish church. But where is it written that money automatically translates into results?
If that were the case, the leading lights in tennis would be Britain, the Americans, and the Australians. Not Eastern Europeans with a lot of fight. What does translate into success is hard work. Lots and lots of it. Andy Murray is a world-class tennis player because he works hard, day in, day out. 'Rip it up and start again,' seems to be the mantra. But what will that gain?
There were no British male heirs 10 years ago when Henman and Rusedski were battling over that famous patch of grass at Wimbledon, and true, based on the weekend's result, there is little evidence of there being any successes now. But it's not all doom and gloom. Take, for instance, the fact that Andy Murray spent the week before travelling to Indian Wells practicing with Neil Pauffley, Alex Ward and Dan Smethurst. They may be off the radar at the moment, but according to Murray, they certainly know how to work hard.
Jamie Baker, who was cruelly ruled out of the tie after spraining his ankle two days before play was due to begin, has called for patience, and he is quite right. He cites the support he has been given since he returned to Britain, how his ankle has been assessed, and monitored, meaning that he'll be back on the court within a week. That system was not in place four years ago.
Look across the seas to Indian Wells, where Elena Baltacha, Anne Keothavong and Sarah Borwell are all competing in the main draw of the WTA Premier Mandatory event, the preserve of the world's top 50 women. Ask any of them, and they'll tell you time and time again that they are better players today as a result of a more professional attitude to coaching, fitness, nutrition, player support – these things were merely on the drawing board four years ago.
Not to mention that over 100,000 free rackets and balls have been distributed to more than 3,000 primary schools around the country to kick-start the young generation and envelop them in the game. This is the kind of work that the LTA is there to provide  – an environment for success, not the success itself.
Davis Cup may be prestigious, respectable, and a fantastic honour, but it is not an accurate representation of the state of British tennis. Where does it stand alongside investment in schools? How does it relate to creating a proper talent identification structure? Is it more important than having three women in the top 100?
There's one thing that will have far more damage than this result, and that's the blame game. We all need to stop fussing, and let the players get on with it.
.
Alex was blogging courtside at the Davis Cup in Lithuania. If you missed it, catch up here.
And for more ACE content, try ACE Tennis Magazine, on sale at WH Smiths and all good newsagents.
.
The sportingintelligence front page today