By Brian Sears
27 October 2011
Chelsea are on the verge of overtaking Arsenal as the No1 club within London over the entirety of the Premier League era.
Both teams have played 177 London derbies in the Premier League to date, with Arsenal amassing 321 points, and Chelsea gaining 318. (For the full London derby table, scroll to the very bottom of the page.)
Chelsea have been closing the gap year-by-year in recent times and this Saturday's lunchtime meeting between the pair at Stamford Bridge could mark a symbolic changing of the guard.
From 1992 to 1996, each of QPR, Arsenal, Tottenham and Chelsea could make claims to be top London dogs because they finished as either the top London team in the League or they won the most points in London derbies.
Then for eight seasons from 1996-97 to 2003-04 inclusive, Arsenal were the undisputed champions of London football. These were Arsene Wenger's transformative and golden years.
Not only did Arsenal finish higher than all other London clubs in every one of those seasons in the Premier League – winning the three titles bolded in red along the way – but they were champions each season in the London derby league table.
Then it all changed. Have a look at this (and story continues underneath):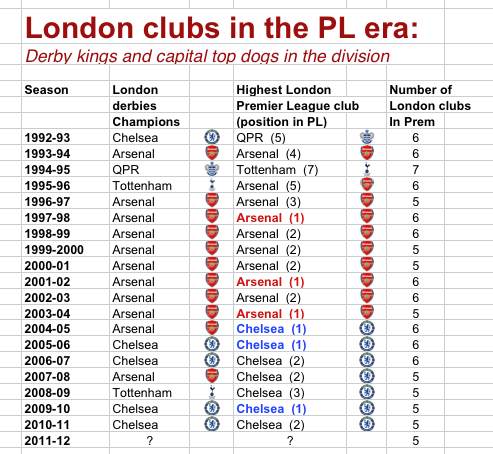 For the past seven seasons Chelsea have been the London club finishing highest in the Premier League, winning the three titles bolded in blue above. And in four of those seven seasons, Chelsea have also been the London derbies champions too.
Head to head, Chelsea still trail Arsenal by 41 points to 62 from 38 meetings in the Premier League era, which is almost certainly no consolation whatsoever to Arsenal fans.
In all, there will be 20 London derby games in the Premier League this season and the fourth and fifth of them happen this weekend when Arsenal go to Stamford Bridge on Saturday, then and QPR visit White Hart Lane on Sunday.
In the three London derbies already played only Chelsea and Arsenal have registered blanks.
Those three derbies saw Fulham beat QPR 6-0; then Tottenham beat Arsenal 2-1; then QPR beat Chelsea 1-0.
How important are derbies to the final table? Very.
Last season, Chelsea finished with three more points from inter-London Premier League games (17 in total) than Arsenal (14). And at the end of the season, Chelsea finished with three more points in the Premier League (71) than Arsenal (68). That was the difference between second place and fourth.
Fulham are, frankly, the pits when it comes to derbies. They have the worst derby record in Premier League history among London clubs, amassing a pitiful 0.88 points per game on average. (See table below). Only Crystal Palace are also below a point per game.
Fulham won a measly and pathetic three derby points last season. That said, they did spank QPR this term. And it won't be long before they get another chance to add to their tally. Tottenham are coming up soon.
..
More on Chelsea / Arsenal / QPR / Spurs / Fulham (or search for anything else in box at top right)
Sportingintelligence home page
.