By Alex Miller and Nick Harris
31 July 2016
Premier League clubs have set a record for combined shirt sponsorship deals, with the 20 clubs generating £226.5 million for the 2016-17 season, a rise of £3.6m on last year.
The increase underlines the commercial strength of the League with shirt sponsorships more than doubling in six years. The combined total in 2010-11, when Sportingintelligence first performed this exercise, was £100.45m.
The overall Premier League total is more than double the income generated by the Bundesliga clubs. To put than in context, the German top tier, a thriving commercial beast, is the second strongest league in terms of shirt sponsorship.
According to industry analysts Repucom, the 18 Bundesliga clubs had shirt deals worth £101m last season. Spain's La Liga had total shirt sponsorships worth approximately £65m.
Manchester United's club-record deal worth £47m a year with Chevrolet remains the biggest deal in the Premier League, but a number of traditionally lower and mid-tier clubs have enjoyed the biggest increases this year.
Southampton have signed a new deal with Virgin Media worth £6m a year plus performance-related bonuses, an increase of £5m a year compared to the previous deal with Veho. Sunderland, Stoke and West Brom have also negotiated improved deals this season, detailed in our graphic, which we'll analyse in a moment.
Article continues below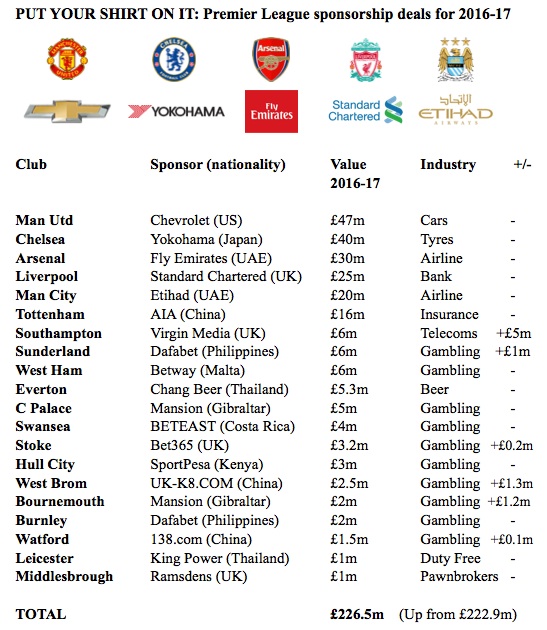 .
The international appeal of the Premier League is demonstrated with 16 clubs sharing 14 sponsors with overseas headquarters based in countries as diverse as the USA, China, Japan, Thailand, the United Arab Emirates, Malta and Costa Rica. Mansion and Dafabet have two clubs each.
Hull recently announced their new shirt sponsor will be Kenyan-based online betting firm SportPesa – the first African company to sponsor an English Premier League club. The three-year deal is worth at least £3m a year.
Only Liverpool, Southampton, Stoke and Middlesbrough boast British-based sponsors. Of those, Southampton are one of four clubs carrying new sponsors this season, the others being Swansea, West Brom and Hull. 
Despite a blanket ban on gambling within football, 10 Premier League teams will carry sponsorship from gambling companies this coming season, up from seven last term.
It is tempting to conclude that if you are a 'big' enough club with enough clout to attract a major international corporation or business, then your owners would rather stay away from 'tawdry' sponsorship deals with gambling firms. But if you can't get big bucks from a non-betting multinational, then gambling firms are evidently the genre willing to inject millions to boost their market share.
All the figures in the table have been sourced from one or both sides of the deals concerned, and all have been run past the clubs for pre-publication checks.
Reigning Premier League champions Leicester have the joint-lowest shirt sponsorship in the league, worth £1m a year plus performance-related bonuses. The club are understood to have received a substantial bonus for winning the league last season, although they will not disclose details. But sources say the basic element of their deal will remain the same this season.
In one sense the Foxes sponsorship deal is atypical anyway: the ownership group of the club is the shirt sponsor. In 2013-14 the club signed a five-year international deal worth £16m, covering shirt sponsorship, stadium naming rights, as well as international marketing and licensing.
This is the seventh year Sportingintelligence has produced this research. The season-by-season and club-by-club deals for previous years can be seen here:
.
Relative impact of shirt deals shrinking against TV revenue
Shirt deals are one revenue stream among many that feed the coffers of Premier League clubs.
All clubs earn money from three key streams: match day income (tickets, food & drink, hospitality, programmes, hoardings and so on), media income (mainly TV rights) and commercial income (including sponsors, where shirt income is often but not always the biggest component).
In the graphic below we look at the relative importance of shirt deals over the past six years as TV income has continued to grow at an enormous rate. This shows 1) total shirt deal income for the 20 clubs each season since 2010-11; 2) the biggest shirt deal each year, and value; 3) the average deal value; 4) the average amount of money each club has made from Premier League central funds from TV; 5) a comparison between shirt income and TV income measure by the relationship between the two.
(For season-by-season details of what clubs make from television CLICK here; follow links for earlier seasons).
Give or take a couple of percentage points, there is a consistent pattern that an 'average' club makes one tenth of the amount each season from their shirt deal as they do from Premier League TV income. Or to flesh out the example, in 2010-11, the average shirt deal was worth £5m a year and the average TV income was £47.6m. In the coming season, the respective figures will be £11.35m and £125.8m, or thereabouts. (We predict the highest earning club will earn a bit more than £150m in 2016-17 from PL TV cash and the smallest earning club will earn just over £100m).
BUT. Any summary of averages hides a multitude of different experiences. The 'biggest' clubs like Manchester United are making much more from shirt deals in comparison to TV than most clubs. United will make £47m from Chevy this coming season and perhaps £150m from Premier League TV funds. The majority of clubs will make £6m or less from shirt deals but the average TV take will be £125m or more and no club is likely to make less than £100m from TV.
What does this tell us? Shirt deals remain the best marker of a club's 'genuine' global popularity. Big companies will pay the most for shirt deals that will resonate with the most people, and sell more product to those people. Whereas TV money in the Premier League continues to distributed in a fashion far more democratically than pure 'popularity' should warrant.
.

.
Follow Alex on Twitter @AlexMiller73
More on Chelsea / Man Utd / Arsenal (or search for anything else in box at top right)