By Brian Sears
4 August 2011
Charlton, Sheffield United, Sheffield Wednesday, Preston and Huddersfield are the top five favourites in varying orders with most bookmakers to get promoted from League One this season.
It is little coincidence that they are also the five clubs who have spent the most post-war years above the current division (third tier) in which they find themselves.
Elsewhere today, we published a table looking at the post-war pedigree of the Championship clubs for 2011-12.
The methodology is simple. Take the number of post-war seasons each club has played above their current level, and subtract the post-war years they have played below the current level. This gives a post-war 'pedigree' figure.
It is not a number based on opinion. It is not a prediction of where clubs will finish in 2011-12. It is a factual calculation of a club's place in the 'historical order' of English football in the post-war period.
We have done the same thing with League One (see table below) and with League Two have calculated the number of post-war seasons above the current level (also see below).
Among the favourites for League Two – no surprise – are Swindon and Bristol Rovers, two clubs with high 'pedigrees' in their division. Plymouth are not more strongly fancied only because of financial environmental factors.
Similarly, newcomers money-bags Crawley are tipped to do well because they have a lot of money – if no pedigree.
..
Sportingintelligence home page
.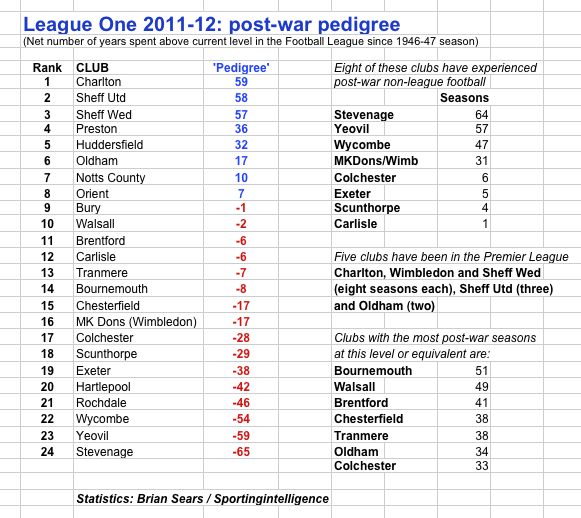 .