This page carries items posted on Twitter @Sportingintel that are not necessarily carried in any greater length on this site. Clicking on the 'Tweet here" links takes you to the relevant tweet (and related comments / debate). If you're interested in stories in greater detail on a particular sport, club, topic or whatever, use the search box on the home page, top right. Here for research downloads.
.
17 February 2017
The debate over Arsene Wenger intensifies      Tweet
Arsenal's thrashing at the hands of Bayern Munich in the first leg of the last 16 of the Champions League reignited the debate over Arsene Wenger's future. He responded by saying he would be managing next season, whether at Arsenal or elsewhere.
Wenger's position is a polarising issue. This website did an in-depth analytical assessment of his success and failure a few years ago. It might well be the case that in his 21st year as manager at Arsenal he decides not to continue after summer 2017 – and it seems clear the decision was always going to be his. It is an entirely rational and understandable position that he has run his course at Arsenal. It is understandable that Arsenal fans want to win the title and Champions League – which fans don't?
It is also a fact that Wenger has been uniquely consistent in English football since the late 1990s. Arsenal have never finished outside the top 4 in his time. They have won the title three times, twice in Doubles, once as Invincibles, moved home, redefined the style of the Premier League in multiple ways and had success (trophies) even in times that some fans would categorise as woeful (ie: recent seasons).
Only Manchester United with an average PL finish of just below 2nd over the past 20 years have done better in that time than Arsenal (average finish 2.7, only club to finish always in the top 4). The other 'big' club records (big clubs in 2017): Chelsea average 3.55; Liverpool 4.65; Spurs 8; Man City 14.
The graphics below show even in recent 'poor' seasons Arsenal have delivered Champions League football, high finishes consistently and trophies, all while not not relying on billionaires with oil wealth.
There is much wrong with modern football – as traditionalists see it. Too much money. Mercenary players. Profit-hungry owners. Short-termism. High prices. A disconnect with fans. And yet many Arsenal fans, despite supporting a club that consistently delivers the kind of results the vast, vast majority fans can only dream of, now perceive Wenger as a has-been failure.
Some might argue that even accepting the multiple drawbacks of Wenger in recent times, the debate about him should also include questions over how he has been managed and supported by his superiors in the past decade. Others won't. They say he is a busted flush. A failure. That he must go. That a replacement will do better.
Time will tell.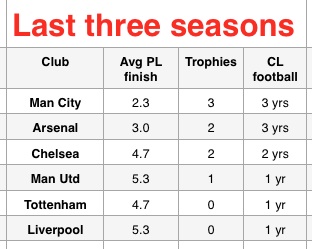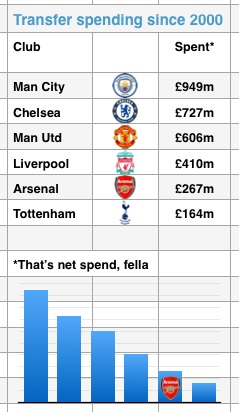 .
1 September 2016
Record transfer spending in the Premier League summer window
New managers at Manchester City (Guardiola), Manchester United (Mourinho) and Chelsea (Conte) led the way in spending in both gross and net terms in summer 2016. Arsenal were the only other club getting anywhere near £100m spent. The total spending (gross) for the 20 clubs was almost £1.2bn, smashing the record of summer 2015.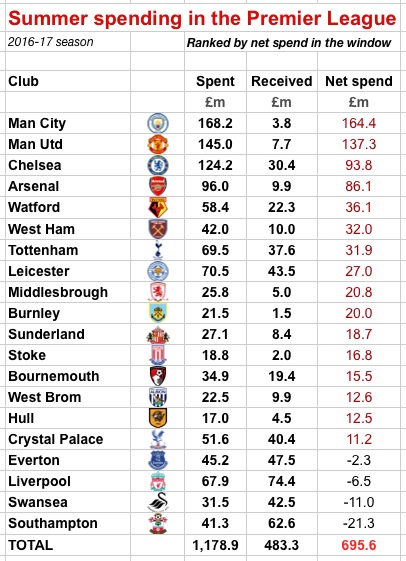 .
5 August 2016
Medal predictions for the 2016 Rio Olympic Games        Tweet
The Rio Olympics opening ceremony is today. Tomorrow the action begins in earnest, when some 10,500 sportspeople will start to compete for 306 golds, 306 silvers and 359 bronze medals (thanks to two bronzes in boxing, taekwondo, wrestling and judo events).
Multiple predictions about medals have been made, from Goldman Sachs to Sports Illustrated to Gracenote (formerly Infostrada). After some Twitter correspondence with Simon Gleave of Gracenote, he asked for Sportingintelligence's predictions. They were prepared essentially as part of the 'revision' process for Rio 2016 rather than for publication, but in the spirit of competition, here is a full comparison of forecasts against Gracenote's: Rio 2016 predictions XLS download
The table below gives the top 20. The download gives a full list.
I'm well aware the GB total in the silver and bronze categories could be a bit "toppy" but feel reasonably comfortable that:
1 USA will be first in the table with gold medals in the 40s ahead of China in second in the 30s and GB in third as the only other nation with more than 20 golds;
2 That GB will win more than 20;
3 That the GB total medal tally will be closer to 60 than 50. And that Australia, Japan, New Zealand and the Netherlands will have storming Games. Russia? Who knows? It might depend on who actually starts and in what frame of mind.
The official forecast for GB's tally (and the money spent to fund it) is here and is a woolly range of late 40s to high 70s.
Further Olympic-related reading on this site: Bollocks to billions watching an opening ceremony; The phenomenal success of openly gay Olympians; The joy of sport, a 2012 perspective; Why London was such a success for GB and EXPOSED: the story behind the story of Russia's doping and cover-up.
.
Predictions for Rio 2016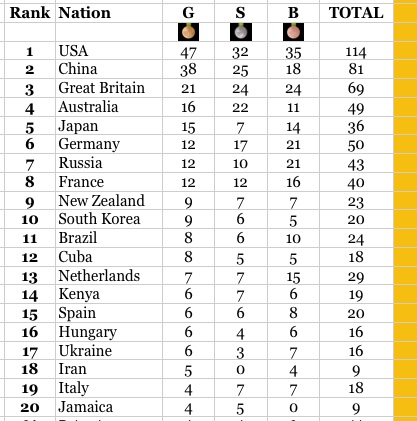 .
13 March 2016
The decline of the English manager in England's top division    Tweet
With Steve McClaren's sacking at Newcastle, there are only three English managers in the Premier League, the fewest in the history of top-flight football in England … ever, since 1888.
This  first graphic shows the managerial nationalities in the Premier League era.
Another thing to note is that after Paul Lambert's sacking by Aston Villa in February 2015, there were no Scottish managers in England's top division. That was also a first. The breakdown of English, British Isles and foreign (non British Isles) managers in the Premier League era is in the graphic below this one, as referenced in this tweet, and in this article.
Click to enlarge the graphic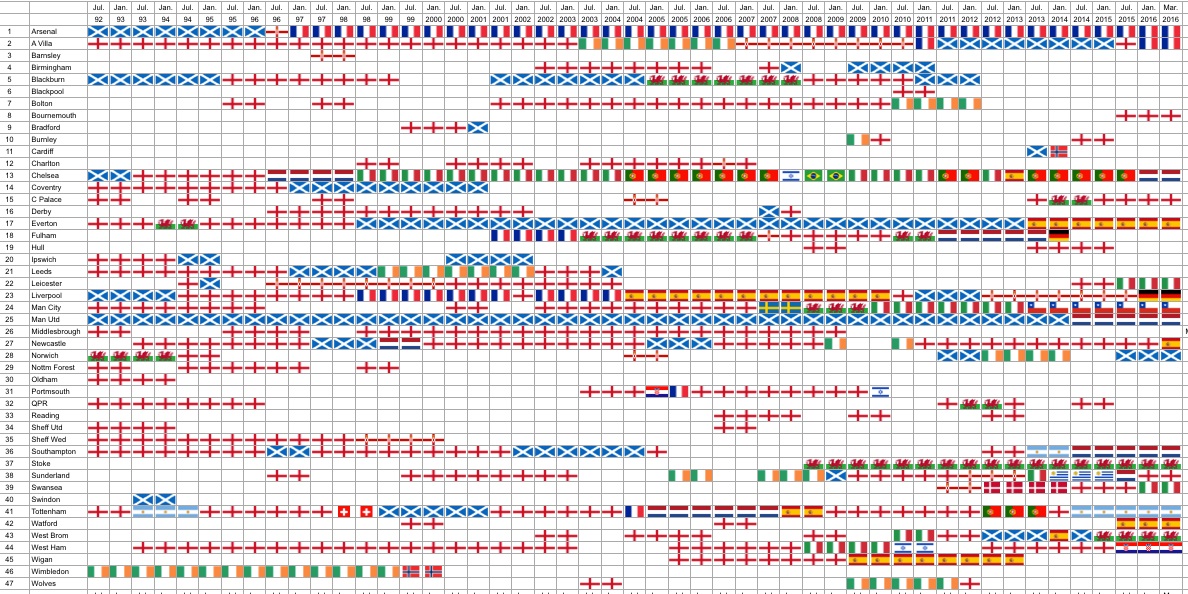 .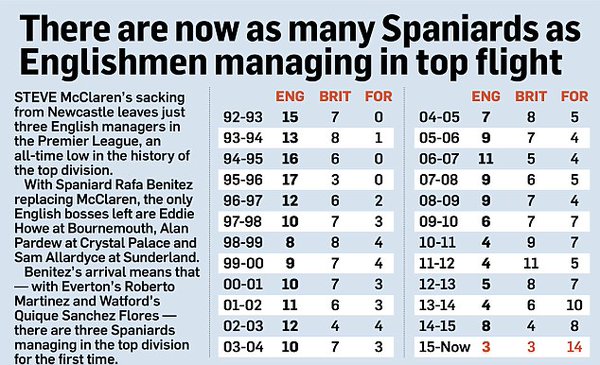 .
28 February 2016
Most 'major' trophies won by English football clubs
The League Cup final at Wembley was settled with penalties, and Manchester City edged it in the shootout, taking their all-time haul of major trophies to 14. City began the day in search of the 14th 'major' trophy in their history, against Liverpool seeking a 42nd. Whatever the outcome, Liverpool were guaranteed to remain on top of the most successful English clubs by total trophy haul. For the purposes of this exercise, 'major' trophies are top-division league titles, either of the two domestic cups, plus European trophies including the European Cup / Champions League / Uefa Cup / Cup-Winners Cup and Europa League (or equivalents). The 'entry level' for this table is any club that has won the English title at least once, ever, since the first season in 1888-89. So it does not include teams who have won a few cups but no title. 'One-off'' events, where a trophy is won for fixtures like the Charity Shield and Super Cup are also excluded, as are events that were ever one-offs, for consistency's sake. Why? Because the trophies included were all won in sustained, and often season-long competitions.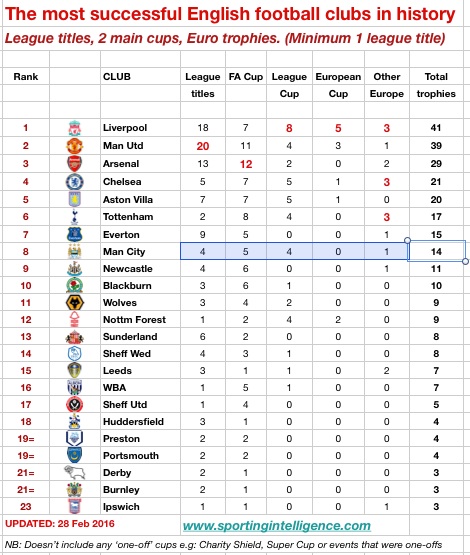 .
2 February 2016
Transfer window closes with Newcastle as biggest January spenders   Tweet
The January transfer window closed for the Premier League at 11pm on Monday 1 February with Newcastle having spend most in the month. As the table below details, they spend £28.5m, or £28.15m net, taking their seasonal net spend to £70.1m. Only Manchester City spent more in 2015-16's two windows. Tottenham (zero net spend) continue to show that you can break even while doing okay on the pitch. The expenditure of Watford in third place for the season (net) was more than the lowest spending six clubs combined, including Arsenal and Spurs. The other feature of the window is spending by Chinese Super League (CSL) clubs, as detailed in tweets here, and here, and here. These were prompted by the sale of Jackson Martinez to Evergrande for £31.8m in a deal brokered by Jorge Mendes, at a time when CSL clubs are benefitting from a new $1.25bn TV deal, paid for by a company that now owns 13 per cent of Manchester City. This sums up where the power lies in modern elite football, and will lie in the near future: oil interests, China and super agents.
.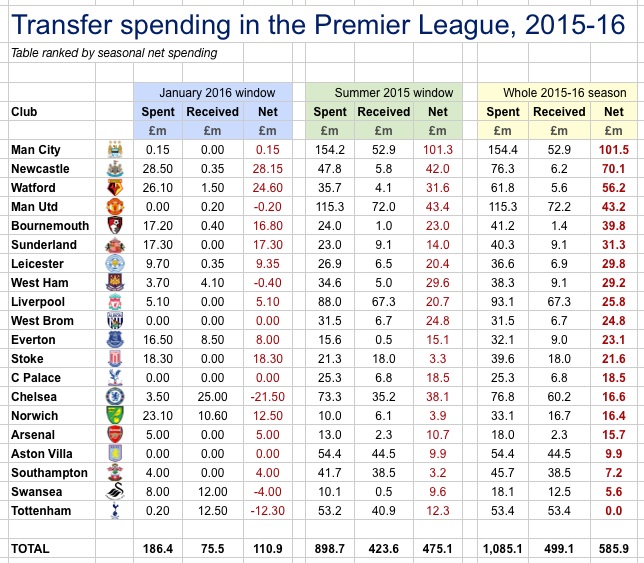 .
22 January 2016
Roger Federer wins his 300th Grand Slam singles match, extending his own record           Tweet
In winning his third-round match at the Australian Open, Federer racked up a 300th Grand Slam singles match victory. This got us thinking: 'That's brilliant, but how does he compare for wins in relation to matches played?'.  The answer to that question is below. These are all the men in the Open Era with six or more Slam singles titles. Federer has won 17, playing 349 Slam singles matches along the way and winning 300 at an amazing win rate of 86%. The only other players to top that, in % win terms, have all played more than 100 fewer Slam singles matches. (A feature on the 'near perfection' of the Federer-Nadal-Djokovic era is on this site, from 2012, here).
The graphic speaks for itself but it's worth noting two things in particular, only one of which is obvious here. That is Bjorn Borg winning an extraordinary 89.8% of his Slam singles matches and a whopping 41% of the Slams he entered (11 of 27). Secondly, if you took the best consecutive 27-Slam run from Federer's 'peak', from Wimbledon 2003 and the next 26 Slams, his corresponding figures are 94% of match wins in that period, and 59 per cent of Slams won in that time (16 of 27). Which is bonkers. Better than Bjorg.
.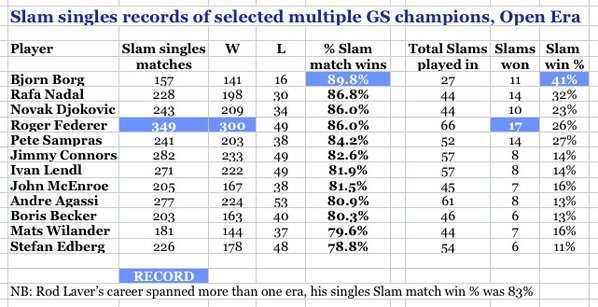 .
21 December 2015
The most topsy-turvy Premier League season in memory continues to absorb          Tweet and also Tweet
With Leicester at the top of the table for Christmas, after 17 games, this little graphic contrasted the fortunes of the 'Big 5' (as defined) with a 'Little 5', as defined. There are various theories as to why this season has been so relatively balanced (or peculiar, depending on your view). One is that the struggles or more than one big club have coincided by random chance, Chelsea's season being especially odd. Another is that as the financial differences between the big and small clubs narrow (relatively, there is still a massive gap) then so too will the on-field fortunes.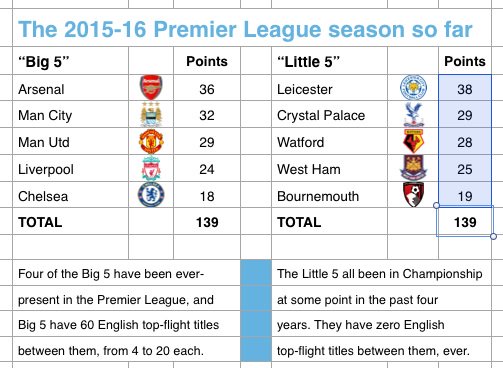 .
9 December 2015
The Champions League group stage 2015-16 ends with money talking as expected … for the most part.    Tweet
The relationship between money and success is well established in elite European leagues, particularly the 'Big 5'. This chart shows how the 'major' clubs in the Champions League, those with the biggest resources (in income, and also the biggest payers, in wages), tend to breeze through, while the smaller clubs tend to drop out. This season Gent were notable for escaping the group despite tiny resources while Manchester United were most notable for being hugely rich but failing to progress.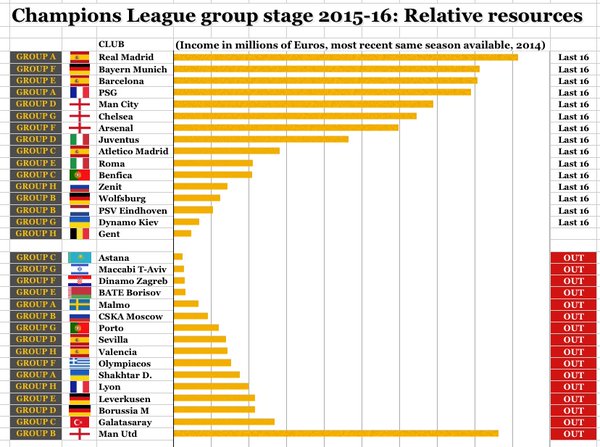 .
1 December 2015
On the eve of the 5th anniversary of the awards of the 2018 and 2022 World Cups      Tweet
FIFA corruption has been one of the major sports stories of the year as the FBI and DoJ have begun to take the world governing body apart. Sportingintelligence's FIFA 2016 presidential election coverage project includes a detailed timeline of events. This tweet was the updated status of those who handed Russia and Qatar the World Cup staging rights of the future. Further disgrace for some of the names involved will inevitably follow.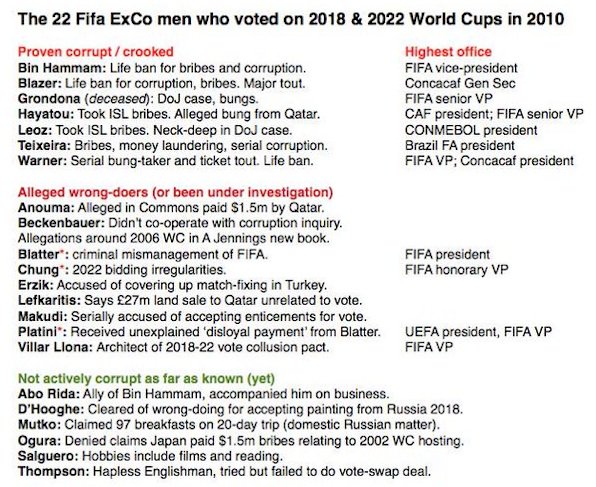 .
1 November 2015
A goal of the season contender … from a Japanese High School match      Tweet
.

.
14 October 2015
The price of football continues to create controversy           Tweet
The cost of watching football in England continues to be among the most polarising subjects in the sporting world. Few topics provoke such anger, outrage and, frequently, defensiveness (from fans defending their own club's policy), simultaneously, than ticket prices. This tweet was a table of German prices at a time when the BBC had just published their own annual cost of football survey for 2015. But establishing the real 'true' cost of going to any league is immensely complex. The Premier League produced their own data to argue the typical cost of a match for an adult this season is £32.50. That's worth reading. The Football League meanwhile revealed average prices in their own divisions at £14 per game. This is far from simple territory: Bayern Munich fans protested at Arsenal over the cost of tickets for a Champions League game, yet big chunks of their own ground, for league matches, are filled with fans paying more than £60 per seat. The debate is far more nuanced than 'Germany good, England bad'.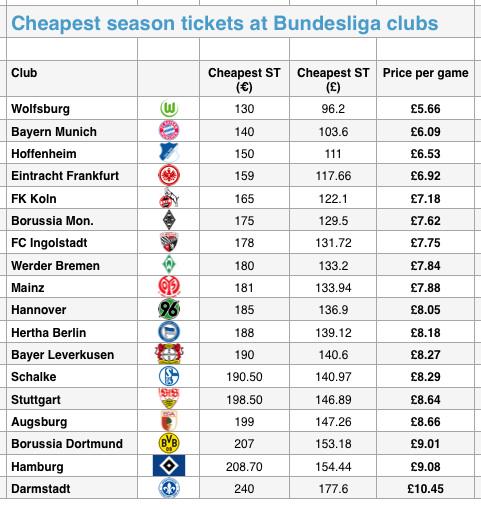 .
13 September 2015
The 2015 Rugby World Cup was the most expensive major sports tournament ever.      Tweet
By average ticket price, and adjusted for inflation, it topped world cups in other major sports, past Olympic Games and world championships.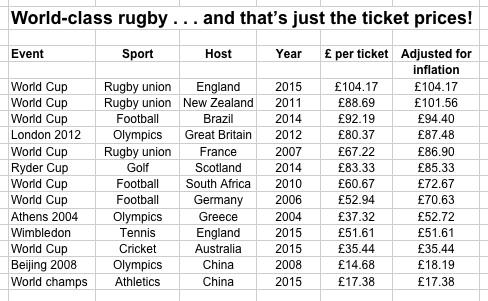 .
8 September 2015
Wayne Rooney becomes England's all-time leading international goal scorer.      Tweet
This graphic attempted to debunk the myth Rooney has played in 'easier' times and 'easier' games.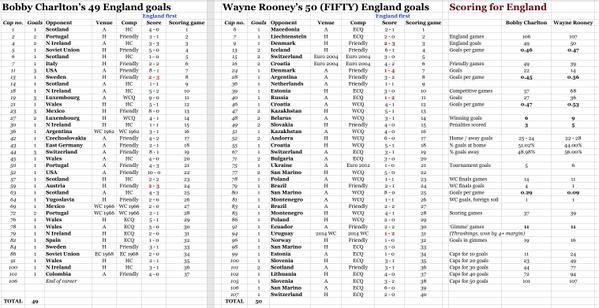 .
23 August 2015
Bolt beats Gatlin, and thereby 'saves' athletics, mired in doping crisis.     Tweet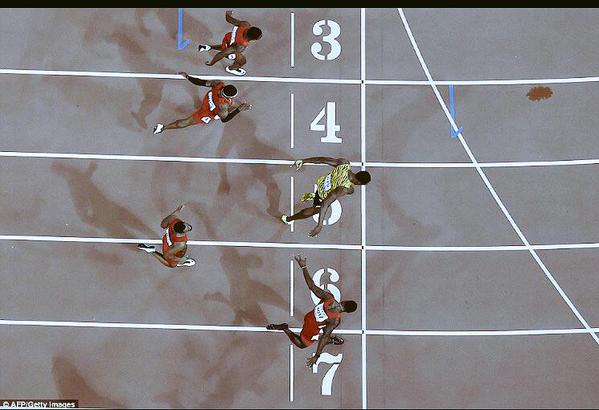 .
20 February 2015
Mayweather v Pacquiao is confirmed.       Tweet
This tweet gets more than 3,000 retweets and almost 2,000 likes principally because Floyd Mayweather, leading self-publicist, retweets it himself to his 6m+ followers. As it transpires, the income from the fight trumped all expectations, with Mayweather's share alone being more than $200m from a bout that earned some $400m.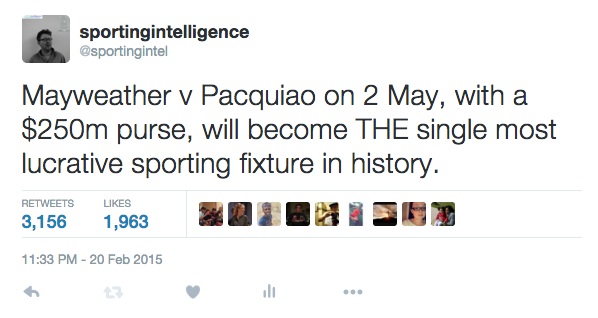 .
3 February 2015
Premier League clubs spent £130m in the January window, well down on the £225m record but with interesting trends   Tweet
Arguably the most notable single fact in the transfer window is that Chelsea emerged from it again with a net profit, having bought the single most expensive player in Juan Cuadrado for £27m, but selling Andre Schurrle for £24m and Ryan Bertrand for £10m. That's not to say Chelsea haven't spent a lot of money over the past couple of decades. In fact across the whole of Europe in the Premier League / Champions League era (since 1992-93), only Real Madrid with £1.45 billion of gross transfer spending have topped Chelsea's £1.23bn. And in the ownership era of Roman Abramovich, Chelsea have spent just a little over £1bn gross on transfers, or around £700m net. In the same period that Chelsea have spent £1.23bn gross on transfers, Manchester City have spent £970m, Arsenal £614m and Bayern Munich £566m (all gross), just to pick a select few examples for comparison.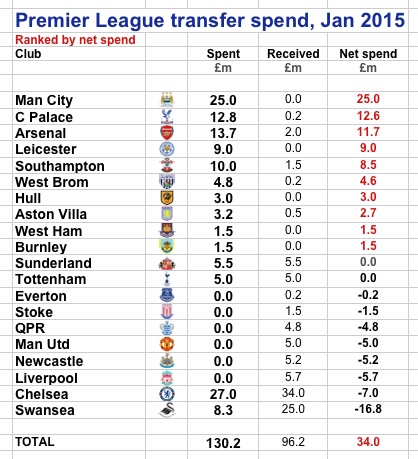 .
2 January 2015
Cristiano Ronaldo of Real Madrid won the Ballon D'Or, again, but the intrigue as ever was in the voting details       Tweet here
As described while the event unfolded live (here), Fifa make available the full votes of every captain, coach and media representative (here). So we can highlight Eurovision-style anomalies such as Vincent Kompany's three votes (here); Roy Hodgson's choices (here); and the fact Manuel Neuer would have been in second place to Ronaldo and ahead of Lionel Messi if only first-choice votes had been included, or in other words if each voter had been asked to pick a single best player of the year (here).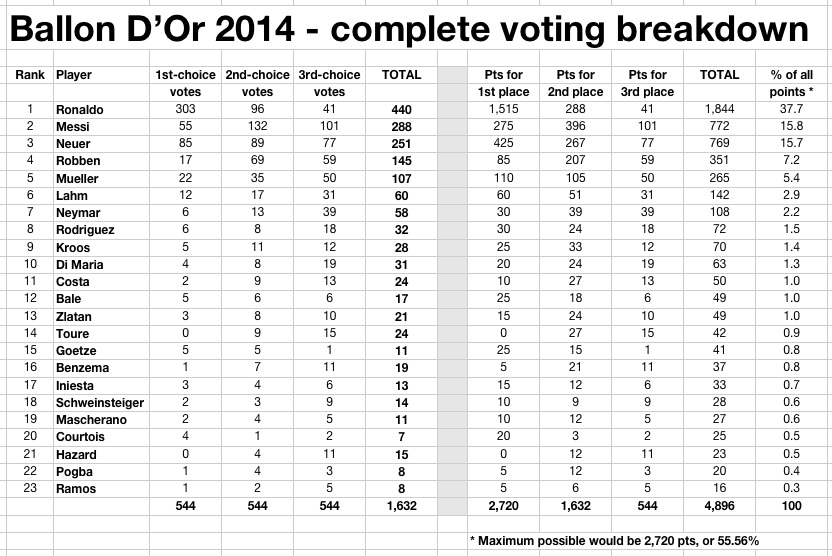 .
30 September 2014
Managers at clubs in the Premier League during Arsene Wenger's 18 years in charge at Arsenal       Tweet here
Wenger's 18th anniversary in charge of Arsenal falls on 1 October 2014. In his time at the club, 43 clubs other than Arsenal have played in the Premier League, and they have had 207 'different' permanent managers or long-term caretakers (like Rafa Benitez at Chelsea) who were effectively permanent appointments for a sustained period, ie: 20 or more games. Here are the details.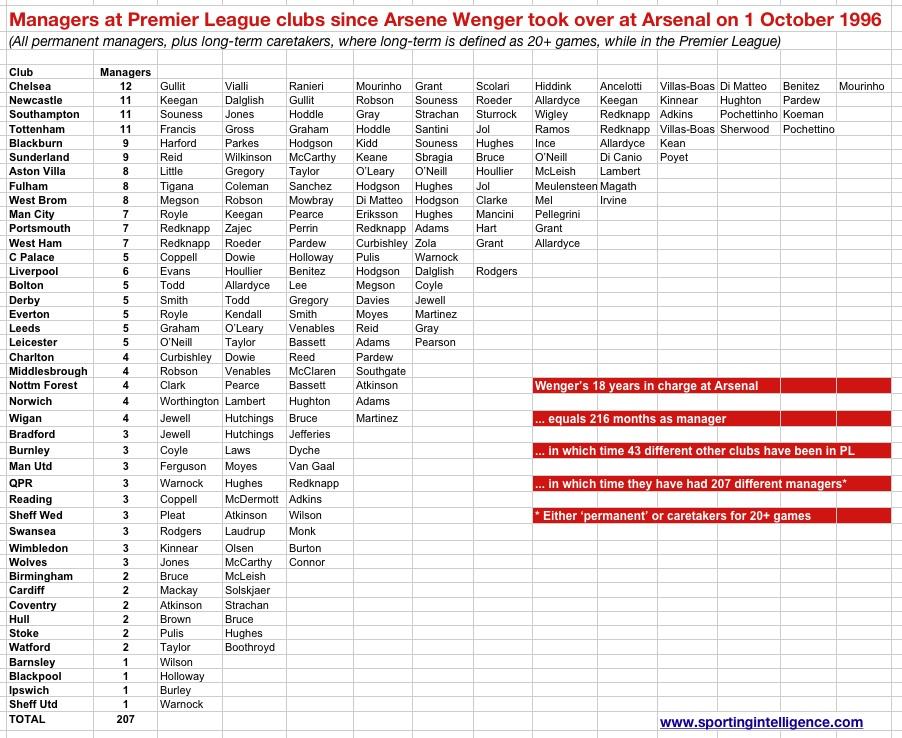 .
1 September 2014
People's game? The finances behind the transformation of two billionaire-owned clubs            This tweet
Ahead of the first match between Manchester City and Chelsea in the 2014-15 Premier League season, below is a summary of the net spending during the ownership regimes of Roman Abramovich at Chelsea and Sheikh Mansour at Man City respectively. All figures sourced from official club accounts to the most recent dates available.
Leaving aside for a second any moral debate about spending vast sums on 'plaything' or 'vanity' projects, it is now arguable that Abramovich's investment (net) in Chelsea has led to an asset worth something approaching the total he has spent on it. Or in other words, given the income streams and bottom line earnings now possible by the big PL clubs, he may be able recoup his cash if he sold. Sheikh Mansour by any reckoning is not at the same stage – yet – and that is partly because City are less established in Europe's elite, they are not based in London, they do not own their stadium, and some key income streams remain closely aligned to entities ultimately controlled by Mansour and his family.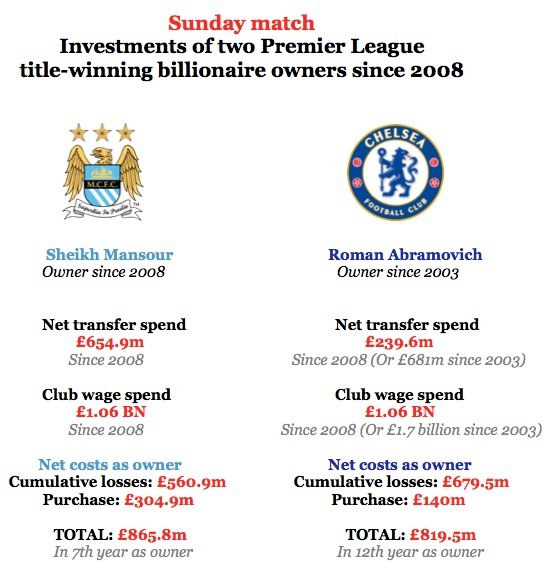 .
25 August 2014
The biggest transfers in world football                Tweet here
With Manchester United reportedly close to signing Angel Di Maria from Real Madrid for £60m (or thereabouts, deal and amount TBC, some reports say the price could be as high as £75m), here is a list of the 21 players confirmed to have been transferred for £35m+ in global football history.
Note 1: this is a £ ranking list and a euro list would be different – the exchange rates over time illustrate the complexity of such issues.
Note 2: other transfers might legitimately have been included in this list, not least Carlos Tevez's £47m signing by Manchester City, but the opaque nature of that deal – strange, if not unique – clouds who earned what from the deal, specifically how much did his 'owner' group take as fee for him as a commodity, and how much in fees for the deal.
Note 3: Neymar's transfer cost (again, cost of him as commodity) was €57.1m in a controversial deal where it was later disclosed that total related payments took the cost of purchase to €86.2m. The problem for Barca was a tax issue related to declarations of spending; it did not change the actual fee being €57.1m. The  types of payments made in the related sums – signing-on fee, payment to a foundation, agent commission – are not included in like-for-like comparisons for other players, nor should they be here.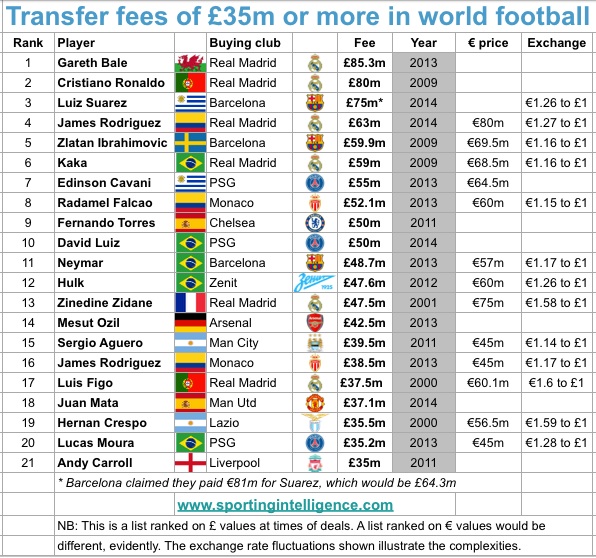 .
24 August 2014
Net transfer spending in the Glazer era by England's 'Big 7'                   This tweet
Amid ongoing criticism that Manchester United have been ineffective in the transfer market in recent times, it has been suggested that the Glazers' leveraged buyout, which has taken some £700m from club coffers in debt-related costs, has hampered them. Examining that theory was the starting point for the graphic below, which looks at the net spend of United and key rivals in the Glazer era. Manchester City have spent by far the most, net, in this era – no surprise whatsoever given Sheikh Mansour's ownership since 2008. But United have not been impoverished; only City and Chelsea have spent more over 10 years, and Chelsea not much more. And just taking the past 2, 3, 4, 5 years into account, United are second only to City.
Of course money is one factor in United's transfer dealings. But one might also argue that they have chosen not to sign various players in the past because they didn't want to pay the higher wages City (and others) were offering. It is also notable that in the market for genuine 'stars' – established big-name players in their prime – then United have lost out time and to Real Madrid and Barcelona.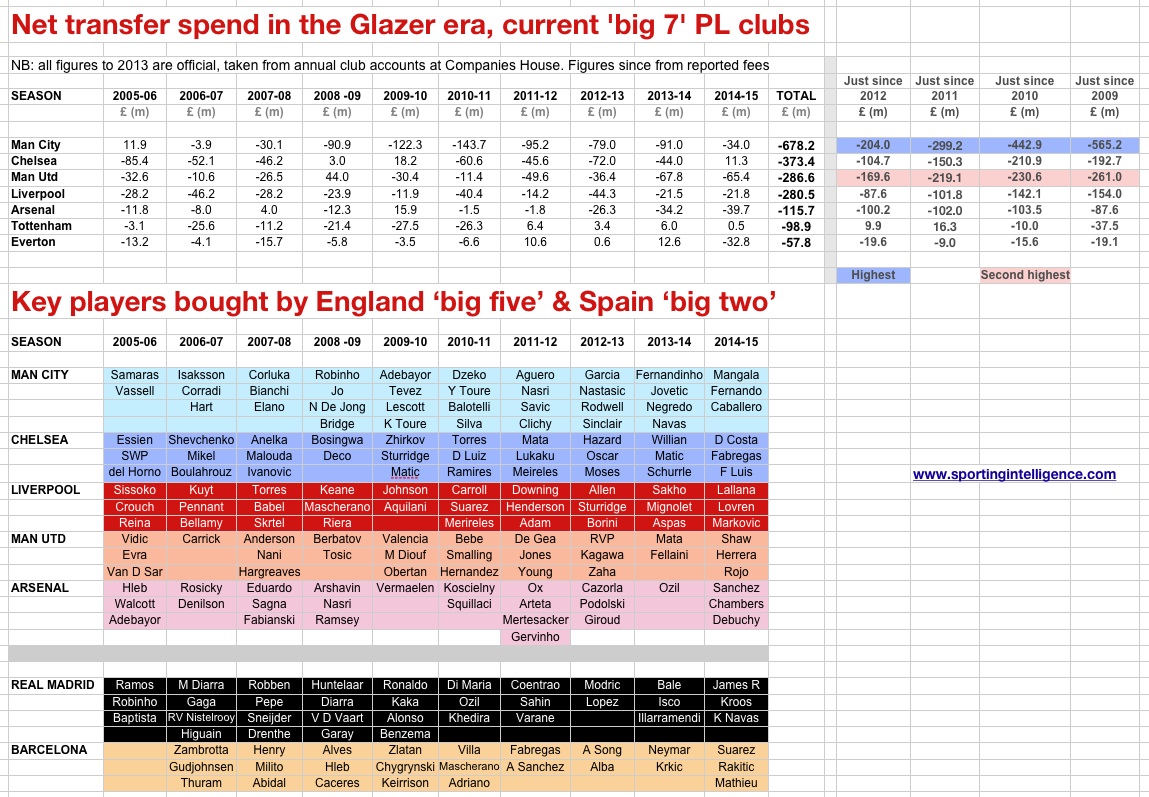 .
.
22 August 2014
Match of the Day celebrates its 50th birthday – only 11 clubs have won England's top division in its lifetime        Tweet here
This, in a nutshell, is English 'modern football', if modern is defined as the past 50 years. Note there is no place for Tottenham in modern football, their last league title being so long ago that it does not count. (Yes, that's tongue in cheek). That Man Utd and Liverpool have dominated the era is no surprise. Perhaps to some younger supporters, it may be surprising to see Leeds, Derby and Forest among the 11 giants of the MOTD era. A related feature on this subject, an interview with MOTD veteran Barry Davies, is linked here.

.
.
3 June 2014
World Cup squads for the 2014 World Cup, interactive

..
3 March 2014
Most 'major' trophies won by English football clubs
Manchester City won the 12th 'major' trophy in their history on Sunday 2 March at Wembley – by beating Sunderland thanks to stunning goals from Yaya Toure and Samir Nasri. For the purposes of this exercise, 'major' trophies are top-division league titles, either of the two domestic cups, plus European trophies including the European Cup / Champions League / Uefa Cup / Cup-Winners Cup and Europa League (or equivalents). The 'entry level' for this table is any club that has won the English title at least once, ever, since the first season in 1888-89. So it does not include teams who have won a few cups but no title. 'One-off' events, where a trophy is won for fixtures like the Charity Shield and Super Cup are also excluded, as are events that were ever one-offs, for consistency's sake. Why? Because the trophies included were all won in sustained, and often season-long competitions.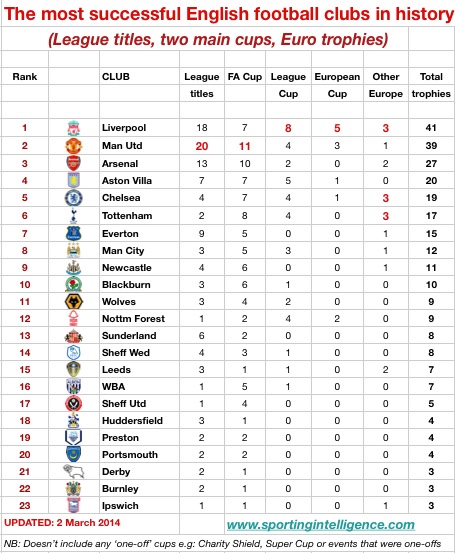 .
13 January 2014
Summary of first-choice votes in the Ballon D'Or 2013
The race for the most first-choice votes was very close, Cristiano Ronaldo pipping Franck Ribery by 167-163. This gave Ronaldo a 30.87 per cent share of all first-choice votes and Ribery 30.13. This was in marked contract to the landslide win by Lionel Messi in 2012, when he polled almost 60 per cent of first choice votes. An article detailing last year's vote in depth is linked here. For those interested in playing with data, a spreadsheet of all votes in 2013 is here: Ballon D'Or 2013
.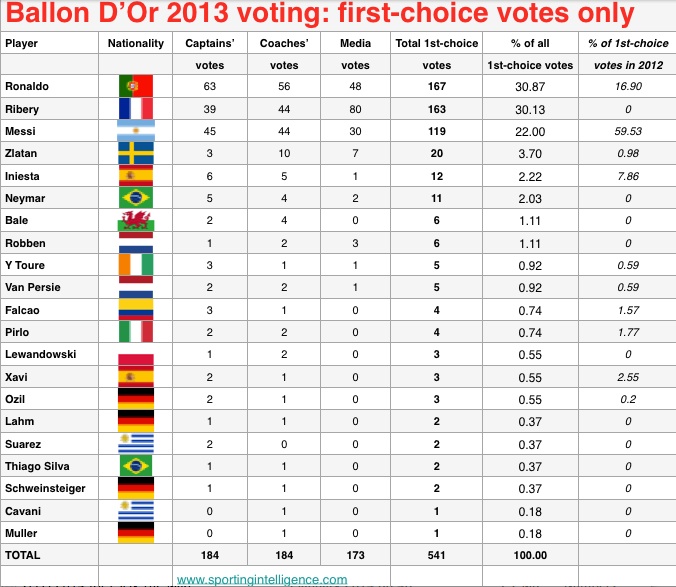 .
11 January 2014
24 of the 44 clubs in the English Premier League and Championship now have overseas owners or co-owners. This interactive map shows where they are based and is best used in full screen mode, then use the zoom function to zoom in and out of particular regions / countries to see those areas in greater detail.    The tweet

.
.
6 January 2014
All-time English league table (PPG, 3 points all eras, regardless of division)
This table was prompted by examining Nottingham Forest's all-time record in league football, on the 39th anniversary of the appointment of Brian Clough as manager. In his tenure they punched way above that, winning the title and two European Cups.   Tweet here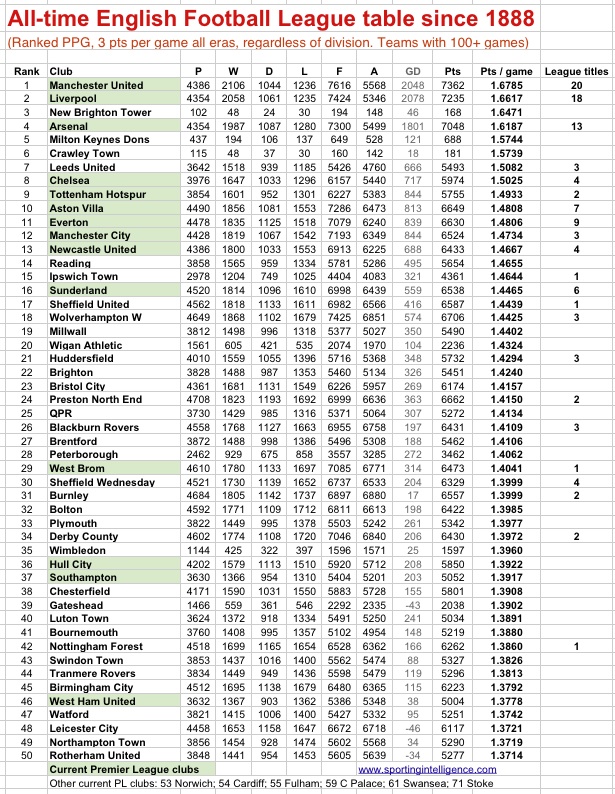 .
All-time Scottish league table (PPG, 3 points all eras, regardless of division)
This table was prompted by English table above, just because.   Tweet here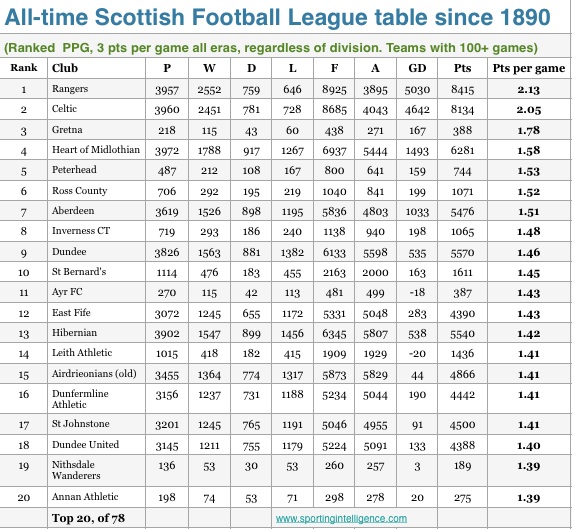 .
The miracle of Brian Clough    Tweet here
This table marks the 39th anniversary of Brian Clough's appointment as Nottingham Forest manager. As the asterisk at the bottom makes clear, the point is that Clough was the manager who took domestic small-dry (Forest) to European Cup glory, not just once but twice. That's it. It was a unique achievement and remains so in two respects: no other team that has won the European Cup has ever won only one domestic league title at home; and every other winner of the European Cup had, at some point if not at the time of their EC win, been 'giants' at home. Forest had never been.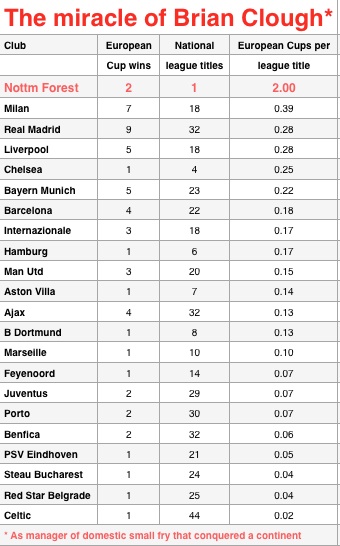 .
2 January 2014
Global drug bans in force among (track and field) athletes on 1 Jan 2014, by country     Tweet here    And related tweet
This graphic, using data sourced from athletics' world governing body the IAAF, shows the number of people banned by nation as of 1.1.14 in athletics, from 55 Russians and 43 Indians down to single individuals from a number of countries.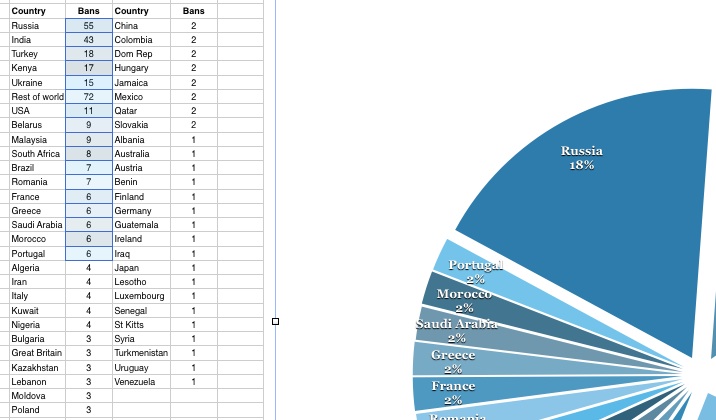 .
31 December 2013
Bolton join an elite band          This tweet
This graphic marked the announcement of Bolton Wanderers' financial results for the 2012-13 season, when they lost more than £50m in a single year, joining an elite band of other clubs who have  roamed into this dangerous territory. Bolton, uniquely among them, were in the Championship in the season in question, and hence not even able to draw on the Premier League riches to help them out.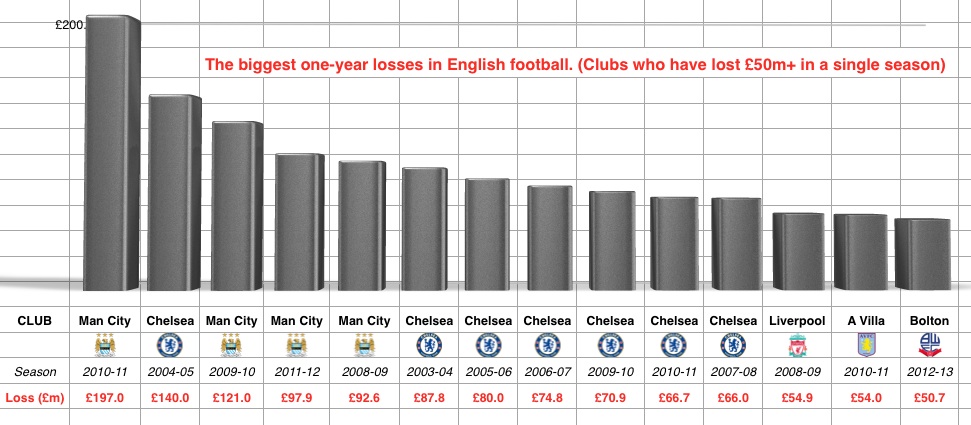 .
.
29 December 2013
Omens from the Boxing Day table in the Premier League             This tweet
Click to enlarge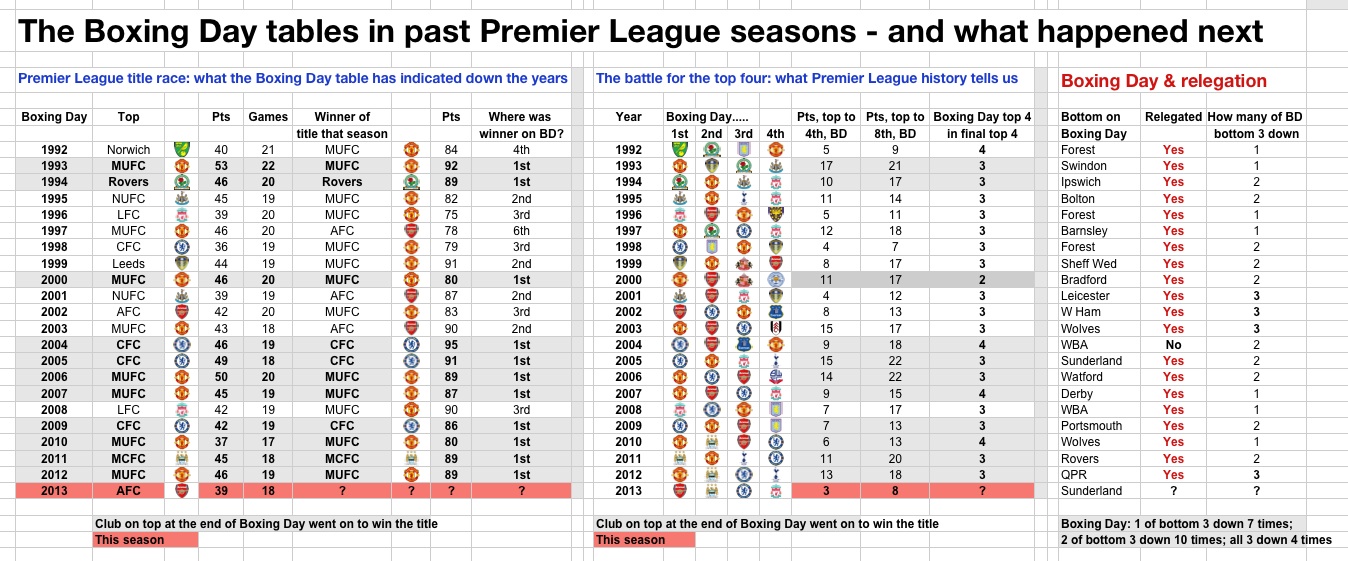 .
16 December 2013
A very British affair: the rise and rise of @Andy_Murray in #SPOTY   The tweet
This graphic details the peculiarly British affair that is the BBC Sports Personality of the Year award, since 2007, and documents how Andy Murray has been a serial achiever in that time. Murray's landslide win in 2013 with the biggest % share of the public vote ever, came after he won Wimbledon in summer 2013, breaking the 77-year hoodoo since the last British man (Fred Perry) won the men's singles title.