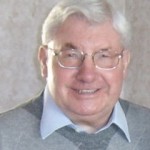 JOHN ROBERTS wrote for the Daily Express, The Guardian, the Daily Mail and The Independent, where he was the tennis correspondent for 20 years. He collaborated with Bill Shankly on the Liverpool manager's autobiography, ghosted Kevin Keegan's first book, and has written books on George Best, Manchester United's Busby Babes (The Team That Wouldn't Die) and Everton (The Official Centenary History).
As Matthew Engel once wrote in the British Journalism Review: "I suspect posh-paper sports writing changed forever the day John Roberts left the Daily Express to join The Guardian in the late 1970s, was handed a piece of routine agency copy and picked up a telephone to start asking questions."
.
.
By John Roberts
7 April 2010
This year's Grand National takes place on Saturday, 10 April, and whenever this great race comes around, my mind recalls the emotional triumphs of Bob Champion and Aldaniti, of Jenny Pitman and Corbiere … and the demise of Dark Ivy.
In 1983 the redoubtable Pitman became the first women ever to train a Grand National winner: Corbiere, or "Corky" as the chestnut gelding is better known in Lambourn. My enduring memory of the occasion is of a man with a white carnation in his buttonhole standing on a cleared refreshment table in a crowded press room, looking on while his ex-wife took her bows. That man was Richard Pitman, the BBC racing commentator and former jump jockey, who was with Jenny six years earlier when Corbiere was bought for her stables.
With her triumph at Aintree, Jenny achieved what had eluded her ex-husband. Ten years earlier, Richard had ridden Crisp, one of the most gallant National losers ever, being caught on the run-in by Red Rum. Richard was not among the welcoming throng when Jenny and their two teenage sons, Mark and Paul, paraded Corbiere in the lanes of Lambourn, but he said he was delighted for her nonetheless.
"We didn't get on as man and wife, but that was the breakdown of a human relationship," he said. "I have never doubted Jenny's ability with horses. When I saw her in tears in the paddock after the race I knew precisely how she felt. She has eaten her guts out over the National ever since Crisp failed to win. This race has been her life."
Back in Lambourn, Jenny was surrounded by the men in her life. David Stait, her assistant and confident, said: "Jenny has worked very hard for this. She's had her setbacks, but she's not the type to give in easily."
Her father, George Harvey, a Leicestershire farmer, was Jenny's early inspiration. "If it hadn't been for my dad, I wouldn't know how to do the job," she said.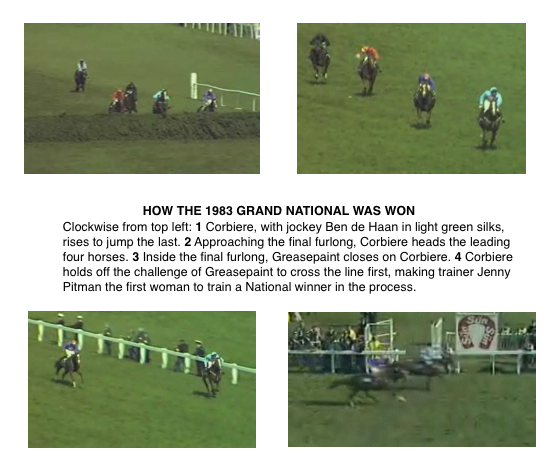 .
Corbiere's jockey, Ben de Haan, described the guv'nor as fair but firm. "She likes the job done properly," he said, "and if it isn't she doesn't mind telling you."
Paul Pitman, 15, was still a schoolboy, but his 16-year-old brother, Mark, rode as an amateur for the David Nicholson stable but was out of action with a broken collarbone. "Mum didn't want me to ride really," he said, "but when she saw how determined I was she gave me all the help she could."
Bryan Burrough, a 23-year-old stockbroker from Henley, had become the youngest owner of a National winner. "I used to share the horse with a cousin, but when he got married I took it over," he said.
Then there was Jenny's blacksmith, Andy Marshall. "He had a busy time looking after four of the horses in the National," she said. "His job is every bit as important as mine. If he pricks my horse with a nail, all the hard work us undone."
The remark typified how Jenny shared the credit. "The bank manager, Mr Barker, was very understanding when we were having a bit of a struggle," she said, "and my accountant, Robin Platt, looks after things so well that I don't spend a penny myself on anything other than the weekly supplies. The farmers helped me with oats and straw, and the people in the village have always been very good to us. The whole thing has been a team affair."
But mostly, of course, the triumph was another hefty blow for the cause of women.
"On the way back from Aintree we stopped at a motorway service station and I caused quite a stir in the ladies loo," Jenny said.
"'Eh, weren't you on the telly?' one said. 'You trained the National winner,' said another. 'Good for you, Jenny, you showed 'em.' Yes, I think I've shown that a women can do just as well as a man, and sometimes better."
.
This is the second in a three-part series in the run-up to this year's National. Part one here. Next installment coming soon . . .
.