By Nick Harris
SJA Internet Sports Writer of the Year
8 January 2013
So Lionel Messi yesterday won the Ballon D'Or for the fourth time in a row, having had a stellar year in which he won the Copa del Rey. And scored 91 goals.
The brilliant Argentinean, 25, collected the award – deservedly – after a mammoth voting process involving 170 national team captains, 170 national team coaches, and 169 journalists, four of whom did not manage to actually vote and one of whom selected only one player when asked for three.
Having studied the votes in some detail, here are five conclusions.
ONE: The result wasn't as much about Spanish football as some claim
The winner, Messi, is from Argentina, while the runner-up is Portuguese. Players from Colombia, Italy (two), the Ivory Coast (two), the Netherlands, Sweden, Germany, England and France all got at least one 'first-choice' vote from the electorate.
Of course Spain featured significantly in as much as the leading contenders all play there – for Barcelona and Real Madrid.
So it's not about Spain, it's about two clubs.
If only the players from Barcelona and Madrid are removed from the voting, and all those remaining are ranked on the number of first-choice votes they received, then the best players in the world in 2012 would look like this:
1: Didier Drogba (played for Chelsea and Shanghai in 2012)
2: Andrea Pirlo (Juventus)
3: Falcao (Atletico Madrid)
4: Zlatan Ibrahimovic (Milan and then PSG)
5=: Robin Van Persie (Arsenal then Manchester United)
5=: Yaya Toure (Manchester City)
7: Gianluigi Buffon (Juventus)
8: Wayne Rooney (Manchester United)
Not so Spanish now, eh?
TWO: It's not even about Barca and RM – it was a Lionel Messi landslide
Even within the astonishingly talented ranks of Barcelona and Real Madrid, one player of 5ft 7in tall stands figuratively head and shoulders above the rest.
So much for asking people to pick three players and then give five points here, three points there, one point there, juggle it around and conclude that Messi won 'only' 41 per cent of the vote. (Which is what Fifa did).
On this basis Messi could only ever have won 55.55 per cent of votes even if EVERY one of the 509 voters has put him in No1 place.
Why? Because he could only ever have won 2,545 of the 4,581 points on offer.
That's not right, surely?
Who's the best player in the world, people?
That should have been the question. One voter, one vote.
And it would have been a Messi landslide, as this table counting only the No1 votes shows.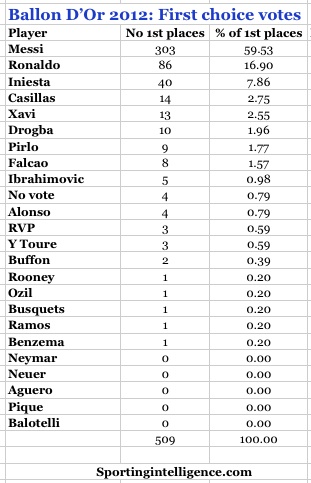 .
THREE: Eurovision hasn't got anything on nepotistic, score-settling voting
You can examine exactly who voted for who at this link here.
Lionel Messi, captain of Argentina, did not pick Cristiano Ronaldo in his top three but picked an Argentine team-mate instead.
Hugo Loris, captain of France, did not have Messi or Ronaldo in his top three.
Gianluigi Buffon, captain of Italy, made Italian team-mate Pirlo his No1 player.
Iker Casillas, captain of Spain, picked Sergio Ramos as the world's No1! Seriously. And no Messi from Barca, great rivals of his Real Madrid.
Joachim Low, coach of Germany, picked Mesut Ozil as the world's best. He plays for Germany you know.
Prandelli of Italy picked Pirlo (of Italy). Hamren of Sweden picked Zlatan (of Sweden).
And so on, and on.
FOUR: South Americans don't fancy CR7 much.
Of 29 first-choice votes cast by captains, coaches and media from South American nations, Cristiano Ronaldo got a single vote – and that was from the coach of Brazil, who would no doubt rather rip his toe nails out than put Argentina's Messi at No1.
Across the whole world, Ronaldo got almost 17 per cent of the first-choice votes, while Messi got 59.53 per cent.
This next graphic shows how that pair plus the third-best player Iniesta fared in different regions of the world.
Those three are the only players who got at least one first-choice vote from every region. (Regions as defined by Sportingintelligence).
Those regions are self-explanatory: Europe (with separate Eurasia being mostly the former Soviet states), sub-Saharan Africa, Caribbean, Middle East and North Africa (MENA), South & South-East Asia combined, North & Central America, South America, Australasia and the Pacific, and East Asia which is the rest of Asia not already covered (includes China, Japan and others).
Messi fared worst in Europe, with just 52 per cent of Europe's 123 first-choice votes; and best in MENA, with 73.3 per cent.
Ronaldo fared best in East Asia with 23.8 per cent, and worst in South America with 3.4 per cent (that one vote).
Iniesta did best in Eurasia, getting six of that region's 45 votes (13.3 per cent) but did worst in sub-Saharan Africa with four of 112 votes (3.6 per cent).

.
FIVE: All voters are equal, except when they are not.
Fifa has 209 different nations in its rankings, with Bhutan, San Marino and Turks & Caicos currently lying in joint 207th place.
So why have only 170 coaches and captains voted? What happened to the other 37 nations?
Why no captain's vote for Benin and Bhutan, for the BVI or Chile, for the Ivory Coast or so many others?
Why no coach's vote for Gabon, Gambia or Guinea-Bissau, to name just three countries from Africa alone beginning with G?
Why no Laos or Macau media? Why no Sri Lanka, St Lucia or Vanuatu press?
Call that an inclusive vote? Pah!
While you're pondering the answers, the graphic below breaks down in full every single player who got at least one vote, whether first-, second- or third-choice pick, from any voter, whether captain, coach or media.
.
Follow SPORTINGINTELLIGENCE on Twitter
Sportingintelligence home page .
.