By Brian Sears
10 January 2013
Premier League goal scoring is still on track to achieve record levels for a third season running, but only just and mainly thanks to the recent free-scoring exploits of the Manchester clubs, Arsenal and Chelsea – and especially two recent freakish scores from Arsenal and Chelsea.
Up to today, 597 goals have been scored in 208 games played in the 2012-13 season in England's top division at a rate of 2.87 goals per game.
As we'll explain later, this still lags behind various other European leagues, including Spain.
But the current Premier League rate maintained for the whole season would lead to 1,091 goals – up 25 on last season's record of 1,066.
Arsenal v Newcastle (7-3) recently and Chelsea v Aston Villa  (8-0) certainly gave the stats a shot in the arm.
The Arsenal 7 Newcastle 3 was a debut for the 7-3 score in the 21 seasons of the Premier League. On only three other occasions have as many as 10 goals been witnessed in a single game:
29 Dec 2007 Tottenham 6 Reading 4
23 Nov 2009 Tottenham 9 Wigan 1
28 Aug 2011 Man Utd 8 Arsenal 2
Only once have more than 10 goals been scored in a Premier League game:
29 Sep 2007 Portsmouth 7 Reading 4
The Chelsea 8  Aston Villa 0 was the third time it was making its appearance in the Premier League:
19 Sep 1999 Newcastle 8 Sheff Wed  0
9 May 2010 Chelsea 8 Wigan 0
The only other Premier League game to produce a difference as wide as eight goals between two teams was the 9-1 Tottenham v Wigan game already mentioned above. On just one occasion the difference has amounted to 9 goals:
4 Mar 1995 Man Utd 9 Ipswich 0
But back to this season.  Here's the month-by-month goal scoring, and club by club scoring:
Article continues below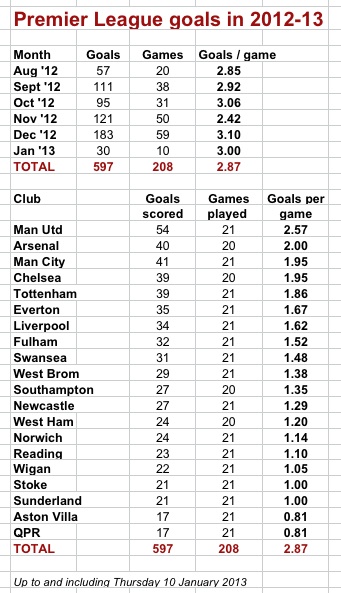 .
Even as English top-flight scoring is running at such high levels, they are being topped in leagues around Europe, as this season graphic shows.
Article continues below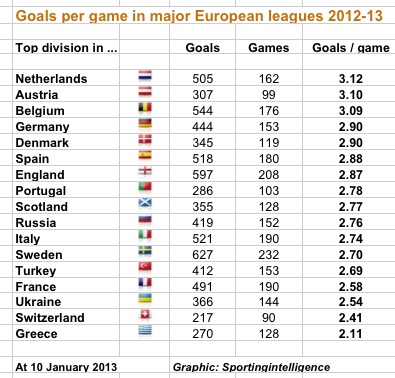 .
While Manchester United's 2.57 goals per game is impressive, that rate is currently being smashed in Spain by Barcelona, who have scored an astonishing 61 goals in 18 La Liga games this season to date.
Top scorers in major European leagues
SPAIN: Barcelona, 61 goals in 18 games at 3.39 goals per game
NETHERLANDS: PSV, 60 goals in 18 games at 3.33 goals per game
GERMANY: Bayern, 44 goals in 17 games at 2.59 goals per game
ENGLAND: Man Utd, 54 goals in 21 games at 2.57 goals per game
ITALY: Roma, 43 goals in 19 games at 2.26 goals per game
FRANCE: PSG, 36 goals in 19 games at 1.89 goals per game
.
More on Man Utd / Arsenal (or search for anything else in box at top right)
Follow SPORTINGINTELLIGENCE on Twitter