By Alex Miller
17 June 2013
Newcastle United have shocked their fans by appointing Joe Kinnear as director of football but new figures suggest that it is their medical department that could use some reinforcement.
New figures show Newcastle had the worst injury record in the Premier League last season, suffering 41 'significant' injuries, with significant defined as an injury that removes a player from competitive games for 14 or more days.
These 41 injuries accounted for 1,745 lost days of playing time for the players concerned as Newcastle suffered a run of poor form in which they narrowly avoid relegation.
Those 1745 lost days put Newcastle the bottom of the Premier League injuries table for 2012-13, with Wigan, Aston Villa and QPR the three clubs with the next worst records.
Wigan and QPR were relegated as Villa also spent much of the campaign mire in a relegation battle.
At the other end of the table, Stoke had the best record (fewest days lost to significant injuries, 496 days from 16 injuries), followed by Chelsea, Swansea and Southampton.
Manchester City, who had an astonishing low seven significant injuries in the 2011-12 season when they won the title, registered a whopping 413 per cent increase in days lost in 2012-13, with 26 significant injuries costing them 954 lost days last season.
Every club's injury record for 2012-13 is in the graphic below, along with a comparison to their 2011-12 record. Links further down this story allow you to examine every club's record in detail, by individual player and injury.
Newcastle's manager Alan Pardew blamed bad luck with injuries for the Toon's worst run of form during his time in charge, with the club finishing just two places above the relegation zone.
Hatem Ben Arfa was hampered by a recurring hamstring injury for much of the season, starting just 16 Premier League matches. Yohan Cabaye missed 12 league games through injuries to both groins. Ryan Taylor missed the entire season with a cruciate knee injury, while goalkeeper Tim Krul was ruled out from April with a dislocated shoulder. Steven Taylor started only 24 Premier League matches after suffering hamstring and knee problems and skipper Fabricio Coloccini broke two bones in his back, starting just 22 league games in total. These are just a selection of Newcastle's injuries. See link below for full list.
The impact of injuries on form was also evident at QPR. Harry Redknapp's side suffering a large number of reported injuries as the club were relegated to the Championship. They won just four league matches all season, but picked up 36 reported injuries. The figures are compiled by injury specialists Physioroom, who collected data for all Premier League injuries that kept players on the sidelines for more than 14 days.
.
Article continues below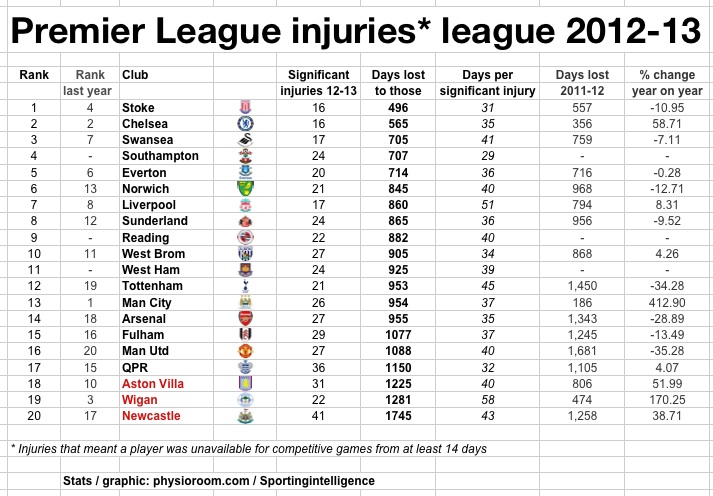 Despite Chelsea playing 69 games last season – more than any other Premier League club – they picked up just 16 significant injuries while competing in the Premier League, World Club Championship, FA Cup, League Cup and Europa League. Most Chelsea players also played international matches for their countries.
Chelsea have reaped the rewards of investing heavily in fitness and employing a number of the secrets from AC Milan's MilanLab, a legacy from former Milan manager Carlo Ancelotti's time with the club. Conditioning coaches at the club hold training programmes designed to extend the careers of ageing players such as Frank Lampard and John Terry.
For DETAILS of injury by club, click: Stoke, Chelsea, Swansea, Southampton, Everton, Norwich, Liverpool, Sunderland, Reading, West Brom, West Ham, Tottenham, Man City, Arsenal, Fulham, Man Utd, QPR, Aston Villa, Wigan, Newcastle.
Former Liverpool head of sports medicine Peter Brukner, told Sportingintelligence: "There are a lot of factors that can influence injury rates. These include the number of games played, the type of training and the age of the players. 
"If players have to regularly play twice a week then they are more likely to be injured. Those clubs with greater depth in their squads, who can afford to rotate players and reduce the game load, should be in a better position to reduce injuries.
"Chelsea and Liverpool, two clubs which had significantly lower injury rates than other top clubs last season, have also invested heavily in their medical and fitness staff in the past few seasons, allocating more resources and recruiting high quality staff. One thing for certain is that injuries play a major role in determining titles and relegation."
The average number of injuries per club increased significantly last season to 24.4 days, up from 20.5 days in 2011-12, a 20 per cent rise across the Premier League.
"There is a culture among Premier League clubs of not asking players to do anything they don't want to do,' Bruknew says. 
"As the speed of games and demands on players become greater, the challenge for club fitness staff is to convince players and management that a little time and effort spent on prevention will be more than worthwhile by the end of the season."
UPDATE: Another piece of research, by @benjaminpugsley over at BitterAndBlue, identified the number of 'man games' lost to injury per club, and also when those injuries happened through the season. Worth a look here.
.
REVEALED: The best paid teams in global sport
Follow SPORTINGINTELLIGENCE on Twitter